Cardiovascular disease, CVD, is the number one cause of death globally, claiming 17.3 million lives each year. and Nigeria is having its fair share. Chioma Obinna spoke to  President ,African Heart Network & Member Executive Board of World Heart Federation, Geneva, Dr. Kingsley Akinroye.
The Executive Director of Nigeria Heart Foundation, NHF  spoke at the just- concluded World Congress of Cardiology, WCC in Dubai. Akinroye who is also President/Chairman, International Epidemiology of Africa and Regional Counselor for World Epidemiology Federation in Africa notes that the state of CVD in Nigeria and other African countries is devastating in the face of poor healthcare system. Excerpts:
STATE of heart disease in Nigeria and Africa
Cardiovascular Disease, CVD,  is the number one killer disease anywhere in the world even in the developing countries. Particularly, hypertension is the number one cardiovascular disease in Nigeria, central, southern and West Africa.
The prevalence of hypertension in Nigeria and most of the African countries is rising every year. Looking back at 20 years when we had a prevalence of less than 15 per cent and compare it with the upsurge of about 25 percent and even as far up as 40 per cent now, this is not just peculiar to Nigeria as we have same in most of the West African countries. In adults too, we find that there is also an up rise in heart disease (heart attack) which used to be as low as 5 per cent now rising to about 7- 10 per cent in the population of Nigeria.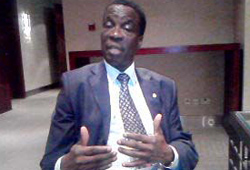 Stroke is also on the rise as a consequence of hypertension. We do know that some countries in Africa have a very high rate of stroke like Cameroon. From all indications, cardiovascular disease is now coming up as a number one killer disease in Africa which is becoming very interesting.
Threat to MDGs: Of course, it is a threat to attaining MDGs. We do not have to wait till 2015 to see that cardiovascular disease is the number one killer of disease in Africa because we do know that hypertension is the Number one killer disease.
I can tell you the prevalence of hypertension in the last 20 years has skyrocketed. The bulk of countries in Africa, have the prevalence of hypertension between 12 percent and 40 per cent which is quite high in the adult population. What is the consequence of that? That means stroke has gone up in countries like Cameroon, Mozambique, Kenya and Nigeria.
When you are talking about threat to MDGs, don't forget that these people affected are the bread winners of the families. If you deplete the population, who are the people going to ensure that the goal is attain? In Nigeria today, younger executives are dying suddenly these days as a result of heart attack.
So all these we need to put together to let us look at 2015. We might as well said that there is a threat of achieving MDGs 2015 and when we are doing our plan, in 2015, cardiovascular disease should actually be on the top.
The '25 by 25′ target in Nigeria
We have started by recognising the disease. The outcome of World Congress of Cardiology, WCC, and in the last one year, before the UN summit, in Brazzaville, African countries got together to look at the situation and we are also working with WHO to be able to see what is the trend of cardiovascular disease and even NCDs in Africa. It was agreed at that meeting that cardiovascular disease is the number one killer disease in Africa even at the WHO level.
However, it is nice to work with a figure. The target '25 by 25′ and it is true that there are a lot of challenges and when we say that we have been going by what has been in the past, it may seem difficult to achieve but it's not impossible to achieve because when you focus on the risk factors that we know are really the things to tackle to be able to conquer cardiovascular disease by 25 per cent come 2025. Even if we do not reach that 25 per cent, minimally 10-15 per cent in Africa is a huge number.
Imagine in Nigeria, with a population of 160 million people, 10 per cent reduction would be really felt in the population and there would be a lot of positive action in the society.
We are planning a lot of awareness because if we take it as a challenge and reduce the amount of salt in the diet, tobacco smoking, weight reduction, promote drug use especially the ones that can be manufactured in Africa in the treatment of heart disease, improve physical activity, exercise regularly and access to friendly environment, with the control of all these risk factors, I believe we are going to be there by 2025.
How Nigeria can achieve this goal:  We don't need to create a vertical system  when we can use the horizontal systems. Primary Healthcare is there, Secondary  hospitals are there and the Tertiary system. We should be able to use them.
For example, make sure that the primary health care centres get the information to know that cardiovascular disease is now a killer disease, make sure that the nurses in the hospitals are trained on how to measure blood pressure.
We must re-orientate our health system to go beyond building hospitals. Heart diseases affect the women a lot and even the children are also involved. So when we say we need a primary health care system where there is access to maternal and child care, we should also put into place that their blood pressures are checked regularly and they are given dietary and nutritional advice; given information on their health status especially if they are found to have any history of hypertension in their family and how to manage their health, this way, it is certain that the system would be improved.
To achieve this goal is a collective effort. The people need to be involved, awareness created, people educated, we also need to go along with the stakeholders, the NGOs to get involved in disseminating the message. The media is also very important but more importantly, we need to involve the policy makers.
Policy: There is need to put policy in place, for example,the policy on tobacco, promote a development of heart disease and hypertension, if it is reduced in the environment then there would be a way forward. It is the same with the policy on salt, vegetable, high cholesterol and lipids in the diet, promote physical and healthy diet.
Simple ways to prevent heart disease: Heart disease is a disease of lifestyle. You have to put yourself on the good side to prevent heart disease. If you are having heart disease, to live a better life depends on your diet. We do know that hypertension is  salt dependent. Simple things like eating a healthy, low fat diet and getting plenty of exercise help. Bad habits such as smoking and drinking too much alcohol overburdens our already busy hearts and causes break down.
You should be able to look at the amount of salt available in your diet and make sure that the salt is reduced and this should be done within the population not only in a patient. The amount of fat  in your diet becomes a control. In Nigeria, we have started looking at that, we are promoting vegetable oil that is low in cholesterol. We are also trying to improve people to engage in physical activities, people have accessibility to drugs in controlling their hypertension.
Way forward
It is the health system. Nigeria needs to look at our health system.We need to do more on our Primary and Secondary levesl. The programmes are there horizontally at the Primary level. The Primary Centres are looking at malaria, they have opportunity to look for Tuberculosis, HIV& AIDS but what we need to do is to make sure we bring control of cardiovascular disease, hypertension, risk factors of heart diseases in terms of physical activity.
Subscribe for latest Videos