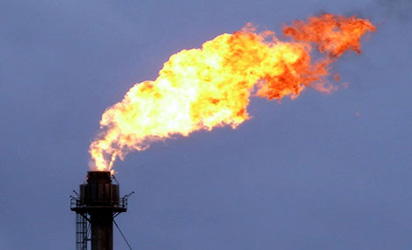 *Gas flare
By Clara Nwachukwu
Anglo Dutch Shell has confessed to emitting as much as 6.1million tonnes of carbon dioxide, C02, into the Nigerian environment during oil and gas operations in 2011.
The admission comes, even as the international community continues to raise alarm on the effect of such emissions on humans, plants and animals in terms of increased global warning and attendant health hazards on the people.
Shell in its 2011 Sustainability Report posted on its official website said the current flare rate was, however, almost 20 percent reduction over the 2010 figures.
"We made progress in reducing flaring in Nigeria in 2011. Although onshore oil production in Nigeria rose by around 4%, flaring emissions were down almost 20%, to 6.1 million tonnes of CO2 equivalent."
The company also admitted that "Around 80% of this continuous flaring (global operation) took place in Nigeria," thus, raising questions on its energy efficiency performance and house cleaning attitudes demanded by Nigeria's oil and gas industry regulators.
Indeed, the Report acknowledged, "In 2011, the overall energy efficiency for the production of oil and gas in our Upstream business worsened slightly compared to 2010, but was around the same level as in earlier years."
But Shell blamed the situation in Nigeria on "the security situation and lack of government funding has previously slowed progress on projects to capture the gas."
According to the Wall Street Journal, "Carbon emissions, most notably carbon dioxide (CO2), are part of a collection of gases that negatively influence the quality of our air and increase the greenhouse effect."
It further explained that "Greenhouse gases have a direct influence on the environment, causing extreme weather changes, a global temperature increase, the loss of ecosystems and potentially hazardous health effects for people.
But the environment pollution from operational activities could have been worse, but for the fact that Shell said it brought in "more gas-gathering equipment and more controls were applied to sites with higher levels of gas associated with oil production."
Globally, the report noted that "Operational flaring for safety reasons, or during the start-up of Upstream facilities, accounted for around 35% of flaring emissions. We aim to minimise this operational flaring."
"Continuous flaring, due to a lack of equipment to capture the gas produced with oil, accounted for the remaining 65% of flaring emissions," it added.
Going forward, the report further said, "All our major facilities have energy management plans in place that include making the best use of those facilities and using improved techniques in field management. We expect that maintaining the energy efficiency levels of recent years will be difficult in the future as existing fields age and production comes from more energy-intensive sources."
Enforcement weaknesses
For decades, Nigerian industry regulators – Department of Petroleum Resources, DPR, and the National Environmental Standards and Regulations Enforcement Agency, NESREA, struggled unsuccessfully to get oil companies to stop flaring, but penalties imposed were too insignificant to improve operational responsibility.
Frustrated by lack of cooperation by operating companies, government continuously threaten to shut down gas flaring fields, but no field has ever been shut down, despite threats by lawmakers to take up the challenge in the face of DPR and NESREA's apparent incapacity.
Furthermore, the imposition of fines for flaring based on prevailing gas prices ($2 per 1000 Btu last week) has not done much due to the inability of the regulators to collect the sum.