By Evelyn Usman, Shola Ogundipe, Chioma Obinna and Ifeanyin Okolie
LAGOS — A luxury bus belonging to Ekenedilichukwu transport company with 42 female students of  a secondary school (name withheld) on board was weekend attacked by a 12-man robbery gang  at Oke-Odo,  along Ore-Shagamu Expressway, Ogun State. Some of the female students were reportedly raped  by the hoodlums.
The students said to be returning  to their parents in Lagos for the Easter holidays, were also reportedly dispossessed of cash, GSM handsets and other valuables which monetary value could not be immediately ascertained.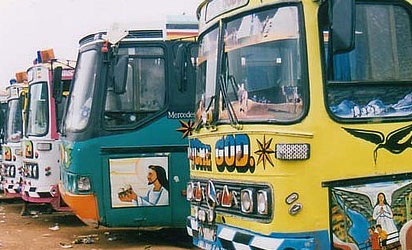 Report said they left Enugu for Lagos on Saturday morning but the luxury bus developed a mechanical fault which could not be repaired immediately.
Another luxury bus with Number Plate XW  875 LSR was  brought by the transport company to convey the stranded students to Lagos. But by then it was already late in the evening.
However, on reaching Oke-Odo  at about 11.40pm, the gun-wielding  robbers  reportedly intercepted the luxury bus, ordering all passengers to lie down, cooperate or risk losing their lives.
Report also said that the robbers thereafter, hijacked the luxury bus and drove it far inside the bush, where they allegedly gang- raped some of the teenage students and made away with their valuables.
Meanwhile, in Lagos, parents and relatives of the victims became apprehensive after waiting endlessly for their wards. Tension heightened when they got wind of the attack which  made them to pass  the night at the park, waiting for their return.
When the students eventually arrived yesterday morning, parents and relatives wailed at the sight of some of  the blood-stained teenagers.
Some  however, were dazed as they could not find their wards among those that came in. An unconfirmed report however had it that some of the passengers fled while the robbery was going on in Ogun State.
Management of the transport company was said to have immediately rushed most of the victims to the hospital.
No official report yet — School Principal
The principal of the school, Mercy Ani, in her reaction said she had not been contacted by any parent of her students that traveled back to Lagos after the school closed on Saturday. She however confirmed hearing the rumour of the robbery attack but quickly added that reports reaching her indicated that all the students that left for Lagos were already with their parents.
When Vanguard arrived Jibowu park at about 4.30pm, none of the staff  agreed to speak on the issue. Rather, they referred one to their head office at Oregun. They also refused to give out the telephone numbers of their spokesman and that of the manager.
But a man who simply gave his name as Ifechukwu, a loader with another transport company, said: "It is just unfortunate that this is happening. The truth is that the company in question does not travel at night. It is prohibited there. It is just unfortunate that the vehicle was faulty. Some of the relatives are blaming the company but they should understand that no one will ever drive  a faulty car around.
"Yes, I saw some of the girls. Most of them were stained with blood and had scratches all over them. I guess they must have sustained that in the bush. Some of them were also in shock because this probably is their first experience. But in all, let us thank God that none of them died."
Contacted, the Lagos State Police Public Relations Officer, Mr Joseph Jaiyeoba, confirmed that a manager of the transport company whose identity he did not disclose, reported the case at Sabo division  but that he was referred to Ogun State, since the robbery did not take place in Lagos.
When his Ogun State counterpart, Mr Olumuyiwa Ogunjobi was contacted, someone else picked his phone, informing that the PRO was in a meeting that would last three hours. He however sent a text message which read: "Report received from the Assistant Commissioner of Police, Ijebu-Ode has it that by 0730 hours (7.30am)  yesterday, one Friday Odi, a male of Ekenedilichukwu Nigeria Limited, driver in charge of vehicle registration number Lagos XW875 LSR reported that at 2340 (11.40pm) hours of 31/3/2012 (Saturday) while conveying 42 female students to Lagos,  armed men in Oke-Odo area along Ore-Shagamu Expressway, stopped their vehicle and drove them to a point in the bush where where they were robbed.
"Supol Ogbere led his men to the scene, traced the hijacked bus, rescued and evacuated the students to their Lagos destination and thereafter, towed the vehicle to the station and later released it to the owner on bond. Nobody was injured."
A police source also confided  in Vanguard that a child  of a top police  officer in Abuja was one of the victims and that effort to arrest the armed robbers was not successful.
Victims may suffer psychiatric disorders — Medical experts
Reacting to the emotional and psychological impact of the attack on the rape victims, a Senior Registrar at the Dejumo Hospital Gbagada, and former Registrar, Federal Neuro-Psychiatric Hospital, Yaba, Lagos, Dr. Obagaye Olukunle, who expressed worry that the victims may suffer psychiatric disorders said there is need for them to be taken to a psychiatrist or psychologist for further evaluation and immediate treatment.
Olakunle said in the meantime, the victims may experience sudden trauma because of the sudden nature of the rape.  He said the victims are also prone to episodes of anxiety disorders notably, acute stress reaction and post traumatic stress disorder because of what happened.
"In the immediate, the victims will experience acute stress reaction.  Most times, you find that the victims will not feel happy.
Mild or moderate, acute stress may even lead to suicide, depression.  On the long run, they are bound to come down with Post Traumatic Stress Disorder.  This is when the picture of the experience will keep on recurring to them over and over again".
He advised that such individuals be taken to a psychiatrist or psychologist immediately to relay their experiences freely.  "Any psychiatric disorder discovered should be treated immediately.  The victims should be placed on a Community Behavioural Therapy and there should be adequate counseling."
Apart from drugs, Olakunle posited that the victims must also undergo psycho therapy.
Also reacting to the incident, Executive Director at Media Concern Initiative, Dr. Princess Olufemi-Kayode described rape as a signature of robbers. According to her, "there is hardly a robbery now without its own incident of rape. It is an exhibition of power and dominance over the victim. Rape is one of the most common forms of sexual violence in the world."
Commenting on the immediate and long-term effects on the victims, Olufemi-Kayode, who has vast experience in rape-related issues particularly child sexual abuse, stated: "First there would be an initial trauma.  Some of the victims may not show anything now, but may exhibit delayed shock.
They would need to be counseled and properly examined by a medical expert.  This is a normal procedure in any rape incident and since they are minors, their consent or their parents' consent is not required."
Continuing, she explained that normally, if there is no life threat, a police report is required before the medical examination. "However, if the victim is bleeding heavily or is in serious pain, a medical test may be carried out first to obtain a report before lodging complaint with the Police.
The victim would then need to be given pain relievers and antibiotics. Emergency contraceptives are often required for those that are mature enough so they don't get pregnant. They would especially need to be protected against sexually transmitted infections such as HIV and hepatitis, among others."