By Bose Adelaja
Last week Monday, Governor Babatunde Fashola of Lagos State and his convoy foiled a robbery operation in the Obalende area of the state, recovering a locally-made gun and some suspected stolen items in the process.
The three-man robbery gang which was operating on a motorcycle had reportedly snatched a bag from a victim in the area but their bid to escape with their loot by riding against the traffic was effectively foiled by the Governor's team.
The gang members were said to have fled, abandoning their operational motorcycle and the bag after which the State Commissioner for Police, Mr. Abubakar Manko, reiterated his commitment to make the State unconducive for criminals.
His statement would come as a relief to many Lagosians who are still nostalgic of those by gone days when transportation in Lagos was devoid of danger. This was before commercial motorcycles popularly called Okada took over Lagos roads.  Their emergence as a means of transportation later provided undesirable elements the opportunity to use it in  perpetrating criminal activities, including robbery.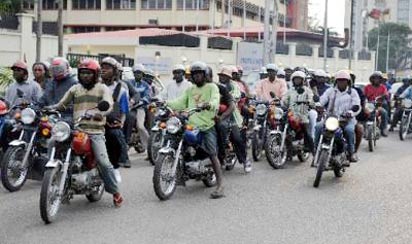 It would be recalled that in the early nineties, one Olayide Fatogun after completing his apprenticeship as a vulcanizer following three years of training, decided to set up his own business at Ketu-Alapere in Agbonyin/Ketu local council development area of Lagos.
Few months later, however, he abandoned vulcanizing business and took to riding  commercial motorcycle on Lagos roads. Within a period of two years, he was involved in a number of road accidents. The near tragic climax came  eight years later when he had a head on collision with a private bus while riding against the traffic at Ojota. This led to his arms being broken and he was on sick bed for 15 months,  spending about N400,000 on treatment.
In year 2009, Fatogun met a spiritualist who told him things would never go well until he went back to his vocation. Today, Fatogun has returned to his vulcanizing business in Lagos Island and has recently completed a two bedroom flat in Ikorodu and is also married with three children.
Fatogun is lucky to have escaped with his life. There were several Okada riders not so lucky as they were  sent to their early graves. This was inspite of  the restriction order placed on commercial motorcyclists not to venture on major roads in Lagos.
Many of them prefer to turn a deaf ear to the restriction order as they continue to operate on major roads, including highways, particularly between Ikorodu and Ketu/Ojota where many lives have been lost to Okada accidents.
Sometimes, these riders  carry pregnant women, nursing mothers and children as passengers, often moving recklessly without regard to the lives they are carrying.
It could also be recalled that sometime in July 2010, there was a restriction on commercial motorcyclists plying major roads in Lagos and these led to the seizure of many of these motorcycles which were eventually taken to Alausa and destroyed in order to discourage the use of bikes in commercial transportation. But even this did not achieve the desired result as the population of commercial bike operators has increased rather than reduced. This has been traced to so many factors that economical, political and social in nature.
Sometime in the last quarter of year 2011, a primary six pupil of Methodist Primary School, Igbogbo, Sola by name, was shot in the leg by three armed robbers while trying to escape on a motorbike after robbing the sister and her neighbour in their shop.
In Igbogbo, the wife of a popular estate agent, Alhaji Agba, was shot dead by a three-man robbery gang which came on a motorcycle between the hours of 7pm and 8pm. The gang also left with all available cash.
Last week, Vanguard Metro visited the Orthopedic Centre at Igbobi to see a friend and it turned out that majority of the patients were victims of Okada accidents. Examples are Alhaji Oriyomi Quadri and a teenager, Elizabeth Nwayanwun, who lost lower her limbs to an Okada accident at Jakande/Ikotun Egbe road. Also, Mrs Funmi Oriowo had her spinal cord damaged in  an accident on Agege Motor Road.
A visit to a traditional home in Olodi-Apapa also revealed that majority of the patients are victims of Okada accidents on Lagos roads.
Some Lagosians are wont to believe that some of these riders even employ diabolical means to lure people or to convince unwary commuters to patronise them against their better judgement.
Though some of the riders are good and have good intentions but a number of them now use bikes to perpetrate crimes.  "Even if the few are not bad, what about the majority that use Okada to perpetrate evil,'' queried a victim, Mrs. Olayiwola Akanni, rather rhetorically.
The Ilajes and Ijaws are known to be very good at handling and managing bone ailments and some of them who spoke with Vanguard Metro said they have been getting a steady traffic of victims of Okada accidents.
Also, a physiotherapist with the General Hospital, Ikeja who pleaded anonymity said: "Hardly a day passes without one or two Okada victims being rushed to our hospital".