Mr. Jenson Okereke is the Senior Special Assistant on Public Relations to Governor Theodore Orji of Abia State. He is also the author of a new book, "Strategic Loyalty and Abia Challenge: Understanding the Politics of Theodore Ahamefule Orji" which is yet to be launched. In this interview he discusses the book against the background of the recent political experience of the Governor. Excerpts:
What was your discovery of the subject of the book?
In the book, I have analyzed the issue of godfatherism; compared life and politics to a battlefield, where everyone is at the risk of the unknown; x-rayed Gov. Orji's political journey so far, delved deeply into his classical problem with Kalu – bringing out where both got it wrong and right; analyzed the schemes and tactics to the liberation; how they battled played out and told the reader what to expect from the governor in his second term as the Governor shared it with me. The book is practical and realistic politics of the day and the insight will help any politician.
I have indeed found out for politicians, politics remains an investment and I do not have a problem with that. If you invest in a political candidate and he wins, I do not see anything wrong in him compensating you with contracts to recoup. But the devilish angle which I condemn is when people insist on sharing the collective patrimony of the people.
Do you believe that Governor Orji is in a position to correct the distortions in the State?
What we had was just a phase in history and we have learnt from it. Everything happens for good every time, as long as life exists. Though I would not like to use the word distortion, however, distortion is a human creation and it takes man to correct it; especially the person who has a firsthand knowledge and thus comes with quantum of experience.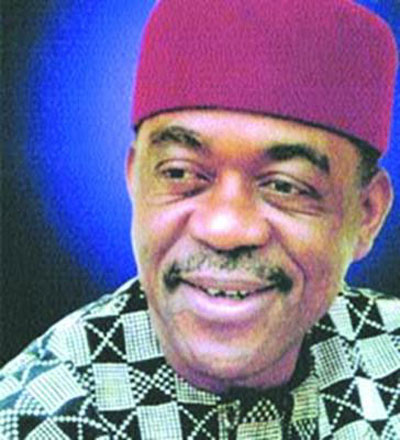 Governance is not a child's play and it takes a General to execute a successful warfare. Gov. T.A. Orji is one of the most experienced politicians living today and let me say here that it has nothing to do with how long you have been in politics; it is about your situational experience.
You see, it would have been a colossal malady if Abians had voted in another person and candidly I want to appreciate the people of Abia for that decision. I am not playing politics here; I am talking based on insight and foresight. For now, it takes only him to move Abia forward and he surely knows what to do. The only tonic he needs now is "goodwill and prayers."
To what extent do you think that godfathrism has affected Abia?
We were just delayed on our way to the Promised Land; but we have taken off again and this time around, there will be no delay: because we are now armed with experience. Godfatherism took us years backward, but we have put everything behind us, it is now forward ever like the Governor has said. I am only happy that we have finished with the issue of godfatherism in the State.
Recently, Kalu wrote about betrayal, blackmail and all that in his column. As if I knew he was going to raise the issue one day I had addressed that issue in the book from an intellectual perspective. May be I was prophetic and I thank God.
There has been this conspiracy theory that Gov. T.A. Orji betrayed Kalu concerning Abia politics especially by people who do not understand the intricacies of political play and importantly statecraft. What happened between the two was a function of statecraft and that is all.
In statecraft, what matters most is the wish of the people and not of any individual. It is ridiculous for anybody to say that Gov. Orji betrayed Kalu when the people of Abia said "set us free." What is he supposed to do? Is it to tell Abians No? Abians could have killed him and his family. Is T.A. supposed to be serving Kalu or God? When you do the wish of the people, you are serving God and that is simple.
And thank God if He gives you the wisdom to do the wish of the people as a leader. When you are beaten in a contest, the best to do is to withdraw into the world of reason: accept your fate and think of how to move your game forward. If we talk about betrayal, technically it is even Kalu who betrayed the people of Abia and I can expatiate on this at the appropriate time. But if he feels betrayed, it means that he is saying that the entire people of Abia as a whole betrayed him and that is not possible.