By AbdulSalam Muhammad,Kano
He lied critically ill on his sick bed at Murtala Muhammad Specialist Hospital. Age is not on his side. He was ferried to the sickbay as one of the survivors of the bomb blast that ripped through the city last Friday.  He has spent days at the health centre and authorities are worried that no one has come after him and when asked about his relations he quipped and  thunder in annoyance 'I am alone in this world,  would you leave me alone"?.
This is a pathetic story of an old grey bearded man whose actual age can be ascertained due to loss of memory he suffers as a result of the explosion. In an encounter with Weekend Vanguard, he gave his as Abdullahi Umar but could not go farther. When asked about his home, he said what I do remember of my home is that I do observed my late evening prayers at a mosque in Talwudu along Sabon Titi within the municipality.
Speak incoherently  Abdullahi Umar told Vanguard that he was 7 years when the late emir of Kano, Sir Muhammadu  Sunusi inherited the throne of his forefathers in 1953. By his calculation the old man was he is now 59.
Baba as he was fondly called by paramedics attending to him complained bitterly to Weekend Vanguard over a terrible headache that has refused to go and pleaded for the supply of Cafenol to remedy the situation.
The paramedic who was by the bed side during the chat told Weekend Vanguard to disregard his request stressing that 'Baba need psychiatric attention, he had spoken incoherently since he was brought to the hospital, and we are dazed that no has come after him so far'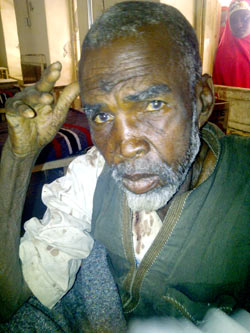 The hospital officials explained further Baba has been given serious medical attention and that likely his case would brought to the attention of the state Government for prompt intervention.
Baba who was furious that his request has not been attended to in good time exploded in annoyance " I will talk to you again until to do my bidding, I know what happen and am ready to volunteer everything to you if you are ready to assist me"
While the encounter last Baba wailed more than 6 times complaining that his head is going to explode. "my son do you want me to die, give me Cafenol to remedy this terrible headache. My head is going to explode as rise up and down on his sick bed.
The only privileged the Octogenarian had enjoyed on his sick bed so far is the Royal visit by the emir of Kano, Alhaji Ado Bayero who broke tradition and paid a visit to the survivors at the Murtala Muhammad Specialist Hospital.
The bewildered emir stood at the bed side and watch his conduct for few minute and moved away, leaving people wondering whether the man  that look deranged by the blast actually knows who had visited him .
Baba's case represents the degree of intensity of the blast, while the effect has devastating effect on his memory same can not be said of Alhaji Akaremi Muhammad, 41,who lost his wife  and his twin born on that same day due to intensity of the explosion that their Bompai quarters.
Akaremi in tears moaned "Life becomes meaningless to me immediately; I lost my wife and the only children that Allah has bestowed on me. You can imagine what I feel when my joy turned sour, its unimaginable.
Akaremi might not the only one on this tragic journey. Ahmad Bala, a chasier with Power Holding Distribution office, Kano told Weekend Vanguard how his wife of 12 years drop by mere hearing that bomb blast has ripped through the city.
"On the fateful day, I was in the office when I heard of it and initially it becomes difficult to dare the odd, and when it was consider safe I made it home only to discovered that my beloved wife has collapsed due to shock of events in the city" Ahmad Bala explained.
He revealed further that the mother of 4 whose last born is just 3 years old was intimated by one her friend over chaos in the city and her last world was " what about my husband?" as she slumped and died.
Ahmad Bala added that effort to revive her at the hospital failed as the woman gave up the ghost before she get to the health centre.
It is from Allah, we shall certainly go back to him, and how each one of us will go is something not known and hidden in the treasure of Allah. I owe her a duty to remain responsive to my children and fulfill the dream her mother had for them."
At the morgue where relations had gone to collect their corps, one Okpanachi  Ichala a police officer was seen screaming aloud over the unfortunate incident. In shock he cried aloud   I wonder why someone should killed my brother who knew nothing about this fight, they have killed a whole dream, and I ask myself how would a living and perfect God forgive this kind of injustice meted on His slave unjustifiably?"
Subscribe for latest Videos