BY CLIFFORD NDUJIHE
FACED with a barrage of criticisms from many fronts, the Federal Government is now doing what it should have done earlier before announcing its plan to remove fuel subsidy as from next year.
Leading government functionaries including ministers, aides and special advisers have fanned out to different parts of the country interacting and discussing with the citizenry on the necessity of the policy. Some groups have also emerged to champion the crusade. On his part, the President has been locked in a series of meetings and consultations with critical stakeholders, including the Labour.
The Minister of Information, Mr Labaran Maku, on Tuesday led a team of the nation's information managers to media houses in Lagos including Vanguard Newspapers.
And on Thursday, another powerful Presidency team led by Co-ordinating Minister of the Economy and Minister of Finance, Dr Ngozi Okonjo-Iweala, Central Bank Governor, Mallam Sanusi Lamido Sanusi and Petroleum Minister, Mrs Diezani Alison-Madueke utilised the platform offered by the Newspapers Proprietors Association of Nigeria (NPAN) at MUSON Centre, Onikan Lagos to sell the policy to the ever critical Lagos audience.
Other government functionaries at the MUSON Centre debate with leaders of Labour and Civil Society Organisations included Minister for Justice and Attorney-General of the Federation, Mr. Mohammed Adoke (SAN); Special adviser to the President on Research, Documentation and Strategy, Oronto Douglas; and Group Managing Director of the Nigerian National Petroleum Corporation, NNPC, Engineer Austen Olusegun Oniwon among others.
The President Goodluck Jonathan Administration stoked the fire of controversy on Tuesday October 4, 2011 when it informed the National Assembly about its plan to begin the removal of fuel subsidy from January 2012.
On October 25, the Federal Government said the policy would no longer begin next January. But going by the 2012 budget proposal presented last week, nothing seems to have changed because there is no provision for fuel subsidy in the budget.
Opposition against subsidy removal
Those who opposed removal of fuel subsidy include the Nigeria Labour Congress (NLC), Trade Union Congress (TUC), Conference of Nigeria Political Parties (CNPP), Nigeria Bar Association (NBA) and eminent citizens like Prof Ben Nwabueze (SAN), Alhaji Balarabe Musa and Senator Gbenga Ashafa, Mr. Olisa Agbakoba (SAN), Mr. Femi Falana, Mr Ben Murray-Bruce and Dr. Olopade Agoro among others.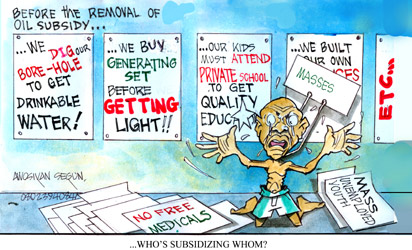 Their reasons for the opposition include: government has failed to fix the nation's refineries or build new ones to refine crude oil at home after spending huge sums of money on turnaround maintenance (TAM) of the refineries in the last 10 years; an oil cabal that benefits from the subsidy has not been dealt with; those who collected money and failed to fix the refineries have not been prosecuted; and removing subsidy will place more burdens on the already impoverished Nigerians, 70 per cent of whom live on the poverty line.
Others include failure of the government to ensure stable power supply, fix the roads, adequately fund education, healthcare, deliver on past promises, combat corruption, drastically cut the cost of governance and recurrent expenditure, which consume 74 per cent of annual budgets.
They also complained that the government was not checking wastage in governance and could not convince them on why Nigerians must pay heavily for a resource they were richly blessed with.
Our condition for backing policy – Ben Murray-Bruce
Specifically, Ben Murray-Bruce said the people do not trust government because government does not practice what it preaches nor implement what it promises. Noting that currently Nigerians on the average spend between N30-50 billion on transportation, he said: "If we double fuel price, Nigerians will spend N100 billion annually on transport and the poor man cannot afford it.
"If you must remove subsidy, you must subsidise transport by 50 per cent, ensure that energy- efficient vehicles and buses are imported, set aside N500 billion intervention fund, give Nigerians $2 million annually for five years. If you do that we will support deregulation."
Don't punish Nigerians for govt inefficiency – Falana
Opposing the policy, Falana said Nigerians should not be punished further for the government's inefficiency, inconsistency and failure to deal with corrupt oil marketers, implement extant laws and halt rising cost of governance.
Averring that the Nigerian government was the most subsidised in the world, he lamented that the Olusegun Obasanjo regime spent N360 million to demolish toll gates across the country, which the current government would now spend N1.3 billion to rebuild and wondered how savings could be made from such policy somersaults.
"Why give TAM contracts to politicians who have nothing to do with refineries? Why can't the NNPC build mega stations in neighbouring countries to check smuggling because they are willing? Don't impose further punishment on Nigerians because the N18,000 minimum wage cannot take anybody home. Allow regulation for the next few months so that we can identify the loopholes in the system. Let's see down and talk and see how far we have gone by April 2012," he said.
Retaining fuel subsidy is a time bomb – Maku
However, Maku, during the visit to Vanguard Newspapers agreed that in the interim, the policy would inflict sufferings on the citizenry, but he contended that the pains would ease off in the long run to the overall benefit of the economy.
Painting a no hope situation, the minister said the government was faced with two unpalatable options of short-time pains with subsidy removal or perpetual pains with non-removal of subsidy.
Citing the examples of the Aviation, banking, media and telecom sectors, which have benefitted from deregulation, Maku wondered where Nigeria would have been if the sectors had not been deregulated.
He assured that the N1.33 trillion that would be saved from fuel subsidy would be funneled into the government's three pillars of governance: revamping infrastructure, ensuring human capital development and improving governance.
On fears that fuel price would hit the roof top, Maku said there would be no fixed price for the product. "In the first instance, there will be no fixed price for petroleum. It will go up and it will come down depending on price of crude oil; which is what happens in every other country. Just like there is no fixed price for a tuber of yam, there is no fixed price for garri.
"So, it will become like any other commodity and when the cost of crude goes up, it will go up; when the cost of crude comes down, it will come down. What is clearly going to happen also is that the NNPC will remain a major player. We are going to achieve local refining which will take up the cost of taking petrol from here to Europe, refining it and bringing it back. When you are taking it away, you pay and when you are bringing it back, you pay."
Disclosing that the government would set up a regulatory agency that would monitor prices of crude oil in the post_deregulation era, he appealed: "I will want to appeal to Nigerians to look at the issue of fuel subsidy removal dispassionately.
"There is also a regulatory agency that has been set up to regulate the market in the post_deregulation, we have set it up and they will monitor the prices and regulate the players in the industry. Just like we have the NCC as a regulatory agency in the telecom sector, we have a regulatory agency that will regulate the oil market in post_deregulation."
While enjoining Nigerians to understand the motive of government in deregulating the oil sector, Maku said: "What I will say is that skepticism and fear of the unknown is always something that every human being is worried about. The truth of the matter is that something must give and that means that we have to change certain things for certain progress to be made. From all I have seen and heard so far, there are no easy options because our country is already in a difficulty. We have already entered a stormy flight."
Offensive begins to bear fruit
Currently, the government's efforts seem to be yielding dividends. Most governors of the country are now on the page with the Federal Government so also are leading members of the organised private sector. Indeed, a non_governmental organization, Friends of National Transformation Agenda (FONTRA), said that existing economic conditions in Nigeria had make fuel subsidy removal necessary
FONTRA National Coordinator, Hon. Victor Chibundu, said most of the mass transport systems and manufacturing industries whose activities impact on the lives of the common people use diesel, which had since been deregulated to run their operations.
Besides, he said removal of the subsidy was the surest way to check the oil cabal because 89 of the 100 companies that the Federal Government granted licenses to import refined petrol have no tank farms or storage facilities. "These 89 companies are the entities benefitting from oil subsidy and not the common people of Nigeria."
He regretted that because of how the oil industry operates in the country, Nigeria has been exporting jobs to other countries from where she imports her refined petroleum products.
He cited the example of Russia, which exports more crude to the international oil market than Nigeria, and where the pump price of petrol is about N130 per litre.
He urged Nigerians to support the Jonathan administration on the policy because "it has shown enough capacity to prudently manage funds saved from oil subsidy removal for the benefit of Nigerians through the proposed establishment of the Oil Subsidy Reinvestment and Empowerment Program in Agriculture, Education, Health, ICT, Power, Water Supply, Road and Rail Transportation sectors, as well as public works and youth empowerment programmes.
Our economy can't sustain fuel subsidy — Mbagwu
Relatedly, an economist, management consultant and chairman of Simeon and Rose Associates, Chief Cliff Mbagwu, said the government proposal was on right track and suggested that the removal be done in two phases.
His words: "One fact must be made clear about the issue of fuel subsidy and that is fuel subsidy is unsustainable and this is so for two reasons: The total amount of subsidy per litre and the global subsidy for the aggregate quantity of fuel consumed in this economy are both 'moving targets' or variables which is a function of changes in exchange rate and the total periodic increase in the global demand.