BY BENJAMIN NJOKU
Popular producer, Stanley Ebonine seems really vexed about the recent allegation that he dumped sexy actress, Ruth Kadiri for the love of his life, Dorathy Chinasa Agu.
Before now, Stanley and Kadiri were an item together for almost three years . Kadiri regularly featured in Stanley's movies and was instrumental to some of his movie scripts.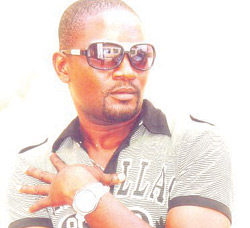 He got married to his Enugu State born wife, Chinasa, last September, thus disappointing many keen observers who thought his relationship with the actress would lead to marriage.
Given this circumstances, the popular producer was accused of dumping the wave-making actress for another woman.
But refuting the allegation, in a chat with HVP, last weekend, Stanley claimed that Ruth Kadiri was strongly behind his marriage.
"Ruth Kadiri, he declared " is still my friend. She was aware of my marriage to my wife. In fact, I was with her, while I was travelling for my traditional marriage. Whoever is in doubt, I advise d the person to attend my white wedding which is coming up on the 26th of this month, so that he or she can believe me", Stanley said.
Debunking the rumours that he got married secretly, the young producer said his marriage was everywhere, adding that the actress even supported me. "People should not be talking about something they do not understand. They never knew when we started dating or what we agreed upon before I got married. The movie, I'm shooting presently is written by Ruth Kadiri and she is playing a major role in it."
Asked why he refused to marry in the industry, the Imo State producer simply muted, "the reason is best know to me."
HVP cornered the producer, while they were shooting his latest movie, "Mistresses"in Festac town, Lagos, last weekend. The movie is starring Ghanaian actress Yvonne Nelson, Mary Uranta, Halima Abubakar who is co-producing the movie with Stanley
Stanley described his marriage to Chinasa as "miraculous." The couple met not long ago.
Chinasa,who hails from Enugu State,works in an insurance Company and she is a graduate of University of Jos. Stanley is a big time producer of many blockbuster movies which include "Boys Cult", "Girls Cult", "Total Crises",among others.
HVP gathered that preparation is in top gear for Stanley's white wedding which is billed to hold on 26th of November, at St. Babs Anglican Church, Aguda , Lagos.