By Trigo Egbege
The period spanning mid-September and the end of October 2011 had been a rather boring imposition I'd classify as one that has done me no good. Way back in the late 1950s, my primary school headmaster it was who first taught that idle vacations are dangerous to one's health.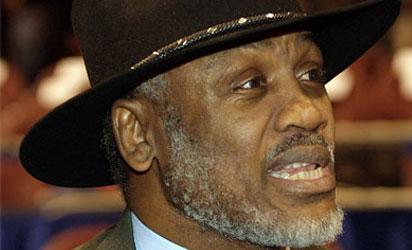 I couldn't help the situation on finding my own idle vac dovetail into the second week of November, by which time Yours Truly had grown too saturated to have the appetite to accommodate the far more legitimate Eid-ul-Kabir Festivities. Nothing seemed to appeal to me.
Still, it was a rude and un-dignifying way to puncture the nation's holy festivity, with that early Tuesday morning text from a friend announcing the passing on, Monday, of Smoking Joe Frazier. The text read in part "… Smoking Joe died last night, of diagnosed liver cancer. He was 67."
It took me precious minutes to come to grips with the reality of the grim message. The period 2010/2011 hasn't been the best of times for the pro boxing sport, with no fewer than seven high-profile personalities succumbing to the Grim Reaper in steady succession. Save for England's own Henry Cooper who exited at a ripe 77, the majority couldn't be classified as fulfilled in the real sense.
Ex-world welter Champion Vernon Forrest had his span brutally cut short by a hail of bullets in a gas station; Super lightweight Arturo Gatti was murdered while vacationing in Brazil; Alexis Arguello chose to terminate his own life by blowing out his brains with a shotgun. Of the three, only Arguello was into his late 50s.
Then came one-time WBC super lightweight king, Billy Costello; one-time world heavyweight title contender/challenger, Scott LeDoux; and, lately, Frazier – all victims of cancer-related causes. So, as tough as they come, boxers are human and subject to death, after all.
But it can be argued that a significant amount of death cases among boxers have been traced to conspiracy perpetrated by cowards who lack the guts to settle the score in the ring.
As for this new cancer phenomenon, well… it is a subject for some other time.
Today, I have come to praise Joe Frazier; not to bury him. Here's saying a lot, coming from a man (Yours Truly) not given to flattery in the course of putting issues in perspective. And as you can always expect, I'm not about to place Smoking Joe lower or higher than where he deserves to occupy. So, even before I open my humble submission, let me conclude – without fear of contradiction – that Frazier was one mighty credit to the boxing sport.
All through his decorated amateur days which climaxed with the 1964 Tokyo Olympic heavyweight gold; to his distinguished five-year reign atop the world heavyweight throne; and from thence to the remarkable 30 post-career years he spent with us, late Smoking Joe comported himself as a true ambassador of the boxing game. Not one bit less.
Suffice it to say, though, Joe Frazier may never be mentioned as an icon in the mold of Joe Louis and Muhammad Ali, both of who derived their impeccable credentials from within the square arena and far outside it.
Unlike his more illustrious multi-dimensional predecessors, our hero was content to remain the hardworking country boy born to and raised by cotton-picking parents in Beaufort, South Caroline, then graduating to the ranks of butcher in a Philadelphia slaughter house until venturing into boxing. Frazier recognized his life's single-dimensional gift where he focused all his energies.
Once inside the ring he never settled for mere bits and pieces of whatever he desired. He would rather perish in the quest.
Even then, it must be emphasized that Joe Frazier's rise to prominence has its roots, largely, in his fierce rivalry with the legendary Ali. Three fights and 41 completed rounds between the twain in the period between March 8, 1971 and October 1, 1975 collectively constitute the most significant chapter of either fighter's career.
Admittedly, as a fresh school leaver in search of a job, I made Smoking Joe the first recipient of my contempt when he decisioned my hitherto undefeated idol in New York for all the world heavyweight marbles.
It was the wee hours of the same day I found myself yanked from the long queue by an overzealous Petty Officer supervising the recruitment exercise into the Nigerian Navy, conducted on the Naval Base in Apapa, Lagos,
The disappointment only contributed to fueling my contempt for the victorious, undefeated Frazier unwittingly playing the Uncle Tom for an establishment out to teach a naughty black boy (Ali) who had crossed its path.
The Joe Frazier of that March 8, 1971 might remain a name I was unable to expunge until only 48 hours ago. Ironically, he never superceded that singular ring accomplishment, going down twice to Ali in rematches, including the celebrated Thrilla in Manilla in what was to be the concluding part of heavyweight boxing's greatest trilogy.
Two other Kayo defeats in the hands of George Foreman just about confirms Frazier's place in a 31-bout career lasting 12 functional years. His lone drawn come-back effort of December 3, 1981 against a Floyd Cummings in Chicago merely goes down in history as one of the manifestations of human frailty.
In all his 30 years in retirement, Joe Frazier never indulged in controversy that is often the hallmark of many a celebrity. While not a visible participant in the ranks of past champions viewing today's heavyweight picture, he did not totally distance himself from the fight scene.
At one time Joe was credited with operating his own gym to which he had assembled a stable of up-and-coming wards he personally trained/managed. Among these were his own sons, Marvis and Hector, as well as nephew Rodney. The closest Joe came to accomplishing the desire to duplicate his own ring success was the failed heavyweight title challenge of his son (against Larry Holmes) in 1985.
So, a true star has dropped out of the firmament. From those of us at this end, we wish Smoking Joe journey mercies on his way to Valhalla where only the brave have their home.