BENJAMIN NJOKU
Sam Loco's eldest son, Bismarch Efe spoke to HVP shortly after his Dad's funeral rites concerning the kind of  relationship that existed between the departed actor and his children. He also explained why his Dad did not encouraged his children to take after him in the area of acting.
What's your position in your family?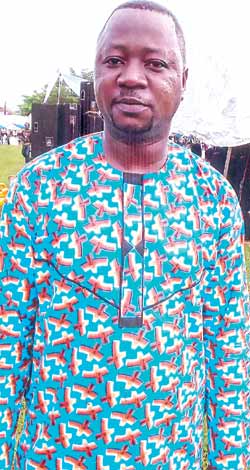 I'm the third child, and also, the first son. We are a family of six children.
While your Dad lived,  what did he mean to you?
He was a nice Dad, a friend and a peace-loving father; a forgiving father. He was a real man, someone I called called a friend, a brother and a true father. He gave us all the freedom and support, a father could give to his children, ensuring that we did not mess it up.
How would you describe the relationship that existed between your father and his children?
Like I said earlier, we call him a friend. Everyone of us see him as our friend, you know what that means.
Even though we still maintain that father– children– relationship. Friendship is the right word to describe the kind of relationship that existed between us and our late Dad.
What would you say, you learnt from him while he lived?
He was a very truthful man, and someone who would stand for what he believed in. If my father believed in something, you hardly could influence him to change his mind. He would hold on to what he  believed in, no matter the situation.
In fact, most times he believed in doing the right thing. I have come to learn that from him. Secondly, he happened to be someone who liked to make people around him to be happy. I have also learnt that attribute from him.
Your Dad left big shoes for you to wear. How well are you prepared to fit into his shoes ?
Prosperity will help me; God will be my strength. Many factors will combine to ensure that I live up to the expectations of my father's admirers. It's not by charm, rather it was meant to be that way. The only thing that can prevent me  from sustaining the legacy my Dad left behind is the environment.
I pray that the environment should be friendly, and hopefully, I will fit into his shoes. One thing, I know  even before now  is the fact that my Dad was born great and I think ,I'm born greater. I have always had that dream. Dreams cannot be manipulated  because I know one day it will surely come to pass.
What are you going to miss most about your father ?
His fatherly care, it encompasses every other thing. He was just a cheery father.
What was your reaction when you heard of your father's death?
It was the biggest shock I have ever heard in my life. I still remember vividly that Sunday afternoon when the news of his death filtered into my ears. I was just stepping out of my Church premises after  the service, when I got a distress call that my attention was needed in Owerri. Immediately I knew that my father was in a critical condition. I quickly rushed down to Owerri and when I got there, I saw my father's corpse.
At that point, I realised that life must go on, since I cannot bring hm back to life or change the situation. I had to accept the fact that he is no more, and I must learn to live without him.
Would you say burying your father in Benin has helped to resolve the age-long  controversy that surrounded his identity?
My father was born in the eastern part of the country. He grew up in Enugu, worked and lived there all his life. Indeed, he had always been part of the eastern bloc. He understood the culture of the Igbo nation. He spoke their language fluently and enjoyed their local dishes. I don't know what destiny has in stock for me.
Before and after his death, do you feel  comfortable watching your Dad on screen?
I hardly watch my Dad's films, even when he was alive. He appeared to be same person to me, whether in real life or on screen. I don't get extra-excitement watching his movies. He was just the same person both on screen and in real life. Even now that he's no more, it will be a good reason for me to stay away completely from his works.
There was a dream your father did not accomplish until his death- his farm project which he sited at Abakiliki. Do you intend to keep that dream alive?
We are thinking about it. We don't know what to do yet with the project. I will try to keep his dreams  alive  and I hope to continue from where my he  stopped.
But as it stands now, I need to understand what the business is all about… It's a bit complicated now.
Now that your father is no more,  is any of your siblings considering the idea of taking after him?
We grew up in Benin and we are also popular in our own rights not because of him. But because of who we are, he never encouraged us to go into acting.
May be, he didn't really like acting as a profession. He may have liked it for himself ,but not for his children to be part of the profession. Until recently, the industry was not very rewarding. He suffered a lot and went through a lot of difficulties to achieve what he achieved in life. That could be part of the reason he didn't want us to go into the profession . Because he never knew what the future would hold in stock for us.