Papa Ajasco, the TV comedy series from Wale Adenuga Productions has been voted the number one TV comedy in Ghana. The internationally acclaimed TV comedy has become the toast of many agencies and advertisers who are competing with one another to identify with this award winning TV programme.
The Chairman, Wale Adenuga Productions, Mr. Wale Adenuga, MFR, has this to say "the demand for Papa Ajasco and Company in Ghana, just like in several other African countries has been on for so many years.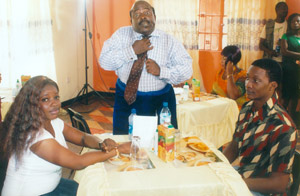 Last year, we decided to air Papa Ajasco on Ghana Television (GTV), the only station with national service in Ghana. The audience response has been so amazing that we can't stop anymore. Infact we have also opened a liaison office in Ghana".
Mr Wale Adenuga is optimistic that in the on-going DISCOP film market coming up in Kenya, the teeming fans of Papa Ajasco TV comedy would have the opportunity of buying and enjoying their favourite Tv show at home."
Other award winning programmes from Wale Adenuga productions include Super Story, ThisLife and the newest, Nnena and friends Tv show for children and teens.