Interview: Ikeddy Isiguzo, Chairman Editorial Board
I PARTICIPATED in those  meetings because we were friends. He was my friend; I will say a good friend. The only thing that went wrong was that the election was annulled. It did not affect our personal relationship. At best, I will say we had an ideological difference from that point.
People hold you responsible for many of the problems the country faces  – the annulled 1993 election, corruption, and the economy.
I left office 18 years ago. I have come to accept the situation as one of the burdens of service. If someone's wife has a miscarriage, people blame IBB for it. If there is no rain, it is IBB. If it rains too much it is still IBB. This is Nigeria and this is the way people see things. To have my peace of mind, I have to accept these things as part of life. Fortunately for me, I did so many things that still prove to people to date that I worked for this country.
You practically persuaded General Olusegun Obasanjo to join the presidential race with your visit to Otta after his release from prison, would like to assess his presidency?
The decision as far as I was concerned was a very sound decision. We were proved right in our choice of General Obasanjo. We wanted someone who could keep the country one.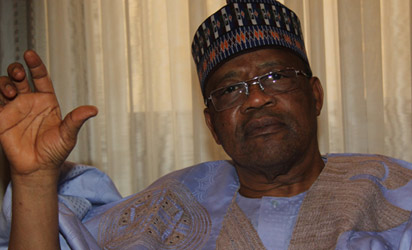 Economic initiatives
He had a lot of initiatives both in the economy and running the government, but we are still grappling with some challenges. He succeeded in eight years, in keeping the country one. Most people's judgements are based on their perception. There is nothing you can do in a  Nigerian situation to change the way people would like to take things. In Nigeria we are first cynics then reasonable.
People still wonder why you refused to appear before the Oputa Panel.
It is not entirely right to say I did not appear at the panel unless you wanted me to make a personal appearance. The law permits me to be represented. A very competent lawyer represented me. I was therefore there. What the other interested group wanted me to do  and the law says are different. If I had to appear before a judge for everything that happened while I was in office, there would be no time for me to do all that.
What do you think of the trial of Al Mustapha?
I think I need to explain the bases for the comments. Nigerians believe in justice. They also want to see justice being meted out to all. I  made those comments on Al-Mustapha simply because he has been on trial for 14 years without a  conclusion. The duration of the trial a cause for concern.
Supposed he was tried quickly and he was to serve 21 years, having spent 14 years, he could be due for amnesty. He has spent 14 years and the case is still inconclusive. This has dragged on for so long, which is why I am making that appeal.
My considerations are the length of time he spent in confinement. Suppose at the end of the day he is not found guilty? How do you compensate a young man who has spent 14 years of his life under going trial? Nobody even knows when the case would finish. He should be freed.
We heard you re-married quietly
I have not re-married. You are not the only one who heard. A close friend of mine heard and came to the house to find out. I took him around to all the rooms a wife would have been if I re-married. It is the soft sell media that would like to make huge sales that come up with that type of story.
The Peoples Democratic Party, PDP,  has jettisoned  zoning, what do you think will happen in 2015?
Unless you amend the Constitution, you have to live with it. Zoning is in the Constitution.
References to  national spread, reflecting federal character, are all about zoning. Some parties, like the PDP, have zoning in their constitution because of the constitutional provisions about zoning, which are meant to assure people they can became president, no matter where they are from. It is in consonance with the Constitution. When we said it must be maintained or there would be consequences, we were misunderstood.
We can see we are having bigger government, with bigger recurrent spending and less money for capital development. Without adhering to zoning, government has to do a lot to appease interests and groups.
You cannot erase zoning without amending the Constitution. For 2015 I can see realignment of a maximum of five political actors in the country to wrestling power.
From what I read in the media I believe that of those items listed for amendment – the much  talked about elongation, which is not a new agitation, creation of local government areas, and revenue, could be problematic. I think those are areas that can easily polarise the country. If I were in government I would not touch any of them.
I would concentrate on building the institutions of state and improving the lot of  the people with amendments to guarantee certain rights that are not  in the Constitution, like the Fifth Amendment in the US where you cannot force someone to talk.
Constitutional amendments come in from long practices, conventions, decided cases in courts that might bring friction are causes for amendment. The ones we are talking about are settled issues, 1976, 1978 and during the various regimes, we discussed six-year term, but I thought what prevailed, the two-terms is good.
Single tenure for president, governors
I do hear some ridiculous arguments about second term election crisis.
God forbid. Suppose  we elect a rogue as president, are we going to remain with him for six years, while we could have kicked him out after four years, punishing him by not re-electing him? If  he is a man of honour he would have used the first term to justify the second term. There is nothing to look forward to in one term.
Why did you want to be President again in 2003, 2007, and 2011?
Are you asking me why a Nigerian would want to serve Nigeria? From the military, we served at various levels. I would not want to serve as a captain after serving as general. I was a military president for eight years, I knew what it entailed to run the country. I wanted to run on those occasions because I believe it is unfair to the country to deny it the benefit of  my knowledge.
On Obasanjo
Nigeria is blessed with people who can do things for it. The military brought democracy and its dividends. The military midwifed it. Whether the military is undemocratic or dictatorial, we created the parties and the Constitution of the country. It is not unusual to have people who after the military want to run a democratic institution by offering themselves for service.
What would you say about the plight of elderly people, some of who die queuing for their pensions?
I think the whole system, not only in Nigeria, needs improvement. Care for the elderly is a challenging issue in other places too. There is surely room for improvement. These are members of our society and They gave their best at the prime to our country. The reward system should be such that they feel proud of their service to the country. We should keep on improving the system until when we get.
Privatisation
I will give credit to our administration for commercialisation and privatisation.  it was the current issue then based on the fact that government was not the right institution to run businesses.
Businesses are best run by business people. In our case, we started with certain basic things. In 1977 we said government will continue to dominate the commanding heights of the economy, everything.
By the time of our administration in 1985, the idea was that government should take its hands off businesses  to allow the government to concentrate on providing the enabling environment.
We introduced the Technical Committee on Commercialisation and Privatisation, TCCP. The committee came up because we wanted to do privatisation well. We took it in stages. Some outright privatisation and some enterprises were to be commercialised. Government took control of some businesses either because of their strategic nature or because of its heavy investments involved. We chose some that could be run well if they charge the current rates for their services.
I am proud to say the TCCP did very well. The whole idea of privatisation is good. The economy should be private sector driven. We cannot be different.
The original intention was clear, when he set up the TCCP. That was why we implemented privatisation cautiously. Once you are in a hurry some critical ingredients could be missed. I suspect  that was what went wrong at the later stages of privatisation and why there so many complaints about it.
Are there any issues or actions of yours you consider a mistake while in government?
Looking back, I would say there were things I believe then were the right things for the county and if I have the opportunity I would do them again. We believed strongly on the autonomy of the States and local governments. In our time we funded local governments directly. We also believed you needed a special security outfit in order not to involve the military in every security issue. We wanted state police and a special force to tackle security matters.
I am grateful to God that people are becoming reasonable and thinking of what we did or thought about more than 18 years ago.  Those are the things which if I was there I would have re-introduce or sustained. We were interested in the devolution of powers, to remove unnecessary weight from the centre. Education should be in the hands of local governments  and individuals from primary schools to the  universities.  What government  should do is to set up standards, and allow people to run their own things.
Message To Nigerians
What we are going through will not remain with us for the life of the country. We are a developing country. We should remain resolute, determined, not to despair in the face of these challenges. The country is too important fro us to give up on it. The fate of many other countries depends on Nigeria. We should make sure we remain a united country. We will, when everybody makes his contributions and performs his duty to the country.