By  Yemie Adeoye
FOLLOWING the federal Government's resolve to boost the nation's generated power capacity and encourage private sector participation in power generation Larfarge Wapco Plc the foremost cement manufacturing company in Nigeria has boost the nation power capacity with an additional 90 Mega watts (Mw).
Nigeria's generated power capacity which initially stood at about 3300 Mw has now increased to 3900 Mw.
The 23 billion naira 90Mw power plant, named Lakatabu was commissioned by the Governor of Ogun state Senator Ibikunle Amosun at the company's Ewekoro cement plant in Ogun state recently.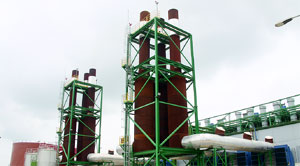 Speaking at the occasion the Managing Director of the company Mr. Samy Abdelkader said that the power plant is a major component of Ewekoro II, codenamed 'Lakatabu'.
"It is built to ensure effective and continuos operation of our plants without power interruptions of any sort. This is in order to maintain good supply of cement to the Nigerian market.
The 23 billion naira power plant which consists of six 15 Mega watts units will be the first operating dual firing plant in Nigeria.
It has a dual-firing system which can make it run on both gas and liquid fuel, AGO or LPFO.
The importance of the power Plant to stable cement production cannot be over-estimated in our commitment to ensure availability and affordable cement for Nigerians especially considering the various power-related challenges our company has encountered in the past.
Although the idea of our new plant was conceived in 2008, actual construction started with the foundation laying ceremony which was held on February 19, 2009.
I want to re-assure you that Lafarge WAPCO is wholly committed to remaining a true leader by delivering value to our customers and the built sector. What you are experiencing today is a reflection of that fact that when we promise, we deliver. We are completing the plant on schedule as promised to all our stakeholders."
Abdelkader stated further that the ultra-modern cement factory would not just be a cement plant, but an embodiment of the company's commitment to innovation and customer care, a developed workforce, adherence to high quality products and standards, commitments to the values of Health, Safety and Corporate Governance.
He said that upon the commissioning of the Lakatabu Plant, Lafarge Wapco will be contributing around 12,000 tonsof cement on daily basis to the Nigerian cement market.
"Our new plant will be a further testimony to our com pany;s leadership in innovation as it has the capacity to produce four different qualities of cement to better serve customers special requirements."
"Our company has keyed into the federal government's backward integration policy which aims at self sufficiency in cement production. Indeed we appreciate government's support to local manufacturers of cement. We are convinced that we will achieve an appreciable strability in cement sub-sector when there is more volume of cement available to Nigerians. Availability will on the long run have a major impact on affordability, which is of great concern to us as a corporate organisation."
Governor Amosun seized the opportunity of the commissioning to praise the company for its preference for Ogun state. He also announced plans to partner with the company on significant developmental projects around Ogere area of thye state.
The Governor also pledges to make security consciousness paramount in Ogus state so that such laudable projects as Lafarge WAPCO's could be more implemented around the state.