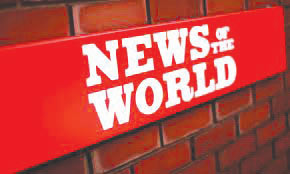 By Kola Animashaun
"The public have an insatiable curiosity to know everything. Except what is worth  knowing. Journalism, conscious of this, and having tradesman-like habits, supplies their demands."- Oscar Wilde
Several parties are   sharpening their knives with the unfurling of the hacking scandal of the News of the World and News International. There are even suggestions that the rot may have spread to other newspapers but the smear has not hit the other papers… yet.
Yes, it has been understood that journalists do not disclose their source so that they can keep the confidence of their source, to protect the informants. But the use of hacking has been bandied about, so what exactly is it? The term was originally used for a gifted programmer, who is so knowledgeable and knows how to gain access to multiple systems. Recently, it seems to have taken a negative connotation and in some countries like the United States, it's a felony.
It is understood that hacking is done by the request of an organisation under contract and it can be ethical when authorised.  It has taken a different dimension and the lines are blurred as it now becomes a means of invading someone's privacy or property without permission and with the sole means of getting a scoop or some dirt.
It has become the given … that it is OK, as they are providing these tattle in the public interest. So why should it be an all out, which way of getting the  scoop at any cost?  Who is paying the piper and who dances to the tune as it seems that there has been a long standing relationship between politicians, part of the press and some parts of the police. It was said that some  parts of the press bought and sold peoples' miseries to sell papers and feeding the public on these diet.
The former prime minister,Gordon Brown told MPs the publisher had been part of a "criminal-media nexus" and many innocent people had suffered from stories written by its newspapers.
The politicians from every side of  the house seem to have wined  and  dined at the table of the publisher, Rupert Murdoch and in turn he had the affront to tow-tow with the movers and shakers in the country.
So now after much public outcry, the parliamentarians have crossed-party lines to declare an urgent judicial enquiry to find way and make recommendations for a better way of regulating the press which "supports their freedom, plurality and independence from government but which also demands the highest ethical and professional standards".
The Lord Justice Leveson assisted by a panel senior independent figures to make recommendations about the future conduct of relations between politicians and the press. So far, Murdoch has refused to sacrifice the scalp of News International chief executive, Rebekah Brooks on whose watch the practice was rampant.
So who is Rebekah? You ask.  Rebekah Brooks has not only conquered the macho world of tabloid journalism to become its queen but has done so with astonishing speed.
What lies behind the News International chief executive's rise to power? This story will run and run.
Disaster Waiting to happen
The flood did untold havoc last Sunday. The  governors of Lagos and Katsina were busy in salvage work and so were the governor  of  Oyo  and Ogun states.
The flood resulted  in  deaths and devastations of buildings and properties.  Stories say such floods had not occurred upwards of 40 years. My mind goes to those who lost their lives; to those who lost properties  and those who  lost  their buildings.  Of  course  to  who now will  have  to  bear   the  brunt of  the costs  of  the  repairs  and rebuilding  that  they  will  have to  do.
I know  some of  the  places mentioned; I  had  been at some of the other places. Yet  some  of the places were very familiar. For instance, I am very familiar with Agege, Dopemu, Iganmu, Surulere,
Badiya, etc.  Some of them had little or no drainage and some of them had refuse dumped in unauthorised drains. Some of the buildings that collapsed did not comply with any known building regulations.In this kind of unsanitary conditions anything can happen as we all witnessed last Sunday.
Of course, we all know about climate change and we do not prepare for it and we behave as this change does not have to do with us.  Or it may never happen.
In China, in Japan, in  Pakistan, in Indonesia in South and North America, we hear and  witness the effect of the climate change.
They are shouting about it, and they are doing something about it. Do we expect that it would not come particularly when we cut down our trees  and  use  them  to stoke fire?.
We have abundant supply of gas and kerosene and do  not know how to  manage it for the  good  of  our  people.  For ages, the people of the East are crying out for the devastation being caused by ecological shifts and many roads have had to be diverted. This kind of disaster, as  we have just had, have a  way of visiting us  in geometrical proportions.
Do we want  to exacerbate or  reduce  it  or  eliminate  it? We  will need  to mind our planning laws and police   them; we would have to see to our sanitary regulations. We will need to pay attention to International warning that will enhance our well-being that is Climate  change.
We  know  that  the Federal Government  does  make  budgets  for  ecology. May  we  ask that the  budget  be  spent  for the  good  of the  country?
We  may  cry  for the   departed  souls  of  Nigerians, they  will  never  return to us.  What  we should  do  now  is  to  see  that  such  a  thing  will  not be  repeated.
To  the  governors  of  Lagos, Oyo, Ogun, Katsina  and  such  others who  lost  their lives and those  who  lost  properties,  I  commiserate with them.