If states 're poor, then Nigerians need bailout  – Issa Aremu, NLC, VP
Comrade Issa Aremu is a  Vice-President of the Nigeria     Labour Congress, NLC. The labour body issued a two-week ultimatum to state governors – the ultimatum lapses at the end of this week – on the raging matter of the concerns raised by the latter about the ability of state governments to pay the N18,000 salary as enacted by the amended Minimum Wage Act, signed into law by President Goodluck Jonathan on March 15, 2011. In this interview, Aremu wonders what the hue about the N18,000 is all about.
In fact, he describes the amount as slave wage. "That N18,000 is wage slavery and we grudgingly accepted it.  It is neither a working wage nor a living wage.  Nigeria no longer has a happy working class; what we have now is a sad, unhappy working class".
Aremu then warns: "But, let me say it loud and clear: Let no state governor employ extra-judicial means to address purely legal issues.  They all took oath to defend the laws of the country including the Minimum Wage Act".
The labour leader took Sunday Vanguard on a voyage of analysis, explaining that the petroleum subsidy removal along with the upward review of revenue sharing formula being surreptitiously canvassed by the governors as possible conditions-precedent to enable them cope with the new minimum wage, is bunkum.
In conclusion, Aremu says "If governors talk of a new revenue formula for poor states and they say they need poverty alleviation, then the citizens need a bailout, an immediate one, which can be addressed by the new minimum wage."
It is educative and enlightening.
Excerpts:
We are at it again: The need to ensure that Nigerian workers are well-paid, but at the same time some state governors are talking about removal of petroleum products subsidy.  What should the Nigerian worker be thinking about all these?
It's not so much of what the Nigerian worker should be thinking about but what Nigerians should be thinking about.  I think every Nigerian will think, and rightly too, between the governors and the governed.
When you say governors, I want to believe you mean those who govern us and not specific to state governors alone?
Yes,  I mean our leaders, those in power, those who claim to have come through our mandate and we, the people they are supposed to be leading. There is no correlation between the Minimum Wage Act as signed in 2011 and the removal of petroleum subsidy – there is no correlation at all.  You know very well that the so-called deregulation or removal of subsidy has been the buzz word for the increase in the prices of petroleum products.  Obasanjo did it before for almost 11 times but throughout Obasanjo's tenure, minimum wage was increased only once – that was 2000.
What we are saying here is that, there has been incessant price increases without a corresponding wage increase, so why would anybody now come out and say that with a new wage increase, there should be the removal of subsidy.  That is not sincere.
But let me say it loud and clear: Let no state governor employ extra- judicial means to address purely legal issues.  They all took oath to defend the laws of the country including the Minimum Wage Act.
But what the governors are saying is that…
Even from the point of view of the governors, three months ago, when they were moving about to become candidates of their parties and then to be elected, did any of them mount the rostrum to say if we are elected, 'we would increase the prices of petroleum products' or that 'we would put more hardship on our people'.  Of course, that would have been unacceptable and, therefore, if it was unacceptable before the elections, then it remains unacceptable now.  No correlation whatsoever.  To the contrary, it is part of the desperation of the governors that is why they are moving from pillar to post.
Although some of the governors are saying something entirely different…
(Cuts in) Yes!  The more informed among them, like Comrade Adams Oshiomhole are saying that there is a complete difference between the Minimum Wage Act and any other thing, including the revenue formula.  That all they needed to do was to obey the laws.  The governors must learn that we are in a democracy.  The way some of them are operating, we appear to be back to the military era of dictatorship.
Okay, that bring us to the issue of the difference between policy consensus and policy dictatorship?
Good!  What they are doing now is policy dictatorship and not policy consensus.
Look at all the parameters, it is not within their purview – petroleum price increase is not within their purview, it is not the prerogative of the 36 governors, it is purely a federal issue and that includes all of us.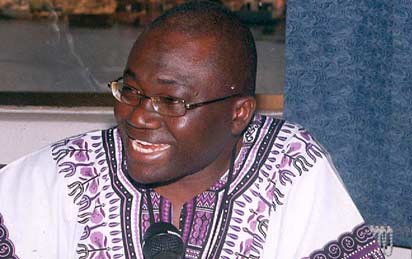 Okay, the agreement of 2007 was clear where it was agreed that there would be no price increases.  Was that agreement for a season or a period or it was infinitum?
The 2007 agreement states clearly that nobody should touch the prices of petroleum products.  It was agreed and it wasn't just for a season.  We resolved that issue.  It was based on the fact that there were many issues that needed to be resolved in the petroleum industry beyond the issue of pricing.
What were the issues?
As part of the parting shots of Obasanjo, he increased VAT and also increased petroleum products prices.
When the late President Umaru  Yar'Adua came in, we confronted him with the strike which lasted for almost a week.  Part of that agreement was the reversal of Obasanjo's increase and it came back to N65 per litre.  They tried it about a year ago, but it failed.
We had a committee in place to look into the issues but at that time the governors were nowhere to be found.  Where were they then?
What the governors are talking about is self-serving.  There is no national agenda because there is no linkage between subsidy removal and Minimum Wage Act.  They are only interested in revenue, allegedly to pay wages.
But they do need revenue to pay wages…
Okay, but we know that the crisis of governance in the country is not lack of revenue.  According to  EFCC, no lesser than 25 state governors have cases to answer in their disbursement of funds.  No doubt, some governors are doing very well, engaging in infrastructure development.  But, when you talk about being given more money, just imagine giving more money to some of the past governors while in office. So, there is no correlation between your having more money and delivering good governance.
The negotiations started in 2008, right?
Yes, it started in 2008 and it was then President Yar'Adua who set the machinery in motion.  Stakeholders were represented and this included labour, CBN, etc and we looked at all the indices – cost of living, inflation and all that. We agreed that beyond the government, how would the small business owners pay?  At the end of the day, we agreed that N18,000 was okay and we sent the report to the President from where a presidential bill emanated and it went through the National Assembly – the two chambers where it was passed and then signed into law.
In any case, what are we talking about?  N18,000.
Let me tell you the truth, that N18,000 is wage slavery and we grudgingly accepted it.  It is neither a working wage nor a living wage.  Nigeria no longer has a happy working class; what we have now is a sad, unhappy working class.
In fairness to some of the governors, a few of them are also saying that what we need is the obedience of the laws of the land and all these problems would go.
I agree.  Nigerian leaders should learn to obey the law and one of such laws is the N18,000 Minimum Wage  Act.
But some are saying that they may not be able to pay because of paucity of funds.
The governors are talking at their people and not with their people.  They should come down and talk with their people and articulate the issues.  It has been established that, on average, for every worker, there are at least a minimum of six dependants.  Can you imagine a Port Harcourt without civil servants?  Where do the civil servants spend their money?
Look, if some governors are so poor as they are saying and the man needs poverty alleviation, to put it that way, and he needs new revenue formula, have they asked themselves what their workers live on in the state.  If the state is broke, have they asked what the citizens live on and a few self-enlightened ones have interrogated that N18,000 which is a slave wage – How would a man go to work on average of 25 days, pay house rent, feed, send the children to school?
The estimate we came out with is an average of N90,000, to have a sense of comfortability.  The time we did that proposal the inflation rate was in single digit, now it is double digits. NEPA tariffs have been increased and these things are not academic, you must pay – you won't tell the market woman you can't pay because you don't have money.
If governors talk of a new revenue formula for poor states and they say they need poverty alleviation then the citizens need a bailout, immediate one, which can be addressed by the new minimum wage.
Let us ask our friend in Rivers, where is he getting money for the sports' festival?  But the pay of the worker, the money returns back to the state through the workers' expenditure.
Then, there is also the question of how many people are in the state civil service? Will the governors restrict themselves to just paying salaries?  Interfacing the number of civil servants in the state with the need of the overall population – it's also about numbers!
It's unfortunate and I'm not impressed that some governors are arguing that way.  Some governors must understand that they are wearing two caps: First, as employers of labour with obligations to their employees, that is the civil servants in their states.  Then they are also protectors of the law, they must be seen to enforce the law.  In doing so, they must be much broader-minded in looking at the bigger picture.
Talking about the number of civil servants in the state as against the overall population, how many governors do we have in a state, only one, in a state with a population of an average of let's say three million and nobody is also asking the question about why he has a minimum standards to keep – why does he maintain an ADC, why does he have aides, why does he have a particular seemingly irreducible minimum standard of living?  If it is about numbers, then governors cannot have a case and in the true sense of the word there is only one governor because people ever hardly hear of the deputy governor.  Everything starts and ends with the governor.
Let's take Rivers State talking about a workforce of 52,000.  What is the population of Rivers and before we forget, we shouldn't allow the governors to drag us into the issue of one thing versus the other: It is not about workers versus project construction; or healthcare delivery versus workers' salary, no.
It's not classrooms versus teachers, or building a brand new stadium to host a national sports' festival versus the sports' workers.  You won't drive maintenance of the stadium without workers who are not going to be paid; you can't talk of brand new schools and beautiful classrooms without teachers to teach in them and be paid.  I'm using the Rivers State example now, so it's not one versus the other and so a good governor must know that it is not a binary argument.  It's not development versus the people and, in fact, it is the people that are central to all.
Governors must understand that they are not project officers, doing this project or that project; but good as projects are, the people still matter more because these same projects are for the people.
Labour believes in development agenda and when we see governors like Rotimi Amaechi engaging in projects and developing his state, Labour is excited about that; Fashola is re-inventing the community and environment and people like Oshiomhole also rebuilding a state that had collapsed owing to bad governance.  But a good governor also knows that the people are key and central to everything and the challenge of governance is not to pitch one against the other but to manage and succeed in meeting both competing needs.
Some are saying that if we continue with the way we are going (last year we spent close to N700 billion on subsidy and this year we have already spent close to that, so by the end of the year, the figure would have become over N1 trillion) we would run into a big crisis. If you were Mr. President, faced with this huge challenge, what would you do?
Let's add to the issues:  Do you know the opportunity cost of inefficient refineries?
The opportunity cost of Nigeria not being able to realise her full potentials of not refining the crude we produce?
The opportunity cost of not producing crude oil to capacity?
The opportunity cost of import reception instead of local production?
The opportunity cost of demurrage being piled up for imported cargo?
Already, Angola is fast overtaking Nigeria in the area of production.
There are a lot of leakages which need to be addressed by Mr. President.
These people are involved in economics of least resistance.
What is the cost of governance in Nigeria?  Look at the figures of the subsidy being enjoyed by our legislators – we are also subsidising their way of life.
We talk about subsidy going into a few pockets, in a country of 150 million people.
Who are these economic saboteurs?
Are they ghosts?  Are they not Nigerians?
The President must have a broader analysis of the level of leakages.
Look at one of the governors with over 1,000 aides, what type of government is he running?  People won't take them serious when they just jump at issues.
Talking about more money, how have these governors not run down the excess crude account?  When this one is shared, they will look for another source of revenue again and ask that it should be shared.
If I were  the President, I would resume duty.
He has resumed as President and Commander-in-Chief?
(Laughter)  I'm sorry, our leaders are not on duty.  When our leaders were on duty in the 1960s and 1970s, with less policy documents like all these their Vision 20:2020, Millennium Development Goals, MDGs, our leaders did more with less money in those days.  Our leaders built refineries – one in Port Harcourt, then another one there, then Warri refinery and they were functioning at full capacity, then we had the Kaduna refinery.  In fact, with local refineries, the price of petrol could be as low as N30 per litre because most of what is passed to customers has nothing to do with direct production.
With the advent of GSM and what we have in the telephony sub-sector, some are arguing that removal of subsidy would in the long run be of immense benefits.
Let me give you an example of why their arguments do not hold water within the context of contemporary realities.
You import fuel into Lagos and then transport same to Maiduguri, just imagine the cost of transportation and add it to the eventual cost of petrol per litre.  We should first re-invent the sector.  There are a lot of issues beyond the price.  From the point of view of the private producer, for those talking about deregulation, they don't look at the issue of job creation, local content, they don't care and even if you want they can import governors or even import the President for you if you want, for them it is the bottom line, the profit to be made.
So, why jump and throw Nigerians to market forces while the real rot is allowed  to remain. Let's look at the bigger issues.
One, as the President, I would look at the issue of Nigeria as the sixth largest producer of crude oil, we do not have any of our refineries working well – they could not even privatise the refineries.  I would ask, how was it done before?  It is about governance.  It has nothing to do with private or public sector; it is about good management.
Governors are just being ideological, following a dogma on the issue of deregulation and subsidy removal. If you deregulate does that mean there would be no abuses, you must reward those who obey the rule and sanction those who flout the rules.
They keep telling us about these people who collect the subsidy and divert same; have they been arrested? Are they not Nigerians?  These are the same governors who are involved in providing security, buying APCs; why didn't they leave the issue of security and say there is no money.  Gov. Amaechi took up the issue of stopping kidnapping in his state, that is a governance issue.
But how much subsidy, really are Nigerians enjoying?  What sense would you make out of it?
There is even a debate in some quarters that there is no subsidy In our name, our governments at all levels have not been on duty to make sure that they institute corporate governance by not apprehending people who are sabotaging the system but would rather pass the burden to the people; that people must pay more for the inefficiencies in governance and over  the years when the prices go up, we are told of new subsidy figures.  Why do we have a system that we are importing at all?
Why would we pile demurrage after importing and then pass the cost to Nigerians?  That is not a pricing issue, it is a governance issue.  Who are the people deliberately causing this so that they can inflate invoices? Then, you import petrol and start carrying it on the roads up and down the country; highly inflammable; mobile bombs on our roads; official Boko Harams, moving round the country.  Look at the massive explosions that have killed more people than Boko Haram. Pipelines are there, those are governance issue. Then, by the time the products get to Kaduna you say the price has gone up so you have to bridge the gap of cost. What it means is that from day one, you have already factored in inefficiency and you say the tax-payers should come and pay.  You pay demurrage, you pay for shipping, you pay for banking costs, you pay for transportation delays, clearing, so, who is subsidizsing who?
If you say parametres have changed, people do not just changes prices anyhow.
Where are the positions of governors on the  issue of PIB law?  They just wake up one day to say give us more money.  How many of the governors open up their books?
There are challenges, we agree.  But the state governors should be creative and work.
Some governors say they are progressives, they wear Awolowo  caps,  but they don't have the acumen and thinking capacity.
But, don't you see a showdown looming?
Let me tell you, one of the blessings of Nigeria is the fact that we have been a part of the International Labour Organisation for long  and the process of collective bargaining to address the issue of workers' welfare and income distribution – this is part of our heritage.  We have moved from wage fixing to collective bargaining and we are moving now to social security. Obasanjo reversed that trend when he stalled the social security fund.  Most of the tension is because there is no social safety net for those who call themselves militant.
These things that we have been doing for long, and which we are used to is not there in some countries. The whole explosion you have in the Arab world was because they closed all the ventilation points. Look at Egypt, Libya, Tunisia.  They had no right to strike. The money Ghadaffi never allowed his citizens to enjoy, he started offering when trouble started.  It's policy dictatorship.
We have crossed that bridge.  When the Arabs were sleeping, we were already awake.  We couldn't have produced a Mubarak here in Nigeria.  Sani Abacha tried it, we dealt with him; Babangida, we dealt with him; even Obasanjo who attempted to take us for a ride, we stopped his third term bid.
We had our SAP riots long time ago.  No political parties in those countries, returning people back to the era of stone age.  How many parties do we have in Nigeria?  Dozens!  And, you could see the way things evened out because if they deny you ticket in PDP, you move to CPC or ACN.
What should Nigerians brace up for as coming from  NLC and what should those who are attempting to break the law expect?
There is only one way which all Nigerians must prepare for, it is the implementation of the law. My fear now is that these governors may be attempting to drag us back because when you attempt to employ extra-judicial means in resolving purely legal matters, then you want to sabotage the system.
If in the place of policy consensus you attempt policy dictatorship, then we may be on our way to Tunisia.  Labour has given an ultimatum. If there is a will, there would be a way.