By Ifeanyi Okolie
Three  notorious drug dealers are currently telling Operatives of the Lagos State Command of the National Drug Law Enforcement Agency (NDLEA), their exploits in illicit drug trading within the metropolis.   The suspects who were identified as Gambo Amadu,  28,  Fidelis Mike, 19, and  22-year-old Diana Gabriel, met their waterloo  when operatives of the agency carried out  mop -up raids of major drug enclaves in the state, which sources said includes, the Ido motor park, Oyingbo Railway Terminal and NNPC Ejigbo area.
A  statement by the Agency's spokesman, Mitchell Ofoyeju said the command was determined to halt the abuse of illicit drugs in the State.    According to him. " the   Command carried out a raid on major drug flash points on Sunday May 22, 2011. The operation that took place at Ido motor park, Oyingbo Railway Terminal and NNPC Ejigbo areas of the metropolis led to the arrest of three suspected drug dealers and a seizure of 122.65kg of dried weeds that tested positive for cannabis".
Crime Guard gathered that, 90.3kg of cannabis was recovered from Amadu, while Fidelis had  7.35kg and Diana was caught with  25kg.  Meanwhile,  Ofoyeju also added that the Command has vowed to  continue with raids of areas where drugs are sold and abused in the State. ""The command will continue to raid drug flash points within the metropolis. Investigation is ongoing into the cases and the suspects will be charged to court.
One of the suspects, Gambo Amadu, a native of Kano State, who was nabbed at Ido area with 90.3 kilograms of cannabis claimed to be a commercial motorcyclist, while investigation showed that he is a member of a dreaded drug gang that operative within the area.  In his interaction with   Crime Guard, he said his role was to safeguard the warehouse where the illicit drugs are stored. He is said to be working with one Isa who hails from Sokoto. "I am an Okada rider.
I came to Lagos in 1993 and was introduced into the cannabis trade two years ago. My duty is to protect the cannabis warehouse. I work with one Isa but at the time of my arrest, Isa had gone out" He also lamented that his family was not aware that he was involved in this trade. "I regret my arrest. I only joined this gang because I wasn't making enough money from Okada riding.  I wanted to go back to my village but I would have nothing to feed my family there.  I am ready to turn a new leaf if I am released"
But Fidelis Mike who hails from Anambra State and claimed to be a  musician, blamed his involvement in drug trading on lack of funds to  sponsor his musical career. According to him " I  used to hawk gala along the major expressway and I was making very small amount of money. What I made then could not afford any meaningful thing for me and friends introduced me into cannabis smoking before I started.

In his statement, he claimed to have been selling cannabis less than two months ago. ""I can sing very well but I have no helper. I used to hawk gala but friends lured me into cannabis sales. While selling gala, I can make N500 to N1,000  profit but with cannabis, I can make a minimum of N3,500 a day. I attended Ladipo primary school in Lagos but after my graduation in 1996, I could not further my education because I lost my mother and my dad is bedridden"" Fidelis stated.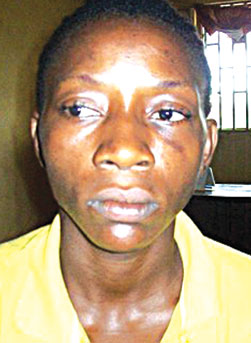 The only female suspect nabbed in the raid is Diana Gabriel. He was arrested at Oyingbo area and 25kg of cannabis recovered in the house she was sleeping. She claimed to be a user and that she only visited her girlfriend. ""I do runs and attend club. I also smoke weed but I don''t sell. I live with my father at Maryland"" Diana stated. She pleaded for her early release to enable her write University entrance examination next month.
Chairman of the Agency, Ahmadu Giade expressed satisfaction with the raid. He called on Lagos residents to supply useful information on drug gangs to the Agency stressing that the Agency is interested in apprehending every drug dealer in the country. ""Raid operation is a daily affair in the Agency and I am pleased with the results of this operation. The Agency is determined to bring every drug dealer to book. We are interested in taking away all drug users and addicts in our society"" Giade stated.