By Bashir Adefaka
Chief Reuben Adebayo Fasoranti knew exactly why he was in the Ondo State Government of the late Chief Adekunle Ajasin (1979-83) service.
As a  disciple of the late Obafemi Awolowo, he also understood well the imperatives of loyalty to leadership, commitment to party policy and subjecting self to several interests.
So when, that morning his boss summoned him over government's plan to  take over his private school for public use, Chief Fasoranti found it impossible to say no.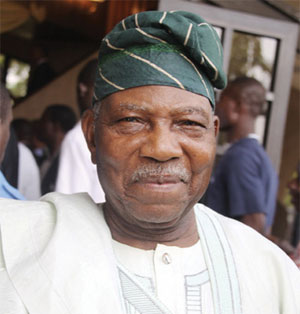 His party — the Unity Party of Nigeria, UPN — had rolled out a free education programme which entailed taking over of some private schools  which included Chief Fasoranti's Akure High School.
Governor Ajasin could have spared his Finance Commissioner's school for friendship's sake, and Fasoranti himself could have appealed to the  party for a waiver.
"He (Ajasin) invited me to his office one morning and said, 'Chief I want to take over some schools in the state. Any objection?' I said, ' no objection."
Not only did he lose the school, he got no compensation. And he did not complain.
"Government has taken over schools. Whether they are running them well or not, it does not matter. I wasn't disappointed at all," he said at his Akure residence.
But he has since established another one — St. Francis Academy at the institution of his wife.
Indeed, founding schools, or educating the youth, is second native to him. He trained as an educationist at the University of Ibadan and later in UK before founding Anglican Grammar School, Iju-Itaogbolu in 1957, just a year after returning from London.
He said: "I settled around here and I was appointed by the Iju-Itaogbolu community to come and set up a secondary school for them.
"I had already got a job coming straight from the UK as an education Officer and I agreed to found the school for them. The school was immediately sponsored by the Anglican Communion. I started the school from the scratch. The people knew me; parents knew me; students came in and they started from the scratch.
"The school was sited between the two communities of Iju and Itaogbolu and I decided to live there, where it was sited. I lived in an abandoned house in a bush. I recruited first of 30 students."
He soon began to show interest in local politics and in no time he was elected councillor to represent Akure, combining it with his job as a principal. So he began an illustrious career in politicians.
There were several other teachers cum politicians in the area including Chief Ajasin.
"It went well," he recalled. "They did their work and earned good money. But there was not this fascination for acquiring wealth at government's expense.
Chief Fasoranti is unhappy at the parting of ways between Afenifere and some of its former members especially the ex-AD governors. He wants them back in the fold.
We made overtures to them to let us resolve the issues, but they turned their back on it.  Justice Kayode Eso was approached to be the chairman of the reconciliation group.
But in all the meetings summoned, they didn't come.  Occasionally they would send a representative who would come to hear what we wanted to say and go away with flimsy promises that all would be well.  That was how we went on and on until when they decided to form a political party called the  Action Congress,AC.
We kept on pressing but they had already made up their minds that they were not going to reconcile with us.  That was how we had this crack in the house of Afenifere and so the AC became the political party instead of AD.
When we knew that Obasanjo was not going to release the AD for us, we then formed what we called the DPA, Democratic People's Alliance and they too went on to promote AC which later became ACN.  DPA was launched, but of course because it takes time for people to accept new ideology or new group, when we went into elections, it was a poor showing and we did woefully.
At the same time we kept nurturing the ideals of Afenifere but they made up their minds that they didn't want to have anything to do with us.  Some people made attempt.  You would remember General Adeyinka Adebayo tried to reconcile us but they said since they had made up their minds, they were not going to listen.
But truly some people said YCE was an attempt by Obasanjo to split Afenifere because he established them, nurtured them so that they could be making statements against what we stood for.  But you can see that the YCE hasn't gone far,they only exist in names.
ACN under Tinubu's leadership is charting a different course and some of us feel that we should still hold on to the core ideology that used to propel Yoruba people to the forefront.  We are still making efforts, but it appears that the ACN will not look back.
I think the plan is, when they form their governments they will pretend to be speaking for Yoruba people.  That is what I think.  But we still have a core leadership comprising of people like Olaniwun Ajayi, Ayo Adebanjo, Supo Sonibare, Olu Falae.
People like Awobona, myself, Korede Duyile, Sehinde Arogbofa.  These are core, solid people who still hold on to the ideals of Afenifere, the cardinal point: enunciated by Papa Awolowo: freedom for all, life in abundance, education for all, employment for people, development of the rural areas to prevent rural-urban drift, health for everybody.  These are the things which we hold on to.
So how did he meet Chief Awolowo?
When I was teaching in Anglican Grammar School, Iju-Itaogbolu, I was fascinated by his ideas.  He would come there to campaign, and I attended all those rallies.  As a young man I was fascinated and I decided to be a disciple of Awolowo and joined the Action Group.
When I joined the Action Group and Papa Awolowo was coming here, he would meet Ajasin and his associates in my compound here (in Akure).  So Chief Ajasin knew me intimately and I think he was interested me so much that he devoted a whole page to me in his book .
So he knew me very  well.  In fact, when he wanted to start the group that agitated for the creation of Ondo State, the meetings were held here and I was the first Secretary to the Ondo State Movement.  And  when he contested an  election  he won,and decided to appoint me a Commissioner  for Finance.
Subscribe for latest Videos