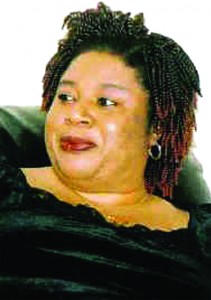 Remember Dolly Unachukwu? She is one of the pioneer actresses that ruled the screen in the early days of Nollywood.
Now known as Dolly Unachukwu-Olaniyan, she quietly married a man she calls her best friend and confidant, one Dr Olaniyan, several weeks ago. HVP gathered that the couple had a traditional and church blessing and are planning a white wedding in the coming months. Dolly's new husband is a pastor.
This will be Dolly's third attempt at marriage. Her first marriage crashed in 1994 and her second some years back. She is blessed with two children.
Dolly happened to be one of the actresses, who has seen it all, been there and done that. Her pioneering role in the Nigerian movie industry (Nollywood) is legendary, having appeared in dozens of movies ranging from the highly controversial " Glamour Girls" , to " Full Moon" , " Final Decision" and "Deadly Affair". Dolly suddenly disappeared from the Nollywood scene to the surprise of her many fans.