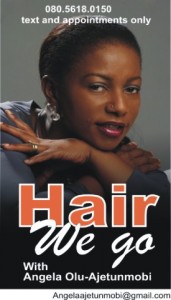 None like yours: Your hair is as individual as your signature. You must be single-minded when it comes to matters of your hair's health. This is the first fact you must believe. No two heads are the same, not even among sisters. You could share some characteristics but that's the limit. Scalp also differs and requires its own regime. Do NOT treat it the same as anyone else's hair. Learn what makes your hair thrive and stick to it irrespective of what anyone else says they do to theirs.
Understand your hair: That is the most logical place to start. The women with the healthiest hair are able to tell you how their hair will react to certain stimuli, products or procedures before you apply. You must get to that point where you know your scalp and hair characteristics so well, that you are able to turn down certain procedures you are not comfortable with. This is the only way you won't be bullied or coerced into trying processes that will break/damage your hair.
Buy problem-specific products: Most women buy products for the wrong reasons and waste time, money and effort. A pretty model on the pack may catch your attention but that should not be the sole reason for buying that product. We secretly hope to be transformed into a raving diva like the model if we use same. Concentrate on what the literature says the product will do for you, rather than on the colours of the packaging or the model on the pack.
Always read the literature: There is a reason the manufacturer included information within the pack. Never assume that you know how EVERY product is used because you have seen it used before. The truth is that most women rely on oral information about how/when to use a product. We never consider the fact that we could have been relying on information from an ignorant person. So stick with the manufacturer's recommendations always.
Know your limitations: Live with them and teach yourself to accept and embrace them. Do NOT expect miracles when you do not have the raw materials to carry it off. Wishful thinking will not give you great hair, no matter how positive. If your hairline is hereditarily empty, do NOT expect your humble stylist/salon to sprout new hairs for you, since she cannot create follicles for you. Instead, design a style that will divert attention away from that area.
Communicate: Your stylist is not a magician; do NOT expect her to guess your wants and do NOT assume she ought to know. Has she been doing your hair previously? What the stylist sees is not what you see. She sees long stringy hair that needs badly to be trimmed; you see long hair that ONLY needs to have 'body' or depth. So, it is important to say for instance, how many inches you were hoping to cut off. Be specific on what you hope your experience will achieve.
Be realistic: This is one of the greatest challenges of the stylist, especially when the client is unaware about how unreasonable her request sounds. There is nothing as disheartening as an overly optimistic client whose hair cannot deliver the style she wants but who has an inflated sense of her hair's greatness. Do not expect that your damaged hair will be restored immediately with minimal work or one conditioning treatment. There is no magic potion in a bottle.
Select your salon/stylist carefully: Consider your unique needs based on what you now know about your hair and scalp characteristics. If a stylist/salon is recommended to you, clarify what areas they specialise in. Most salons have their strong points; so you don't want to go to a salon that is great at braids and hope for hair restoration. It is best to stay within the salon's comfort zones for the best results. Conduct a search for the most appropriate by speaking to women with differing challenges.
Plan your time: Make out time for your hair. You can only get results that are commensurate with what effort you put in. You must not expect hair that's been damaged following years of bad hairdressing practices, to be restored in the shortest time possible. You must make out the time for deep-conditioning treatments lasting about 15 minutes a time. Sometimes, you may require 2 or more treatment combinations at a visit; and you must have them.
No scrimping: Above all, be prepared to spend a little more on your hair in terms of product and service. I find that most women are looking for the cheapest way to get fantastic hair. That will only happen if you were/are blessed with great hair genes or in your dreams. There is a world of difference between a chemical product that costs N950 and one that costs N1900. Don't expect them to deliver the same results.
Thanks for reading.
Do make it a great week.