By Remmy Diagbare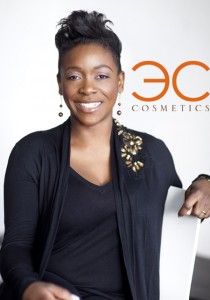 EC cosmetics is the exclusive distributor for Divaderme in Africa. The line of Divaderme cosmetics has been featured in Cosmopolitan, True Love, Marie Claire and more. Spearheaded by Nigerian Entrepreneur Olabisi Waller, after two years with a soft launch in Nigeria, The EC Cosmetics team is stepping into the giant of Africa, Nigeria with its Number 1 selling beauty product Divaderme Lash Extender and five (5) other products designed with the goal of creating a platform to make women look and feel beautiful and also empower them with entrepreneurial opportunities.
EC Cosmetics is a make_up distribution brand for natural and peak performance beauty products. EC Cosmetics products are sold through salons, select retail stores, and Individual sales representatives worldwide. Its unique range of products enhances a woman's natural beauty while simultaneously empowering women with entrepreneurship opportunities.
The EC Cosmetics range of Divaderme products include: Lash Extender_ Instantly Brush _On Lash Extensions, MascaraDiva, Brow Extender; Instantly Brush_On Brow Extensions, LipExtender _ Full sensuous lips in a bottle, Stimulash Intenso: Natural Eyelash Growth Tonic
"Make_up is supposed to enhance a woman's beauty, and our products truly deliver. Nigerian Women are naturally beautiful and we accentuate that natural beauty." _ Olabisi Waller, Chief Executive Officer
About Olabisi Waller
Olabisi is the CEO and executive director of two successful online companies, Elise Charles and EC Cosmetics. She got her entrepreneurial inspiration at a young age when she would buy affordable goods at a local market and resell it for a profit to her schoolmates. Born in Delta State, Nigeria, Olabisi grew up in a large family with nine sisters. Her entrepreneurial ambitions where further heightened by her upbringing with her mother who constantly reminded her and her sisters 'never to let anyone tell them they could not do what they wanted.' Those inspirational words led her to become a very determined, strong willed person. Olabisi studied business administration at Ondo State University. She has been self_employed since 2001, and is currently enrolled in the Wharton Business Development Program at the University of Pennsylvania. She started the gift and souvenirs business Elise Charles Company along with her husband, Charles Waller in 2007 and a year later launched EC Cosmetics with the goal of providing the beauty industry unique products that truly enhance a woman's beauty.