Shock, disbelief, anger and disappointment, yesterday, greeted the postponement, till tomorrow, the National Assembly elections.
* It's our last option – Jonathan
Expectations had been high that the polls would go on, going by the large turnout of voters at the polling stations, yesterday, across the country.
It took the late arrival of the electoral materials, and non-arrival in many states to conclude that the elections would not go on.
An apologetic chairman of the Independent National Electoral Commission (INEC), Prof. Attahiru Jega, who announced the postponement of the elections, yesterday afternoon, pleaded with Nigerians, the political parties, and "other stakeholders, particularly national and international observers and our development partners, for continued understanding".
President Goodluck Jonathan also expressed regret at the postponement of the polls and appealed to Nigerians for understanding.
To the president, the polls shift remained the best option.
But Jonathan and Jega's apologies were not enough to deter angry reactions from Nigerians on the polls postponement as the reactions poured in, in torrents.
The presidential candidate of the Congress for Progressive Change (CPC), Major-General Muhammadu Buhari; Senator Bola Ahmed Tinubu; Governor Babatunde Fashola of Lagos State; the president of the Nigerian Bar Association (NBA), Chief Joseph Daudu (SAN); constitutional lawyer, Prof. Itse Sagay (SAN); national chairman of All Progressive Grand Alliance (APGA), Sir Victor Umeh; Prof. David West and the Odua Peoples Congress (OPC) founder, Dr Frederick Faseun, were among eminent Nigerians who were aghast about the polls postponement. But former military president, General Ibrahim Babangida, cautioned against crucifying the INEC chairman yet.
Unanticipated Emergency
Jega, in a statement, yesterday, blamed the polls postponement on "unanticipated emergency we have experienced with late arrival of result sheets in many parts of the country".
The INEC boss went on: "The result sheets are central to the elections and their integrity. Accordingly, in many places, our officials have not reported at the polling units, making it now difficult to implement the Modified Open Ballot Procedure that we have adopted.
Not only do we have to enter the results in the sheets, the number of accredited voters is also to be entered in the result sheet. While we could have proceeded with the elections in a few States of the country, where all the materials are available, such as Lagos, Kaduna, Kebbi, Delta, Zamfara and Enugu, among others, in order to maintain the integrity of the elections and retain effective overall control of the process, the Commission has taken the difficult but necessary decision to postpone the National Assembly elections to Monday, April 4, 2011″.
He added: "I appeal to all Nigerians for their understanding in this difficult situation. We as a Commission appreciate the profound sacrifice that you have all made not just in turning out today, but also throughout this election season. We are greatly encouraged by you and our appeal is that you remain steadfast in this last lap of this electoral process in the interest of all Nigerians and in the cause of democracy.
"The Commission will immediately be contacting all political parties, as major stakeholders to explain the situation. I appeal for their support in explaining the situation to their members and supporters.
May I also appeal to all other stakeholders, particularly national and international observers and our development partners for continued understanding. I realize that they have committed enormous resources to this process, especially in deploying observers in the field. However, we think that what is worth doing is worth doing well.
"Finally, while we deeply regret this situation and apologise to Nigerians for the hardship this may have created, I would like to reiterate that we are fully committed to conducting free, fair and credible elections for Nigerians. The decision the Commission has taken is weighty; but it is also a very important step in further ensuring the credibility of the elections".
It's unfortunate — Buhari
Speaking through his media aide, Mr Yinka Odumakin, Buhari described the polls postponement as unfortunate, adding that the development may lead to voters apathy.
Buhari said: "It is quite unfortunate. Inspite of the seriousness of the Nigerian people to participate fully in these election, this disaster has taken place. Professor Jega has taken the right decision, but I think that INEC should have done better. They should have assured Nigerians that those materials arrived and distributed before holding any elections. This development may cause voters' apathy because people have prepared well for these elections and they are disappointed this way. It is quite unfortunate."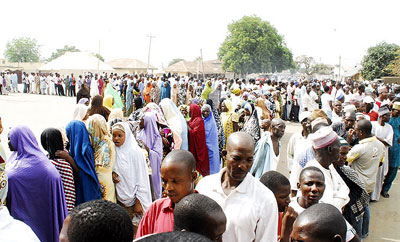 No bright prospects for Nigeria — Daudu
On his part, the NBA president, Daudu, expressed shock at the development.
He said: "The news of the postponement of the elections came to me as a rude shock and dismay. I am an optimist but this development has dampened my optimism about Nigeria. It is not that the elections were cancelled but they were postponed; by Friday, we ought to have known whether the materials were on ground or not."
"By this development, it shows that there are no bright prospects, it also shows that we are not serious. I just hope INEC gets it right".
It's unparalleled shame — Sagay
Constitutional lawyer, Sagay, said: "I have just one statement to make about this and that is unparalleled shame. I am ashamed as a Nigerian. I have never experienced such shame in my life and that is all."
Jega has let Nigerians down — Senator Solomon
The senator representing Lagos West Senatorial District, Senator Ganiyu Solomon, said the INEC chairman has let Nigerians down.
According to him, "It is disappointing because Jega had all the time to prepare. He was given all things to ensure there were credible elections. The excuse about the result sheet not properly distributed is a smokescreen. He cannot justify the money and support he has received; for some of us, we have lost confidence in Jega."
Postponement worrisome— Aturu
A rights crusader, Mr Bamidele Aturu, said the postponement of the elections into the National Assembly is quite worrisome, noting that it could have been avoided.
His words: "It is good that Professor Jega has already accepted responsibility. Indeed, he has no choice. He must accept blame principally for failing to do away as quickly as possible with some of the masterminds of electoral fraud and administrative dead woods that he inherited in INEC. He is now reaping the fruits of his indecision in this regard".
INEC is a big disappointment — Umeh
APGA national chairman, Umeh, said: "We are shocked to the marrows because INEC had announced on Friday that it was ready for the elections. There is no way INEC could have been ready without the result sheets being on ground. This is a very big disappointment for every Nigerian. We are going to participate in the elections on Monday but INEC must be totally ready."
It's sad — Remi Tinubu
In her reaction, ACN senatorial candidate for Lagos Central Senatorial District, Mrs Oluremi Tinubu, described the decision by INEC as a sad development.
She said, "It is sad that INEC had to postpone the elections, but, notwithstanding, we are ready for the elections. I just want to urge Nigerians, especially Lagosians, not to be disturbed by this, they should come out and vote."
Polls shift doesn't edify Jega – David West
Former petroleum minister, Prof. David West, said the polls postponement was unfortunate and disappointing. He added, "What has happened has nothing to do with free and fair elections. This development does not edify Jega's status, this is the least thing anyone can expect from him given the expectations that accompanied his appointment. What has happened is management ineptitude and it is very scandalous, Jega should have known all these.
The whole world is looking at Nigeria, yet we have continued to fail. To whom much is given, much is expected. That is why INEC should have avoided this disaster. This is just carelessness on the part of INEC because they should have known how best to award contracts. Why would Jega even declare public holiday for Monday, is he the Minister of Internal Affairs?  That is an aberration on his part because he does not have the right to do so. I still believe that we would have free and fair elections because people are willing to vote and protect their votes.
It's INEC April fool – Fasheun
Fasheun, OPC leader, said INEC has turned the exercise into April fool. "This has reflected that we are not ready to move forward as a nation. I will advise that INEC should cancel the whole exercise, so that we can search for ways of fixing some of the problems that are holding us down as a nation. We can't continue like this because it is shameful that the biggest black nation on earth can not conduct elections".
Polls shift avoidable – Shehu Sani
Rights activist, Shehu Sani, said the cancellation of the elections was inevitable but could have been avoided. "Even though the elections have been shifted, we believe it will unavoidably affect the morale and enthusiasm of Nigerian voters. We demand for an immediate probe over the circumstances that led to this sabotage", he added.
INEC boss has an agenda – Evah
Comrade Joseph Evah, chairman, Ijaw Monitoring Group, IMG said the polls shift is a dangerous precedent in the history of the country.
"It is a slap on our democracy.  It shows that INEC chairman, Attahiru Jega, wants to set Nigeria on fire by playing into the hands of the enemies of the country. He should resign. He is working to the enthronement of an interim government and the people are not going to allow this.  Jega got all he wanted; the Federal Government gave him whatever he required to give Nigerians a free and fair election and when elections have commenced and the response had been fantastic in many places, he turns round to postpone the elections nationwide.  The authorities should question his agenda.  He should be asked to resign.  Nobody is sure he can get it right on Monday.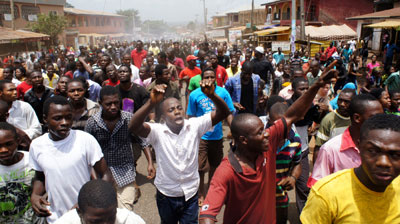 Postponement embarrassing – Mimiko
Ondo State Governor, Dr Olusegun Mimiko strongly expressed disappointment over the cancellation saying that "the situation was an embarrassing development".
Mimiko, was speaking with newsmen in Ondo town while waiting to cast his vote after he and his wife, Olukemi had been accredited at Open Space, opposite Under Mango Tree polling unit in Lodasa Ward 7 in Ondo West local government area, said, "It is very embarrassing development, it is very depressing, but what can we do? The chairman of INEC himself has announced that it has been postponed till Monday. We believe that there won't be any story to tell on Monday. A lot of activities and resources have been put into it. We will wait till Monday. There is nothing anybody can do about that".
Jega has lost Nigerians confidence – Suswan
Benue State Governor, Gabriel Suswam took a swipe at Jega, saying that failure of INEC to conduct the polls, yesterday, has demonstrated his inability to conduct free, fair and credible elections in the country.
Suswam declared that Nigerians do not have confidence in the INEC chairman whom he accused of throwing the electoral process into confusion.
The governor, who made this declaration while fielding questions from newsmen at the Benue State Government House, lamented that, for the first time in the history of Nigeria, a national election was being postponed.
INEC got it all wrong – Tinubu
Senator Bola Tinubu described the Federal Government as a failure, stating that the exercise was a mere move to frustrate the Action Congress of Nigeria, ACN, supporters across the country.
The former governor of Lagos State, therefore, called for the immediate removal of the INEC boss as the only condition for which there could be credible election in the ongoing dispensation.
Monday date for rescheduled polls  hasty – Fashola
Governor Babatunde Fashola of Lagos State, who described the postponement of the National Assembly polls as a national embarrassment, cast his vote along with his wife shortly before the announcement, said that the postponement was not only a bad omen, but "the announcement of Monday as the new date by the INEC was too much in haste."
According to him, "I think the decision for Monday is rather hasty; I listened to Prof. Jega saying that people haven't voted, but I have voted at about 12:45 in my polling unit. So I think it is important for INEC to remain calm, focused and get fullest information here about what caused this failure: who was responsible for it".
He condemned Jega's excuse that the commission did not have enough results sheets thus – "But I want to also address Lagosians that the reasons stated by INEC is that they don't have the result sheets, so it means that all the places where we have voted, they couldn't have written the final results, that is the reason that they gave.
"But please be calm, I know that a lot of efforts; a lot of patience and a lot of resources have been committed to this but we will get this right. So it is important that we remain calm. But I think INEC should meet with parties now".
It's a huge setback – PDP presidential campaign
The Presidential Campaign Council of the Peoples Democratic Party, PDP described the polls postponement as a huge disappointment and set back.
The party said the INEC chairman had no reason to fail in carrying out a perfect exercise against the backdrop of the huge resources the country made available to the commission.
The Director, Media and Publicity, PDP Presidential Campaign Council, Abba Dabo, who expressed a feeling of disappointment over the development, stressed that it was rather unfortunate that it happened after Jega had told Nigerians severally that he was prepared for the elections, adding, "it was a huge shock".
Uduaghan bemoans economic loss, declares Monday work-free
Governor Emmanuel Uduaghan of Delta State expressed his sympathy to Deltans and Nigerians at large following the economic loss suffered as a result of the postponement of the National Assembly elections.
He also declared Monday 4, April a work free day in the state to enable Deltans turn out in their large numbers to cast their votes for their preferred candidates, saying that absence of the election result sheet was a lacuna in the electoral process that could not be overlooked.
Uduaghan, who addressed newsmen at his residence in Warri, stated that the two days difference is not enough to dampen the spirit of Deltans who are very ready to partake in the electoral process, stressing that the PDP in the state had worked much harder than the other parties to win the elections at all levels.
Don't crucify Attahiru Jega yet – Babangida
Military president, General Ibrahim Babangida, said the postponement of the National Assembly elections never came to him as a surprise due to the short time available to the commission to prepare for the elections.
According to Babangida, rather than crucify Jega for what happened, he should be hailed for his courage to accept that there were some discrepancies and inadequacies, just as he said that it was a good thing for the INEC chairman to postpone the elections, instead of conducting for Nigerians an election that would be subject of condemnation and rejection.
In a statement by his spokesperson, Prince Kassim Afegbua, the former military ruler said Jega "deserves to be encouraged and motivated in the light of our present shortcomings, so that the electoral body would be able to conduct a better election rather than conduct one that would be subject of condemnation and rejection.
Postponement  tragic — Ribadu
The ACN presidential candidate, Malam Nuhu Ribadu, described the postponement of the National Assembly elections as "sad and tragic".
He told newsmen in Yola  that INEC had enough time to prepare for the elections, but failed.
Ribadu said: "It's sad, it's tragic; our expectations are dampened. We are really feeling very bad. As you can see, people have come out as early as 7a.m.
"We believe that there is sabotage somewhere, because there was ample time and opportunity for them to prepare very well."
David Mark-optimistic
Senate President David Mark has urged Nigerians to be patient with INEC, assuring that the commission would not derail in its promise to conduct credible, free and fair elections in the country despite the challenges that compelled the shift in the date of yesterday's elections.
Mark advised Nigerians not to lose confidence in the capacity of the commission to deliver in spite of the initial set back and hitches that forced the postponement of the National Assembly Election.
The Senate president made this assertion while fielding questions from newsmen in Otukpo after INEC announced the postponement of the National Assembly elections.
Mark said, "INEC should still be held in confidence".
He called on Nigerians to still troop out in their numbers tomorrow to vote in the elections to choose their preferred candidates.
The Senate President urged Nigerians to remain calm and patient, despite the development assuring that the process is still on course.
Nigerians, don't be disappointed! — Okogie
THE Catholic Archbishop of Lagos, Anthony Cardinal Okogie, called on Nigerians not to be disappointed with the electoral process in view of the polls  postponement.
In a press release issued through the Directorate of Social Communication of the Catholic Archdiocese of Lagos,  he also asked  Jega  not to jeopardise the credibility and trust he has earned over time from Nigerians.
While,  lamenting the colossal waste of time, resources and goodwill the postponement amounts to, Okogie, however,  urged Nigerians not to give up so soon. He said, "We have laid our hands on the plough to define a new Nigeria, we cannot look back now."
Subscribe for latest Videos