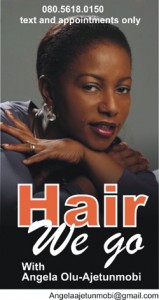 If you cannot get what you want, take what you get! That is a sum-total of what hairdressing entails. Genes determine hair-type, like great legs or sexy eyes; you either have the genes or you don't. But the important thing is to let what you have work for you and make sure you keep hair out of harm's way, so you don't suffer irreversible damage.
Some women are adept at handling their hair. The key to successfully doing that is to decipher the characteristics of one's hair. Starting with the Scalp: check if there are any flakes or debris. A clean clear scalp is usually a sign that the hair is generally healthy; this means that unusual appearance on the scalp is indicative of abnormal activity.
How clear the scalp is will, to a large extent, determine the type of chemical work to be undertaken and the frequency of such application. If your hair tends to be dry, brittle or your scalp has dandruff, you may find that chemical applications tend to be performed more often. This is because the sensitivity of the scalp does not allow the chemical straightening process to be completed. The trauma of the burning sensation that will accompany chemical use on dandruff-infested scalp means that the cream will be shampooed out of the hair, whether or not full straightening has been achieved.
If in doubt, please apply some protection to the scalp before chemical application. Also, your stylist must be extremely gentle during the application process. Tugging, pulling or massaging the head/hair/scalp in any way, will agitate the scalp, thereby reducing straightening time. You do not want to do anything to your scalp that will prevent your hair from 'Relaxing' properly.
If you are still unsure about what you should be doing to your hair, or how you ought to be handling your hair, please text for an appointment to have a full consultation to establish your hair and scalp characteristics.
Thanks for reading and do make it a Great week!