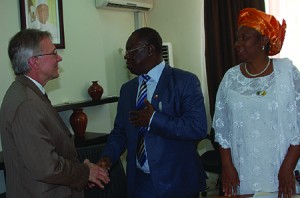 As part of its contribution towards promoting wellness and healthy living among Nigerians, Stanbic IBTC Bank Plc, a member of the Standard Bank Group, recently concluded the Grand Health Bazaar, a programme designed to educate, enlighten and deepen the knowledge of the public on issues concerning health and lifestyle. The three-day event, which took place at The Incubator, Oniru, Lagos on March 9 – 11, 2011 was organized by Livewell Initiative, a non-profit, community-based NGO.
Chief Executive Officer, Livewell Initiative, Mrs. Bisi Bright, highlighted the objectives of the fair which includes the promotion of collaboration between the health sector and the organised private sector.
"Stanbic IBTC Bank Plc has consistently shown its commitment to raising public awareness on health issues in Nigeria through its support of similar initiatives in the past. We are proud to be associated with the bank and we look forward to working with them on more projects of this kind in the future", she said
Experts in the medical, pharmaceutical and healthcare insurance industries were on hand at the event to conduct health tests and evaluations as well as provide the public with information necessary for healthy living. Participants at the fair had the opportunity to check their vital health indicators by undergoing different tests, including checks to determine body mass index, blood pressure and blood sugar level among others. Doctors were also on hand to analyse test results to determine the health status of participants and if necessary, administer drugs which were also available at the event.
Mrs. Omorinsayo Adeyemi, Corporate Affairs Manager, reiterated the bank's dedication to promoting healthy living by increasing awareness on health issues among members of communities in which it operates. "Our decision to partner with Livewell Initiative is borne out of our desire to provide the public with information on and access to free healthcare services that will help them become more aware of their health status," she said. She added that heightened public awareness on these issues will facilitate early detection of diseases that may prove fatal if left untreated for too long.
In her closing remarks, Mrs. Bisi Bright noted that the health fair had been very successful. "We are happy that we have been able to impact the well-being of our participants in the past three days. We look forward to partnering with our sponsors at the next programme towards helping us achieve our goal of promoting wellness and preventing ill-health among members of the public."
Subscribe for latest Videos