•Needs N3.5m  for surgery

By MOSES NOSIKE
Eight-yearFavour Felim Miller, like any other Nigerian child, was born into the family of Mr. and Mrs. Miller Emore on November 17, 2003, at the Redeemed Church Hospital, Lagos Nigeria. But shortly  after her birth, it was noticed that she had an opening at the lower part of her waist, a condition medical experts call Spinal Cord Bifida. Doctors at the Redeemed Church hospital immediately referred Favour to the emergency unit of the Lagos University Teaching Hospital (LUTH) where the case was examined and handled  by experts.
Favour's parents who were still confused because they  had never heard of such a condition  took the baby to the emergency unit at LUTH where  she was admitted and examined and recommended for surgery so that the spinal cord could be closed. Favour, had her first surgery at the hospital under  the supervision of  Dr. Bankole. She was on admission for a month and two weeks before she was discharged.
When Favour  was finally taken home, her parents noticed that her body system was not functioning well.  She passes urine and excreta uncontrollably. Her situation confused the parents the more as they could not understand if actually the operation corrected the system or not.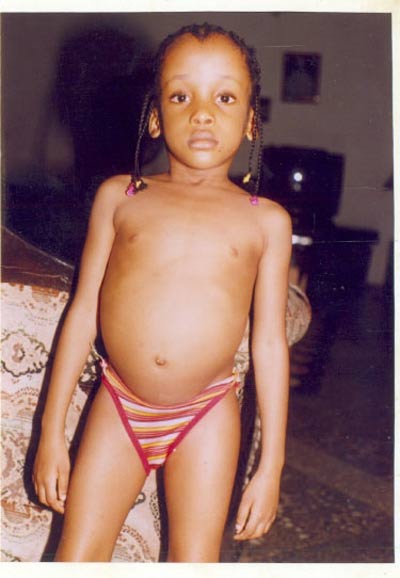 The joy of Favour's parents was cut short when they discovered she was excreting and urinating without control on her body.  She does  not know when she wants to  urinate or  excrete.  Her stool also does not come out freely and this brings discomfort and makes  her sick always.
At the same time, she developed congenital "club feet." As if that was  not enough, it was also noticed that her head started growing bigger than normal.
According to her father, Mr. Miller Emore, "The Surgeons told us  to watch out, that if the surgery is not perfect, the above mentioned signs are inimical as she is growing up and that's what exactly is happening to her  now. It's disheartening that at 8 years, Favour is still wearing pampers and excreting indiscriminately.
"We have made several contacts with the surgeons at the hospital to see  if there is anything that could be done to rectify the case and give her relief because some of the nerves and tissues from back waist line of the spinal cord that distributes veins to the legs have also been altered. When we went back to LUTH over this development, the doctors told us there is nothing they could do but to teach our daughter how to use the toilet. We were able to get in touch with a hospital in India through a relation who lives in Italy "
For Favour to live a normal life, the experts at the hospital say Favour needs the sum of $23,000 for the life saving surgery.   Young Favour is pleading  with Nigerians to show her Favour and come to her rescue so that she can join other Nigerian children in school and fulfil her God-given destiny.
In a concerted effort  to find  lasting solution to Favour's health condition, contacts were  made with Indian health gurus who have examined the medical reports with her photographs from Lagos Teaching Hospital.
The Indian doctors after their analysis have recommended  a  second surgery in India to rectify the condition. The Indian doctors at Indian Health Guru Hospital led by Dr. Bojwani  said that Favour will spend a period of six weeks for the operation and thorough check up.
If you are touched by Favour's story,  pls contact Mr Miller on 08023831013 or 08027524044.