By Jide Ajani, Editor, Northern Operations & Ben Agande
Barnabas Gemade cuts the picture of a confident individual. Having served as a former national chairman of the Peoples' Democratic Party (PDP), he made waves on the eve of his departure as chairman.
In the topsy-turvy of that period, Gemade made a profound prophesy that his exit from the party's leadership and the circumstances surrounding same would be a child's play with what would befall his successor. Barely four years after, Audu Ogbe, Gemade successor, was forced to issue a resignation from that office. Some party.
Today, there is a vacuum in that sphere of PDP's leadership as Okwesilieze Nwodo has also resigned. In this interview, Gemade explains why PDP has had a huge turnover of national chairmen. He also talks about his senatorial ambition and why he believes voters must use their votes wisely. Gemade is a staunch supporter of President Goodluck Jonathan and believes that nothing will stop Mr. President from winning. Excerpts:
In 2001, you made a very prophetic statement when your party in its transformational stage tried to extend the tenure of members of the National Executive Council from two to four years. The moment then did not favour you and your ouster was uncomplimentary, by normal standard, from the party. You made a statement then that the fate that would befall the person that would take over from you would be worse than yours. It came to pass. What did you see, what was your state of mind when you made that statement?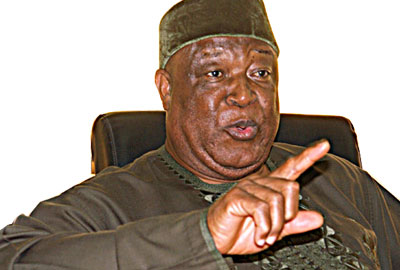 Prophesy is about the state of the situation under which you are. There is nothing in life that begins and ends without natural signals.
Even those who have spiritual abilities most of the times permutate these things predicated on natural occurrences. The way I saw the situation in the party that time, it was clear to me that the mindset of the people who had the party in their control and who had the government in their control that time was such that the meddlesomeness that we were experiencing as the leadership of the party would not change.
I also knew from the short antecedent of about two years of operating with these personalities that they were determined to continue to make demands which were not only unreasonable but also demands that were totally unethical. Anyone who felt that he had the responsibility to implement any of those things was heading to a situation where his fall would be by far more catastrophic than the one of anyone who was resisting carrying some of those things out. That was the natural foundation on which I predicated my prophesy.
I also knew by that time the sort of people who were being penciled down to take my job,  judging from their long antecedent, because I knew some of them for a very long time, I knew they will buy into some of the things that would be sold to them and if they did, then they were heading towards catastrophe. That was why I made that prediction.
Those who observed the events of that era tend to lay some of the blames at your doorsteps. They say when you were coming in 1999 to be elected the chairman of the party, you should have known that the way the establishment threw its weight behind your candidacy would have suggested to you that at one point, there would be a pay-back time and when the pay- back time came, you resisted and the centre no longer held.
There is a lot of difference between promoting an issue and initiating it. If someone initiates a programme, that programme is his own and if you agree to go with it that means you have become part and parcel of that programme, therefore, you cannot back out of it. It is like taking somebody to a shrine.
We heard about people going to visit the gods in the shrines with someone where they make arrangements that this is what we are going to do and if you back-out this will happen; that is initiation. But if someone found you as an attractive candidate in an election and decides to support you, then, the process does not amount to initiating a conspiracy and, therefore, you have no conspiracy to maintain.
I was not an initiation of the powers that be at that time. My chairmanship was a free chairmanship offered to the North- Central Zone by the zoning formula of the PDP and the leaders of my zone at that time sat and agreed that I was the best and perfect person to occupy the position.
They did not just decide on that by naming me who just come to take the position. No, it was a long process. They formed a committee which was then headed by the vice-chairman of the zone, Alhaji Kolo from Niger State and members of the committee were people like Isaac Shaahu; Shaaba Lafiagi and others who formed an eight-man committee that interviewed prospective candidates for the chairmanship. We attended that interview three times at Agura Hotels and I believe that I beat them in that interview.
At that time, it was myself, Ahmadu Ali, Yahaya Kwande, Sule Usman from Kogi State and now late Chief Sunday Awoniyi. We attended those interviews judiciously. Every one of them came. It was not an issue of just hand-picking someone.
Were you not the anointed one?
No, there was no anointing. I owed nothing to anybody apart from what was the interest of my zone. The leadership of my zone that time —Chief Solomon Lar who was the out- going chairman and Professor Jerry Gana who was the protem secretary of the movement that led to the formation of the party and had become the secretary of the Board of Trustees supported me as every other person did.
At the time you left, you had about two months or so to the expiration of your tenure…
(Cuts in) No, it had not expired.
You left before the end of the two- year tenure.
The tenure of party offices is not based on dates of the months of the year. It is based on major events like from this convention to the next or the other national convention. The fluctuation and date is not very far.  There is a difference between special convention and normal annual national conventions.
So, the two-year tenure for me started at the convention of 1999 which was held in December to the convention of 2001 which was held in November. That was the tenure and I did that in full. Mark  was the chairman of the convention the day I was replaced as the national chairman. It was not a sack, it was a retirement. I officiated based on the constitution of the party as the chairman of the convention the day that someone was anointed as the chairman. That is what you call anointing, not my own.
Some people have said that your party is the problem of Nigeria. They argue that PDP has the preponderance of governors, legislators, council chairmen and yet there is no sense of fulfillment that the party has succeeded.
No, they are wrong because PDP has succeeded tremendously in the politics of Nigeria.
You mean what we have today is success?
The problem here is the Nigerian politician. He is the problem and not the party.
Most of them are in PDP.
Yes, and that is why the problem is multiplied. And, it is the same by the number that belongs to the other parties. And, their problem is equally in the proportion of their size. The reason is this. Eighty per cent of the people who win elections are not party-men but are opportunists who go and join political parties only for the purpose of winning office and that is why they jump from one party to the other.
A good party man stays where he is because he joined the party based on the ideology of the party and because he wants to take part in the direction that will support democracy. When a man keeps jumping from one party to the other looking for greener pastures all the times, it simply means that he is looking for a platform to run an election. For as long as there is no independent candidacy in Nigeria, people will jump from one party to another, sometimes going into congresses and conventions, looking and appearing as guests because nobody knows them.
I believe if Nigerian politicians begin to imbibe the spirit of democrats who want to promote healthy organisation of the political party, democrats who want to develop their party along the lines of ideology and clear party manifestoes targeting certain developments in the society, then you'll ensure that everyone works to contribute effectively.
PDP is being accused as the problem of Nigeria, but in truth it is the selfishness and greed of our politicians and that selfishness and greed is only multiplied by the number of people in the party.  No party can claim innocence in this matter. None!
So, that, logically may explain why in spite of winning elections, PDP has not been able to win the hearts of Nigerians.
You might be right, but in truth, no political party has been able to win the hearts of Nigerians.
But, with what PDP has, it should have been able to win the hearts of Nigerians.
It doesn't work in that manner.  The United States is the world's leading power, has it won over the hearts of everyone in the world?  No!
It doesn't work like that.  In fact, some of the nations that are the most loved today are the smaller ones. It is not about the preponderance of people, it is about what you do and I have told you that politicians are in large numbers more concerned with the greed elements in them; they are more concerned by the ambition that is driving them and, therefore, for this reason, your preponderance alone does not give you a good place in the hearts of the people.
And, unfortunately, even the people's psyche has been so battered that they are not even ready to judge you whether you are of good character but they judge you based on what you can give and what they can get from you.
That is what we are trying to change now. And, that is what we will succeed in changing.
Things appear inverted in Nigeria.  Just look at what you said about the greed factor. I'm sure people would have said it to your face that your party has no regard for anything decent…
Yes!  We hear that!
So, as a leader and former chairman of the party, how does that make you feel, especially when the problems in your party are made to look like the problem of Nigeria?
We have got to understand that if you are not known, then nothing is ever said about you. The more popular you are, the more derogatory things are said about you. I am sure such derogatory things are not said about the other parties because they are no political parties yet.  When the other political parties come of age and are in the full glare of the public, you will hear Nigerians talk about them in that same bad light.
Look at what happened in your party between Wednesday and Thursday last week.  Your past chairmen have always fallen foul or fallen victim of the system one way or the other. Why is it always so?  Is  this huge turnover of national chairmen not bad for the polity?
The whole idea of political leadership in Nigeria has been based on regional politics, zonal politics and tribal politics up till 1999 when we began to float national political parties.
The stability of political leadership in administering those parties in the past was because parties were formed and owned by a group of people that were homogenous but today we have started seeing parties constructed around people from different backgrounds, different callings in life, different political ideologies, coming together to form one political party.
That is when you begin to see the dynamism in politics where there is a scramble for control and each time there is a scramble for the control of a political institution, you begin to see sectoral conspiracies and since it has been said that politics itself is a series on concentric circles of conspiracies and when those things are no longer circles, then there are compartments of conspiracies, then you also begin to see a lot of agitation internally about ascendancy and descendancy and here, PDP has suffered this more than other political parties because it is much more difficult to forge homogeneity, especially in a political party like PDP.
But, those political parties formed around individuals find it easier and do not have that problem.
This is because a party where you have a presidential candidate made out of an individual even before he becomes an aspirant – because nobody else is in the party – he is the only one in charge; he appoints the national chairman, appoints members of the Board of Trustees and as the all- in-all would not have any such agitations about contest for power because it is his property and if you do not like what he is doing, you move on.
But, in PDP, which is big, an all- comer's party when it was formed, there must be internal wrangling for the soul and control of the party.
This is something normal and I think we have done reasonably well.
And, you will understand that people have been saying that our party would collapse  but we have been able to stand firm.
You are going into the Senate now. Having served as minister, party chairman, BOT member, what suggestion would you want to give your party leaders with a view to improving things?
I would say that what our party needs is that Nigerians should begin to ask more questions about who leads them at any level.
I have seen people just come out from the blues who do not exhibit any sign whatsoever about the interest of the people that they represent and that is the real problem confronting Nigerians today.  It is about some people's private interest.
The elected officials are more concerned about their own selfish interests and not about the welfare of the people who elected them in the first instance.
Just look at the Senate, House of Representatives or even the state houses of assembly, the elected representatives are more interested in their own persons and not the issues surrounding those who elected them. The elected officials are disconnected from the people.
Some of them are there to resuscitate their dead businesses and some are there to make more money to pay debts owed to the banks out of over-borrowing.
Others go there just to claim more respect with the title of honourable or senator.
The vote is a powerful instrument and the people should use it very well.
My advise to the population is that they must use their votes for the interest of the society.
They should investigate the character of the people they want to vote for.
That is the only way voters can be powerful to select a leader that would serve them.
You are going into an election and your party is not very cohesive at the national level and even at your state level; are you not scared of what might happen to your party at the polls?
Not at all!  At any given time, you expect this type of thing to happen.
This is not the first time that consensus candidacy has been selected and it has failed; this would not also be the first time that three or four political parties would claim to want to join hands to fight the ruling party at the polls and they have almost always failed.
We have seen all these before. PDP will win freely and Nigerians are committed to the election of Jonathan because he has presented himself as a candidate committed to Nigeria and who means well. We knew what the state of the nation was in terms of power supply, petroleum products supply and so on.
And, in my own state, we know politics there and we have been participating there for a long time because we have made governors and senators and we are close to the people at the grassroots.