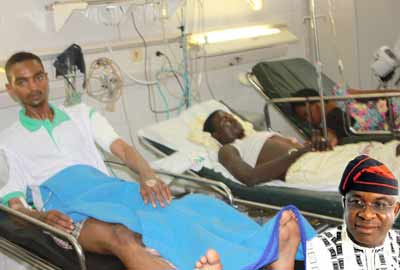 By Ben Agande
ABUJA—President of the Senate, Senator David Mark has said that the National Assembly would strengthen the laws on terrorism in the country in order to save the country from terrorist activities.
Speaking when he visited victims of the independence day twin bomb blast around the Eagle Square during the 50th independence anniversary celebration in Abuja, Senator Mark said the time calls for vigilance from all Nigerians and not only security agencies.
According to him, it is obvious that the existing laws in the country are not adequate to tackle the evolving sophistication that terrorism is assuming in the country.
He said: "The National Assembly will strengthen the laws on terrorism. There is also the need to review the security situations in the country by the relevant agencies.
"There is the need for more vigilance not only on the part of security agencies but all Nigerians."
in order to avoid what has happened" he said.