By Olubusuyi Adenipekun
Forty-two year old Modu Wami-Goni is visually impaired but he has not allowed his blindness to impair his determination to receive western education. Against all odds, he travelled to United Kingdom to train as a special needs teacher and educational administrator.
Today, his strong will has handsomely paid off,  rising through the ranks to become the headteacher of Borno Special Needs School, Maiduguri, a position he has been occupying since January 1, 1993.
Wami-Goni attended Royal National Institute for the Blind, London and also did a correspondence course with the American Institute for the Blind.
According to him, these two schools prepared him for the techniques of running a school for pupils with all kinds of challenges.
The Borno Special Needs School, for example, is attended by 29 physically disabled pupils, seven blind children, 25 deaf pupils as well as seven teaching staff who are either physically challenged or visually impaired.
But the blind headteacher has been able to cater for the interests and needs of all of them satisfactorily and the officials of the Borno SUBEB are commending him for his leadership quality.
Wami-Goni who walks around with the assistance of an aide and a walking stick, says of some of his activities in the school: "Every September, I register about 65 pupils but those who eventually come are about 45. Some of the pupils are in boarding school while some come from home.
Every year, we don't register a large number because of the cost of feeding them. I do my best to cater for all the pupils who have different  challenges. The beds for the physically challenged pupils is single."
Apart from walking round with the assistance of an aide, Wami-Goni does all other things by himself, unaided.
He uses the manual typewriter to write memos and also reads braided materials.
He also selects a particular key to a door from a bunch of keys by himself.
Borno Special Needs School was established on January 1st, 1964. It was first run by the Local Government but was later taken over by Borno SUBEB.
The state government is said to be whole heartedly committed to making the school's pupils comfortable as well as giving them quality special education.
But many other schools in the state are in dire need of funds.
For instance, the two blocks of classrooms at the nearby Abbaganarama Primary School, which were burnt down in July last year during the Boko Haram crisis are yet to be renovated, a situation that has compounded the school's space problem.
In Maiduguri metropolis, all schools operate morning and afternoon shift as the classrooms in any of the schools cannot accommodate its pupils at a go.
This is the problem which Kaleri School at Mafa Local Government contends with. Both primary school pupils and Junior Secondary School students use this same school, with the primary school arm in session in the morning while JSS operates in the afternoon.
Established in 1973, the school has over 2000 pupils and students, with each class, either in the morning or afternoon shift, having a population of about 70. This  morning shift starts from 8am -12noon while the afternoon shifts starts from 12 noon – 6p.m.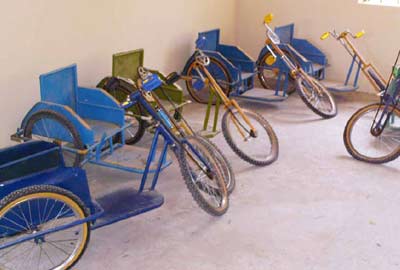 However, Governor Ali Modu Sheriff is constructing some modern blocks of classrooms in some schools, in conjunction with the Education Trust Fund (ETF) such as the on-going project at Girls Central Primary School, Bama where, in addition to laboratory, internet facilities are being put in place.