By Lolade Sowoolu
I received with delight the news that a Nigerian, Uti Nwachukwu, has won the 2010 edition of Big Brother Africa All Stars in South Africa. I heartily congratulate Mr. Nwachukwu who has shown to the world once again that the average Nigerian is warm, charming and a delight to be with. Mr. Nwachukwu, I was briefed, displayed dignity, good character, self confidence as well as love for our country throughout the duration of the contest. I recommend his disposition to Nigerian youths. Once again, I congratulate Mr. Nwachukwu and wish him an eventful and successful reign as winner in the next one year". – GEJ, Monday 7:30pm
The above post was pulled from president Goodluck Jonathan's Facebook page. The president's status was in reaction to a 27 year old Nigerian's win at a reality show in South Africa. For those who don't know, the Big Brother Africa (an annual reality show hosted in South Africa) entered into its fifth season this year and selected 14 contestants from previous episodes to compete in what was dubbed the Big Brother Africa All Stars. The house mates were drawn from Namibia, Tanzania, Zimbabwe, Kenya, Malawi, Uganda, Mozambique, Ghana, Zambia, Angola, Botswana, South Africa, Ethiopia and Nigeria. It lasted for 91 days.
Our president who's actively reacted to national issues on Facebook since he created the page topped the list of national figures that applauded the Delta born actor, model and singer's feat. By Wednesday over 300, 000 people had liked the comment Other national figures who swelled with Uti's pride enough to make official statements were, his state governor; Uduaghan and the speaker of House of representatives, Mr Dimeji Bankole.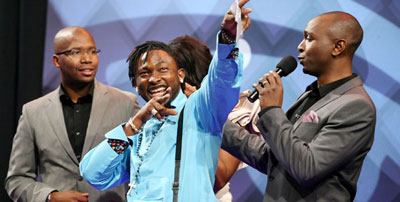 Reading the 'I was briefed' phrase in the President's comment, explains that the President didn't follow the contest (perhaps he never watched it and that's perfectly expected). One may therefore excuse his 'recommending' Uti's disposition to the Nigerian youth. It's great that Uti won especially considering the strength he mustered following his father's death in August, while he was in the house.
His manners wasn't excellent but when compared to other house mates, he'd score an A perhaps. The average Nigerian probably has more manners than a typical African but the question of what good BBA does Nigeria or the African culture can not be swept under the carpet?

Zoning or incumbency factor?
From Ofunneka Molokwu (first runner up 2007) to Kevin Chuwang Pam (Winner, 2009) and now Uti Nwachukwu (2008, 2010), Nigeria's representatives at the BBA have offered good entertainment to Mnet viewers. The first time a Nigerian won the BBA was last year when Kevin Chuwang Pam of the Next Movie Star fame represented us winning $100, 000.
This year's winner, Uti also starred 'coincidentally' in NMS 2007 emerging first runner up, and was voted out of the BBA3 as third evictee. This year Uti came back to win double the prize – $200, 000 star prize with an additional $1, 000 for keeping his 'secret' in the house.
Rhythm FM's IK Osakioduwa a k a Wild Child took over hosting the Mnet facilitated show, BBA, and Nigeria's Biola Alabi became Mnet Africa's Managing Director in the same year of our first win. Coincidence? Or is it the power of incumbency?

Cuing BBA into Elections 2011
The final week of BBA5 was intense as Nigerians canvassed heavily for their brother. On Sunday evening when the three finalists Mwisho, Munya and Uti looked forward to their 'release' from the Big Brother house where they had stayed confined for three months, BBA5 trended. SirUti also trended as questions arose on Uti's sexuality (if gay or straight – and the argument tilted more towards the former) simply because he kept his head in the house by being sexually responsible.
Hours after he had won, his handle (sirUti) trended and many tried helping him budget his win (N31M) while some ladies preferred to apply as Personal Assistant. Whatever the case, Uti's father's burial is slated for a date in November and invitation is not open to the public (lol). Right after Uti was named winner with 59.8 per cent vote, Nigerian celebrities began urging the youths to re-enact same dedication to making election 2011 valid by voting.
Citing Kevin and Uti's win as examples of how votes can count, they expressed optimism of how winners a democratic winner can emerge legally if everyone will use their mandate. That's a commendable utilisation of Sunday's feat.
Nike Oshinowo champions innocent Queens
It's exactly twenty years ago when she won the Miss Nigeria pageant and she's still very relevant by her looks, style and intelligent innovations to the country. Now 45, Nike Oshinowo Soleye recently acquired franchise to run the Miss Nigeria pageant and she's chosen to steer it in a direction that's entirely novel. For the first time, a beauty queen emerges skipping the swim suit segment – a segment which beauty pageant judges all ver the world have observed to be very crucial to identifying and crowning a beauty queen.
Chief Nike strongly feels otherwise and she's bent on proving her views right by what she makes of the newly crowned Miss Nigeria- the first she's organising on obtaining the franchise. Late last month, Delta state born Miss Damilola Agbajor was crowned Miss Nigeria. And Chief Nike has condemned in strong terms the swim suit segment saying 'ít's completely unnecessary' and that 'it robs you (the contestants) of dignity'. For that reason she's raising a new set of beauty queens whose innocence she vows to protect. Already, her first Queen is a 19-year-old virgin and will be off to 'finishing school' outside the country in a matter of weeks. Finishing school is an etiquette school where she expects that Damilola's queenly poise will be polished.
If you know Nike well, and engage her in a conversation over pageants and Queens, it won't take you so long to realise her commitment to fighting this cause and modeling a new standard. We wish you the best, Nike.
How far is too far?

When I first came across the mouth to mouth picture, I was sure it had been photoshopped. But seeing the rest of the collection, my indifference turned to concern. Now, I am made to understand that the pictures were purposely conceived and painstakingly achieved in a professional photo shoot that should portray the subjects' intention. And what would that (the intention) be? Simple, to sell a magazine!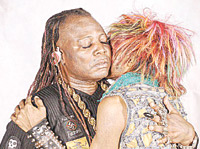 Area father or grand father Charly Boy also known as CB has always been controversial for his perspective to life. He's not the average thinking man. Red carpet host Denrele on the other hand, was at one time alleged to be gay. He refuted the report and made public his girlfriend at that time.
Obviously belonging to different generations the 'couple' who are thirty years apart in age, share similar ideas as touching their outlook to life. The two unapologetic weird beings known for extremism have blazed trails and are role models for many youths. However dabbling into matters that bother on sexuality is going a bit too far especially for culturally sensitive Nigeria. I'm almost sure the two men (the young and the old) don't mind but isn't this a little taking extremism or is it creativity too far? The shoot we are told, was undertaken to grace the pages of CB's magazine called 'Charly Boy'. We wish you luck, CB.