By Albert Akpor
CONFUSION, dejection and perhaps, frustration all best captured the state of mind of an embattled traditional ruler, Oba Gbolahan Akanbi Timson, the Jagunmolu of Shomolu\Bariga communities in Lagos state as Crime Guard arrived his palace strategically located on Ayoka Street in the area.
As he lifted his head in apparent retrospection laced with visible rage,  all he could utter was,  "They have done it again, the police; they have been here shooting and beating everybody because they could not find me.  That same person who said he would not live to see me enjoy this throne, in spite of my court victories, has done it again!"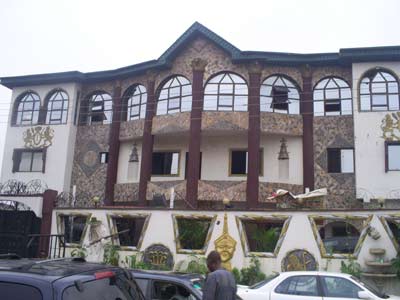 Eyewitness account said the heavily armed policemen that invaded the palace to unleash terror were led by a Chief Superintendent of Police suspected to be the Divisional Police Officer in-charge of the area.  Residents of the area, including guests of the royal father, fell victims to the invasion.
A French national, simply identified as Vincent, a 70_year_old second Republic Councillor, Pa Omoshebi Olayemi who were seated  awaiting the arrival of the Oba when the warring policemen stormed the palace, were not spared.
Whereas, the foreigner was given the beating of his life with his clothes torn to shreds, the septuagenarian who was mistaken for the Oba was asked to frog jump before being hauled into a waiting van.  He was later asked to jump down when it was discovered that he was not the man they wanted.   No reason was given for this attack.
But the traditional ruler said he knew the source of the invasion, wondering, however, why they had to transfer the aggression to  innocent and defenseless visitors to the palace.
Said he: "I know the man behind all this. He has started again.  I thought with the court rulings, he would have soft-pedaled and back off.    What they wanted to do was to assassinate me and install an Oba of his choice against the wishes of the people.
The court has ruled in favor of me and even restrained them from further harassing me.
Some times in June this year, another higher court awarded N3m as damages to me for their continuous violation of my fundamental rights.  Another higher court has equally issued a mandamus to the state government, compelling it to issue me with the  staff of office without further delay.
But  up till now,  none has been complied with.  Even in the face of this, I have complained to many quarters, against either the state government or the same man fanning the amber of destruction.  For them to have resuscitated the aggression this morning at about 9.30am while I was still in bed  is something I cannot understand.
While the shooting in my premises intensified, I sneaked out to see what was the problem, only to see armed policemen led by the DPO of Bariga harassing and beating everybody on sight.
I called him to find out what was amiss and he said they were looking for those that participated in a fight last week somewhere in Ilaje. I asked him the correlation between a fight in far away Ilaje community and those innocent people in the palace.
He then ordered his boys to calm down and vacate the palace.  Then I went inside.  About 10 minutes later, I was jolted by staccato of guns and the wailing of innocent people, among them were a 70- year- old second republic councillor and a passionate friend from France.
They shot at random and beat anybody as if there was war.  By this time, I was afraid to come out because the shooting was too much.  While at the penthouse, I heard gun shots piercing my bedroom windows. Perhaps, they thought I was sleeping there. They broke down doors, windows, all in frantic search for me.
In the process, the  son of my gate man was shot in the leg while others were badly beaten.  In between time, I could hear them saying, 'though I may have won all the legal tussles, I would never be crowned an Oba in this community'.  As they were leaving, they took away seven other innocent persons, including my driver.
On the ground were 19 shells of expended bullets.  It was even gathered that when they discovered that the shells may be used as evidence against them, they started packing the ones outside."
Apparently determined to defend the mandate of his people, Oba Timson, who seemed to have exhausted all known credible and legal means of resolving the unending animosity, said it was time he fought back his tormentors.  "With what is happening now, I think they have pushed me to the wall. We will have  to bounce back.
We will have to resist this unwarranted oppression with every tool within our reach since they have refused to abide by court orders.  We will also let the world know that we are not weaklings.  The mistake they are making is that they are taking the gentle stride of the tiger for cowardice", he stated.