By Dayo Johnson
AKURE—IF not for the timely intervention of policemen, the traditional ruler of Akure, Deji of Akureland, Oba Oludare Adepoju would have been lynched as he threw caution into the air by engaging in a free-for- all with one of his wives (Olori Bolanle) on the street of Akure.
He was said to have left the palace with another wife, a new one Remi with another Akure High Chief to engage Bolanle in a free-for-all.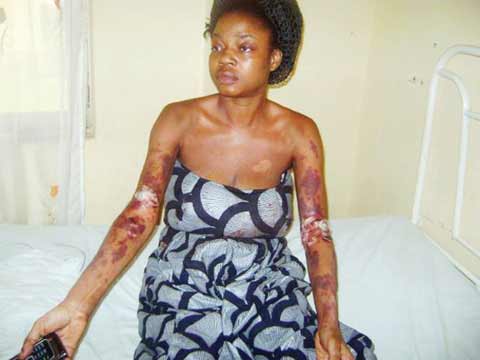 The monarch before engaging his wife in the fight reportedly stripped himself of his regalia.
Oba Adesina went to the scene in his Pathfinder jeep marked "Deji of Akure" which was badly damaged by irate youths who mobbed him before policemen ferried him away in their patrol vehicle brought after information got to them that the Oba was involved in a show of shame.
It was gathered that the Oba and Olori Bolanle had been at loggerheads for sometime as a result of which she packed out of the palace and relocated to her parents' home.
The traditional ruler reportedly stormed Bolanle"s residence to retrieve the property he bought for Bolanle, including a jeep.
Vanguard reliably learnt that the ugly incident started on Sunday when the monarch along with Remi stormed the residence of the second Olori in the jeep and another Toyota starlet marked Ondo AL 963AKR.
On arrival at the residence of Bolanle, unknown that she had seen the Oba and others she sneaked into her room and asked the people around to tell them she was not around.
Not convinced that she was not around, the Oba allegedly ordered the youths that accompanied him to destroy and burn down the building.
When information got to her that the Oba had ordered that the building be razed, Bolanle re-surfaced and challenged the people on their mission in her house.
On sighting her, Oba Adesina was said to have ordered that hot ashes that was brought from the palace be poured on her.
The new Olori that accompanied Adesina was alleged to have picked a big plank on the ground and smashed it on the back of Bolanle and they engaged in a free-for-all.
Irked by the attack on Olori Bolanle, his younger brother and youths of the area mobilised against what they perceived as injustice on Olori Bolanle and mobbed the monarch and his entourage.
As the youths wanted to attack Oba Adesina, the timely arrival of the Special Anti- Robbery Squad, SARS, saved him and the Olori from being lynched by the youths.
Efforts by the Oba and the Olori to beat a retreat proved abortive as the youths had formed a barricade and blocked his Jeep with another vehicle belonging to Olori Bolanle.
They were ferried away from the riotous scene by the policemen that saved their lives.