Call for curvy models has become a burden — Joy Udu
By Jemi EKUNKUNBOR
Twenty three year old Joy Udu is a 200 level Theartre Arts student of the Lagos state university. She came into the modeling industry in 2006 as a naive girl next door. But with an impressive 6ft height, the ever excited Joy became winner of the now rested Runway Dreams modeling competition. A gazelle on the runway, her effort on the catwalk has taken her to several African countries to ply her trade. She has statistics, 34-25-38. 60k.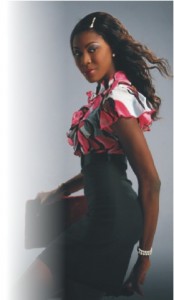 How did you get into the modeling industry?
I got into the modeling industry through a modeling competition called Runway Dreams. I was discovered by Debbie Honecker because when I came in for that competition, I didn't have any idea about modeling. I was just a naive girl. Although we were many that came for that competition, she was able to spot me. She called me and said, "you are beautiful, you are tall, I think you have what it takes and I'm going to put you into this competition automatically" and that was how I got into it and my career boomed from there on.
How has modeling been for you?
Modeling has been fun. I've been fulfilled in this profession. It has afforded me the opportunity to travel out of the country to work. Until I came into modeling, I had no plans to travel out for anything because I didn't have anything to do outside the country. But modeling has provided that opportunity for me. I've been to various African countries-Cote D'Ivoire, Cotonou, Angola, Bokina Faso, Senegal, Ghana etc. I've earned some good money along the line as well and I thank God for it. So, modeling has been fulfilling.
Since you started modeling, how have you been able to keep in shape? Is it a big problem for you?
For me, I think I have the physique naturally. I don't think I'm going to get fat any time soon. But sometimes, you find that due to hormonal changes in the body, you'd just find one part of your body growing big maybe your hips or breast. So, you keep in shape by doing a lot of exercises, eating plenty of fruits and vegetables so that you would maintain that glow because you really have to stand out as a model.
Isn't that a burden?
Well, of course it's a burden but you don't have any choice. You have to do it if you want to remain a professional model.
There has been a general outcry against stick thin models with designers opting to use curvy girls. As a professional model, what is the situation like in Nigeria?
Well, this whole thing started some time last year. I realized that when you go for castings, if you are not a size 10, not just a straight 10 but a curvy one, you are not picked. You have to be a real woman with vital statistics and not just a mannequin standing there. From the gate, they just ask you, what is your size? if you are size 8, you were told to go back. If you are 10 fine, what is left that will speak for you is the way you walk. But first and foremost, you have to be curvy to get the job.
But that was not the case in the past?
No. In the past, you have to be a size 6 even 0. I remember when I went to Niger Republic for a show, I was a skinny size 6 then. I became the hottest model there because many African models tend to be on the big side. So, every designer wanted me to model their clothes. That was the demand of the industry then. But now, things have changed.
Are models happy about this change?
It's with mixed feelings. Two years ago, there was a quest for skinny models so every girl started doing one or two things to be skinny. Now, you are telling her to be fat again. So most models get discouraged because they are already used to being skinny so changing it all over again becomes a problem for them.
I remember a casting for Adebayo Jones' bold and beautiful. They told us straight that "if you are not curvy, sorry, you have to go". We were about 10 girls, eight of us had to go back home because they needed real curvy models not skinny. I happened to be an 8 and so, I wasn't picked. At the moment, I am eating everything to add some weight. All the regular exercises that I do, swimming, walking, I don't do anymore just to add some flesh.
Where do you stand?
I am on the curvy side. I am not quite size 10. I am a size 8. The truth about the matter is that I am not a dry model. Even though I am size 8, I am curvy. When designers give you their clothes to wear, they want to see some shape.