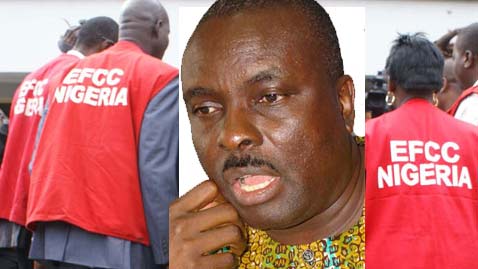 SSS accuses EFCC of aiding Ibori's escape
By Chioma GABRIEL
The Nigerian government and the United Kingdom have agreed to work together to extradite Chief  James Onanefe Ibori, the 47 year-old former governor of Delta State,  detained and bailed  in Dubai Thursday at the instance of the London Metropolitan Police to the United kingdom.
Ibori's  travel documents were said to have been confiscated while the UAE authorities consider extradition requests from the UK government.
UK police sources told Saturday Vanguard in a statement that  Ibori would "appear in court in Dubai first, where the UK authorities would commence extradition proceedings to ensure that he is brought to answer charges in the United Kingdom for money laundering and other criminal offences for which his associates are currently standing trial before the Southwark Crown Court in London."
The government of the United Arab Emirates (UAE) and the UK signed an extradition treaty and mutual legal assistance in 2008.
Saturday Vanguard also gathered that officials of the  Ministry of Justice met in Abuja with UK officials to discuss Ibori's matter. Our sources revealed that Nigerian officials gave documents related to Ibori's case to the UK authorities. Nigeria's former attorney general, Michael Aondoakaa, had earlier blocked the release of the documents, said to be vital for Ibori's eventual prosecution in London as well as the trial of more of his associates in the UK.
Saturday Vanguard learnt earlier that soon after his arrest in Dubai, Ibori's delegation, led by former Ekiti State governor, Niyi Adebayo, met with Jonathan Goodluck late into the night to discuss terms of Ibori's surrender to the EFCC.
It was also learnt that EFCC operatives are billed to fly to Dubai to meet with the Metropolitan Police in connection with Ibori's arrest and extradition trial and that President Goodluck Jonathan has instructed the agency to be tactful in their involvement.
An official of the State Security Service (SSS) said, "It's an indictment of us that we couldn't net Chief Ibori and it took the combined efforts of Dubai and UK police to nab him. It's an open secret that despite repeated claims by EFCC declaring Chief Ibori wanted, the man was aided by top law enforcement men and women to flee the country. You can't tell me that Ibori could find his way to Dubai without the EFCC and our people knowing about it."
Meanwhile, information emerging from the Southwark Crown Court today shows that the trial of the ex governor's associates is close to an end.  The defence team, are said to have ended their submissions and the judge began wrapping up the trial today hoping to conclude on Monday. The jury is likely to begin final deliberations in the case next week.
Subscribe for latest Videos