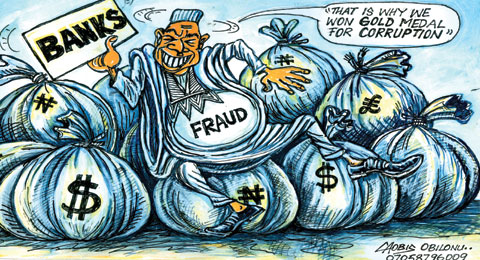 By Babajide Komolafe, Yinka Kolawole, Godwin Oritse, Franklin Alli, Amaka Agwuegbo & Naomi Uzor
LAGOS—THE business community, weekend, protested the negative effect the ongoing reform of the Central Bank was having on their businesses and the economy in general. A random sample of the apex bank's reform on the business community conducted by Vanguard showed that almost every aspect of the economy was negatively impacted by the reform.
A cross section of maritime operators, real estate developers, manufacturers as well as financial sector operators lamented that the banking reforms created more problems and had caused the death of several businesses, unemployment and low capacity utilisation.
National President of the Real Estate Developers Association of Nigeria, REDAN, Chief Olabode Afolayan told Vanguard: "The ongoing banking reform is destroying businesses and has created crisis of confidence in the system.
"We had expected that cushioning effects on the economy would have accompanied the reform. The short and long-term effects of such reform ought to have been envisaged. For almost six months, there has been no single transaction in real estates.
"The intervention in the banking industry by CBN has created fear in the minds of people generally and no bank wants to take the risk of giving loans to creditors. Some people actually rely on credit facilities from the banks because there is no economy that grows without the involvement of banks."
Some property developers who spoke to Vanguard observed that in the first quarter, the economy witnessed severe credit squeeze due to the CBN intervention in banking operations. They noted that this manifested in a slump in the real estate business as funding was not forthcoming for new property development. They also noted that there was a sharp decline in demand for property, especially in areas like Ikoyi, Victoria Island and Lekki, with some of them having had their valuations reduced by as much as 10 per cent.
A facility manager admitted that the banking reforms forced property prices to fall in some areas. He stressed that most of the prices fell due to banks' debtors selling off their property below valuation prices to enable them settle their debts and thus avoid prosecution by the Economic and Financial Crimes Commission, EFCC.
See more on Financial Vanguard