By Bose Adebayo
Residents of Oke-Afa, Isolo,  are presently on a war path with armed robbers who they said have  frequently launched attacks in the area, robbing them and also raping their women.
They informed that the major operational haunt of these robbers was the Oke-Afa bridge where they usually mount road blocks waiting for their unwary victims whom they  dispossess of valuable items or kill at the slightest resistance. Such robbery  operations, they said, usually starts around 6am or 9pm when the unfortunate individuals are on their way to work or returning home.
The anger of these residents seemed to have heightened by their   allegation that criminals which were  apprehended at different times and handed over to the Police were later seen  walking freely on the streets. Against this backdrop they have vowed to take the law into their hands by dealing decisively with any criminal caught in the act. They said their action in this regard was justified since the Police has so far allegedly failed to live up to expectation in protecting them.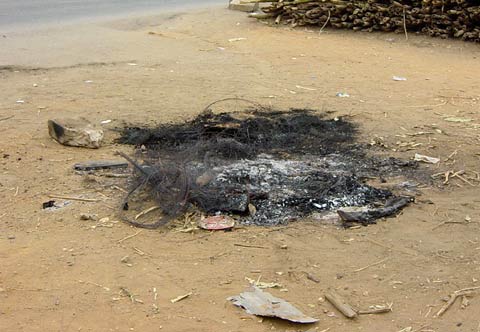 They also expressed lack of confidence on the existence of road blocks at strategic places like Aiye, Ile-Iwe, College, Ire-Akari junction, Pako, General Hospital and Jakande since, according to them, the police men posted there are usually busy extorting money  from innocent motorists who pass through these road blocks.
If there was any doubt as to what their new line action entailed,  it was evident last Wednesday when a member of a two-man robbery gang was burnt to death by an angry mob amidst wild jubilation. The  incident immediately caused a hitch in the  flow of traffic as motorists spent several hours in a standstill position until traffic policemen intervened.  Many  commuters were stranded at various bus-stops while the situation lasted.
The two-man robbery gang which was said to  have been terrorising the area for a long time, however met their waterloo around 6.30 am of that Wednesday after snatching a bag containing a Bible and a sum of N300 belonging to a lady who was on her way to work.
Eye witnesses said the robbers came on a motorcycle and mounted a road block on the Oke-Afa bridge not knowing that they were being monitored by members of a vigilante group in the area who have positioned themselves in strategic positions.
The lady who was said to be on her way to work was trekking along the Oke-Afa bridge when she ran into the robbers who dispossessed her of her hand bag. The lady's shout for help alerted members of the vigilante group as well as commercial motorcyclists who came out en masse to chase the robbers. While one of the robbers was able to escape on the motorcycle, the other tried to swim through the canal unaware that an angry mob was in hot pursuit. "Many of us also jumped into the canal and brought him to an open place before setting him ablaze.
The Policemen rushed to the scene and almost prevented us from bringing the culprit to book. They thought we would hand him over to them as we usually do, but we knew that if we should do so, the man would be set free. One of us provided the fuel and matches and the man was completely roasted before the police men knew what was happening," Akeem Olojede said with glee.
A vulcaniser in the area who pleaded anonymity told Vanguard Metro his shop had been burgled on a number of occasions. "They burgled my shop on various occasions after removing the padlock.  It's like the Police are handicapped in this matter because they have sold their birthright to the robbers," he said.
A member of the vigilante group who gave his name as Ganiyu Oyeleye said they decided to keep a watch over the area because robbers usually come in the night to loot shops. "We have always been baffled by a situation where the Police would mount their road block at Pako and a robbery operation would be going on at Oke-Afa bridge. Robbers no longer fear the Police because they(police men)  are often busy collecting N100 from motorists; they don't want to know if there is robbery in the area," he alleged.
But when contacted on phone, the Police Public Relations Officer, Lagos State Command, Mr. Frank Mbah dismissed the allegation against poor police performance in the area as lacking in substantance. He said anybody can wake up at any time to make wild allegations against the police, arguing such does not translate into truth.
He also warned against attempts to justify the illegality of a mob setting a criminal suspect ablaze, saying Nigeria is not a jungle where aggrieved individuals can take the laws into their hands in such manner. He said rather than castigate the Police, the Force should be commended for making sacrifices to drastically reduce crime level in the state.