By Prince Osuagwu, Hi-Tech Editor
For football lovers, nothing can be more disappointing when one experiences power outage in the middle of a pulsating match. But it becomes even more frustrating when one turns to the power generating set only to have the starting cable cut in the process of putting the set on.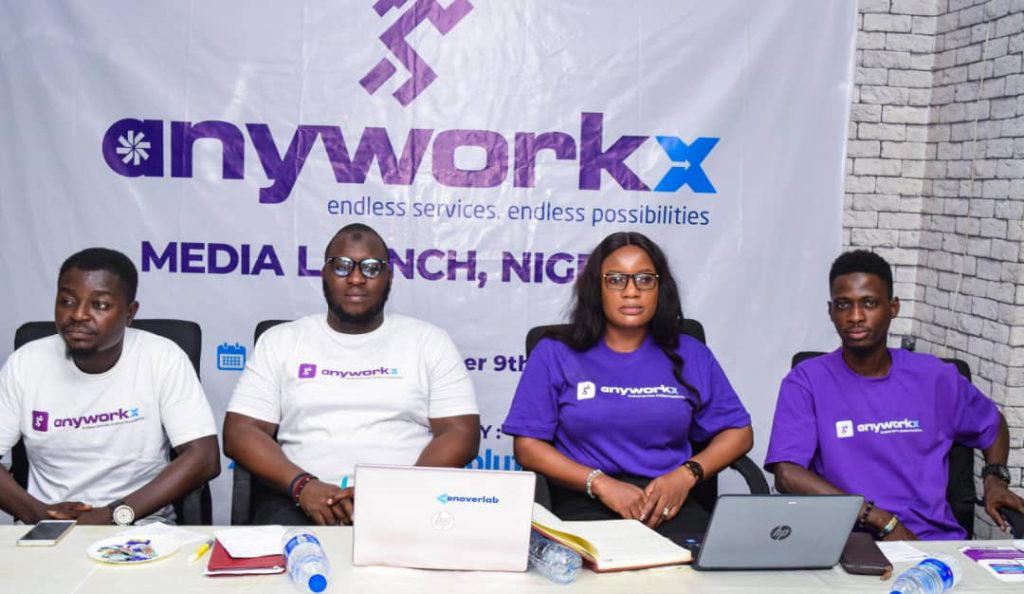 All these disappointments could be ameliorated if one has a generator technician handy. But most times, the devil will have it that the man you know may not be available.
The same goes for drivers who experience the misfortune of having their vehicles break down in the middle of nowhere without any known mechanic in sight.
The experiences are not palatable and tales of most people, who have gone through such harrowing conditions, leave a sore taste.
However, like they say, in this new world, technology fixes everything. No matter the problem, all it takes is for innovators to think deep, and inventions will emerge.
This is exactly the case with AnyworkX, a new application which has come to revolutionise the service ecosystem and bring security and convenience to households just as it injects strong financial power to those in the services business.
AnyworkX is a productivity app that digitally connects service providers and customers. It is the first innovation from deep thinking of a Nigerian technology company, X-agon Digital Solutions.
The first objective of the app is to create a much bigger and borderless marketplace as well as customer base for service providers thereby enhancing their ability to earn more revenue than they would ordinarily earn.
Linked to that primary objective is a need to create convenience and quick turnaround time for customers whenever they are in need of services especially during periods of emergency and urgency.
Just like the ride hailing ecosystem has been able to improve the productivity and lives of drivers and passengers, in the transportation ecosystem AnyworkX is stoutly claiming the ability to replicate same in the service industry.
The app is even boasting to be much bigger, claiming a deliberately designed operational system that can accommodate only a virile, vibrant and huge marketplace.
Already, the app currently plays host to over 200 different categories of services on the app, and more services are being added to list on daily basis.
Another major objective of AnyWorkX is to ensure that customers are presented with a variety of credible service providers at any time and from anywhere as well as provide an opportunity for customers to compare service fees all within the comfort of their phones. Customers can no longer be held down due to a particular service provider's unavailability, quality standard and fee range.
A key feature of AnyworkX is that both service providers and customers go through up to 5 stages of verification, before they can transact business on the app. This is to ensure that identity fraud is significantly eliminated to create a safe and secure platform for the users.
According to the Executive Director for Product and Strategy at X-agon, Mr Bolaji Bayo-Tijani, "We have created a transformative and inclusive platform that overcomes challenges faced by Africans while financially empowering them.
"AnyworkX aims to provide a platform that brings together service providers across Africa, creating a larger market and boosting income generation and economic empowerment in Africa."
He further said, "Traditional methods of finding service providers are time-consuming, unreliable, and often lack the desired quality. AnyworkX is here to change that.
"We noticed that a lot of people often struggle to get service providers especially when it comes to urgent and emergency needs. It's either that your regular service provider is very far away at that moment, unavailable or when people are in a new environment where they don't know anyone, it becomes difficult to get services rendered urgently.
" So, rather than people getting confused or calling friends and associates to get referral, they now need to just go on AnyworkX, and they are presented with options closest to them in terms of distance or close to the parameters they have set in the filters with profile of vendors to review and choose from. They also have the opportunity to see the level of verification the vendors available have passed through as well as ratings of their services by other customers. No matter where they are in the country, they can get service providers whenever they need one".