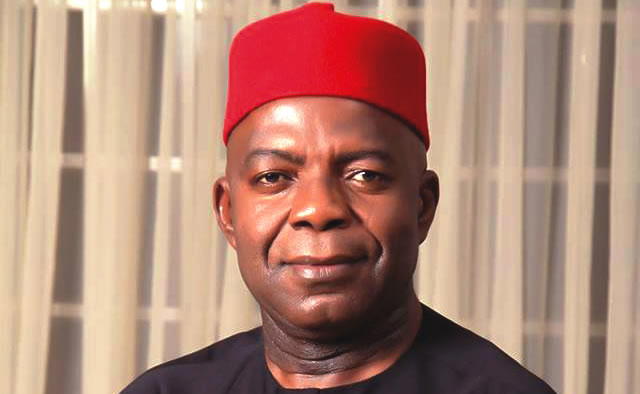 Gov. Otti
Omeiza Ajayi
Youths under the aegis of Abia Youths Interest Group AYIG have warned the state governor, Alex Otti against attempts to use state resources in sponsoring Labour Party operations and the court case of its presidential candidate, Mr Peter Obi.
Mr. Otti is the only serving governor on the platform of the opposition Labour Party LP.
Peter Obi, who came third in the 2023 presidential election is legally challenging the victory of President Bola Tinubu.
At a news conference Sunday in Abuja, leaders of the Abia Youths Interest Group said if the state governor funds the LP presidential case, it will have negative effects on the economy, welfare and development of the state.
They challenged the governor to make public, the cost of various contracts execution in the state.
Henry Chigozie who read a prepared text on behalf of the youths, said the funding of Peter Obi's case has led to the retrenchment of about 10, 000 civil servants in the state, thereby depriving Abians of the dividends of democracy.
However, the state government had recently denied sacking 10,000 civil servants, saying only those who were employed between December 2022 and April 2023 were shown the exit because some of them were ghost workers while others who were illegally employed and their appointment letters criminally backdated, were thrown out.
He said; "We, the Abia Youths Interest Group, the national umbrella body of all progressive youths of Abia irrespective of political affiliations, have observed with dismay the following dangerous developments, that if not immediately checked will plunge our dear state into avoidable socio-political crisis and financial quagmire:
"That Mr. Alex Otti is (among those) funding the Presidential Court case of Mr Peter Obi leading to massive retrenchment and sack of citizens thereby depriving Abians of the dividends of democracy. So far, in less than 3 months, over 10,000 Abia workers have been retrenched. This is unacceptable.
"In Otti's Abia, transparency and accountability have been relegated to the background. No one knows the costs of projects nor contractors working on projects in Abia.
"That Mr Alex Otti is creating crisis and instigating political unrest in Imo state thereby creating political instability in the South-east. By asking a sister governor to immediately write his handover notes, such unguarded and reckless statement which is capable of creating disunity amongst these states, can also lead to crisis amongst unsuspecting citizens.
"In view of the foregoing we wish to draw the attention of the nation, well-meaning Abians and the relevant security agencies to these sinister activities and urge all concerned to take necessary steps to ensure that the interests of our great state and nation are not jeopardized."
Also speaking, spokesperson of the group, Dr. Stephen Ukpai Ukwa, said the Labour Party-led Abia government should bear in mind that the youths of the state are watching and will resist any act that will endanger the wellbeing of Abia people.
"Mr. Governor should know that Abia youths will resist any act that will cause problems between us and the President of Nigeria. We will resist any act that will endanger the lives of Abia people. So, any act that will lead to the mismanagement of Abia state funds should stop forthwith."