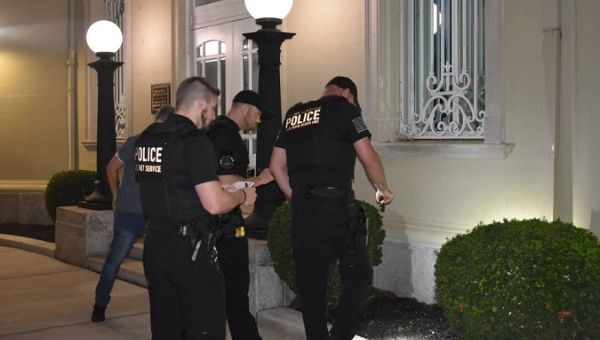 The United States on Monday condemned the latest attack on Cuba's embassy in Washington, in which a man allegedly threw two Molotov cocktails at the mission.
The communist nation described the incident Sunday night as a "terrorist attack." No one was injured.
"All attacks and threats against diplomatic facilities are unacceptable," State Department spokesman Matthew Miller told reporters.
"We are in contact with Cuban embassy officials and, consistent with our obligations under the Vienna Convention, the department is committed to the safety and security of diplomatic facilities and the diplomats who work in them," he said.
He said the State Department was coordinating with Washington police in the investigation.
Cuban Foreign Minister Bruno Rodriguez earlier wrote on social media that an individual threw two Molotov cocktails in the "terrorist attack."
Ambassador Lianys Torres Rivera said the embassy had "immediately communicated with United States authorities, who were given access to the mission to take samples of the Molotov cocktails."
The attack took place hours after Cuban President Miguel Diaz-Canel returned to Havana after attending the United Nations General Assembly in New York and other activities with Cubans in the US.
In New York, Cubans had demonstrated against Diaz-Canel's presence at the UN, according to posts and videos shared on social media.
"The anti-Cuban groups resort to terrorism when feeling they enjoy impunity, something that Cuba has repeatedly warned the US authorities about," said Rodriguez after Sunday's attack.
It was the second attack against the Cuban mission in Washington in recent years, after a man opened fire on the building in April 2020. There were no injuries from that attack either.
At the time, the Cuban foreign minister summoned the then-US charge d'affaires in Havana, Mara Tekach, to express his "energetic protest" over what he called a "terrorist aggression" against his embassy.
That shooting left bullet holes in exterior walls and columns, broke a street lamp and damaged several panes of glass and moldings on the front of the building.
US authorities arrested Alexander Alazo over the shooting, charging him with multiple offenses including "a violent attack on a foreign official or official premises using a deadly weapon," according to the US Justice Department.
The Cuban embassy reopened as a full mission after a reconciliation bid by former US president Barack Obama. His successor, Donald Trump, backed by staunchly anti-communist Cuban Americans, reversed many of Obama's overtures.
AFP