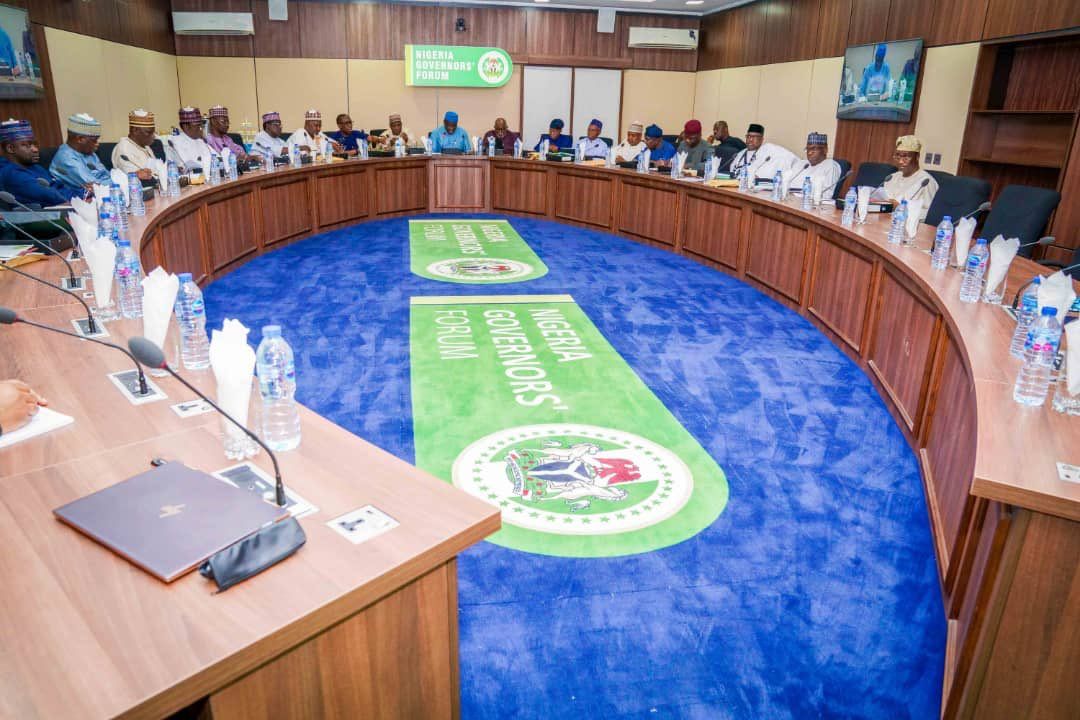 By Dayo Johnson, Sam Oyadongha, Olasukanmi Akoni, Bashir Bello, Musa Ubandanwki, Haruna Aliyu, Chioma Onuegbu, Ogalah Ibrahim, Emem Idio, Chinonso Alozie, Shina Abubakar, Peter Duru, Rotimi Ojomoyela, Vincent Ujumadu, Marie- Therese Nanlog & Ozioruva Aliu
Despite Nigeria's worsening economic crisis, elected leaders, especially governors across the states, still retain a large number of political aides, thereby ignoring calls for austerity measures, Sunday Vanguard has learnt.
No fewer than 5, 000 political aides were found to have been appointed by 22 state governors.
Apart from Commissioners, who are statutorily required to perform executive functions, governors retain a retinue of aides in sampled states.
This is despite ongoing conversations around the high cost of governance which have gained traction lately.
To the average Nigerian, the size of government at the state level is over-bloated and too much of a burden for the economy to carry.
Citizens across political divides are worried over the seemingly lackadaisical attitude of sub-governments to address the issue in line with the current economic realities.
The matter is worsened by the fact that most of the states, apart from being highly indebted, struggle to perform their financial obligations.
Some are notorious for owing salary arrears while others are indebted to pensioners.
N2.2 trillion
For instance, the Debt Management Office, DMO, in May 2023, raised the alarm that 16 of the nation's 36 states were threatened by N2.9 trillion debts.
It said the states' borrowings comprise a total domestic debt of N2.2 trillion and $1.6 billion in external debt as of December 31, 2022.
Interestingly, one of the state governors in the last dispensation had about 38, 000 political aides.
According to then-governor whose state domestic debt stood at N176 billion and external debt totaled $215 million, the aides were appointed to fight poverty.
Though heavily indebted states do not fall under the category of those sampled by this report, the inference aims at highlighting how the governors appoint aides recklessly.
The political appointees include Special Advisers (SAs), Senior Special Assistants (SSAs), Special Assistants, Executive Assistants (EAs), Technical Advisers (TAs) and Assistants.
A breakdown shows that Bayelsa leads with more than 2, 000 aides while Imo's 668 appointees make it the second highest.
Others include Yobe, 642, Akwa Ibom, 342, Kano, 202, Plateau, 136, Edo, 134, Niger, 131, Adamawa, 97, Enugu, 72, Ebonyi, 58, Abia, 52, Ondo, 45, Benue, 41, Osun, 40, Sokoto, 30, Kebbi, 30, Katsina, 28, Bauchi, 24, Ekiti, 10, Kaduna, 14, Ogun, 10 and Lagos, 6.
BAUCHI
In Bauchi, Governor Bala Mohammed has 24 Commissioners, 20 SAs and four Special Assistants.
OGUN
Governor Dapo Abiodun has so far appointed only 10 aides.
They include eight SAs, Chief Press Secretary and Deputy Chief of Staff.
He recently sent a list of eight Commissioner-nominees to the state House of Assembly.
The eight nominees have been screened by the lawmakers, but they are still working as SAs pending their swearing-in.
EDO
After the harmonisation of the Peoples Democratic Party (PDP) by leaders of the ruling party across Edo State, Governor Godwin Obaseki approved the appointments of 38 SSAs and 96 Special Assistants.
The appointees were drawn from nine local government areas across the state including Ikpoba-Okha, Owan East, Owan West, Orhionmwon, Ovia South-West, Akoko-Edo, Etsako-West, Etsako-Central and Etsako-East LGAs.
KEBBI
Governor of Kebbi State, Dr Nasir Gwandu, has so far appointed 30 aides and 26 Commissioners.
According to the Chief Press Secretary to the governor, Alhaji Ahmed Idris, eight new ministries have been created for equitable distribution of dividends of democracy in the state.
Idris said the 30 aides were part of plans by the governor to return governance to the people by incorporating the citizenry in decision-making.
NIGER
To fulfill his campaign pledge of gender inclusiveness, Niger State governor, Umar Bago, appointed 131 women as Coordinators and SSA. They comprised 41 Coordinators and 90 SSAs.
AKWA IBOM
Governor Umo Eno of Akwa Ibom State has appointed 23 Commissioners and one Special Adviser as members of his cabinet.
In July, he announced his decision to appoint one Personal Assistant, PA, from each of the 329 wards in the 31 Local Government Areas, LGAs, of the state.
Others appointed include Mr Essien Ndueso, SSA to the Governor on Research and Documentation, Dr Frank Ekpenyong, SSA to the Governor on ICT & Digital Services, and Morgan Ekanem, SSA on Public Affairs, Website & Multi-media streaming.
Eno also appointed Mr. Wilson Emmanuel Offiong as his Personal Assistant on Student Affairs, and Comrade Ubong Ikpe as his PA on Persons with Disabilities, PWDs.
ADAMAWA
In Adamawa State, Governor Ahmadu Fintiri appointed 47 media aides. This is besides the 50 Special Advisers that were approved for him by the State House of Assembly.
25 Commissioners were also sworn-in by the governor last month.
YOBE
In Yobe State, Governor Mai Mala Buni approved the appointment of 523 SAs, 104 SSAs and 15 Liaison Officers. No fewer than 20 Commissioners were also appointed.
RIVERS
Rivers State Governor Siminalaye Fubara has only 14 Commissioners and has yet to make more appointments into key ministries.
A source in the Government House, Port Harcourt said the reason for the delay in appointing aides is not unconnected to concerns over recycling of aides in the state.
The immediate past governor of the state was widely criticized for appointing more than 2, 000 aides.
KANO
In Kano State, Governor Abba Yusuf appointed 45 SAs, 109 SSAs/SAs, four Personal Assistants, 44 Senior Special Reporters and Special Reporters.
The governor also has 19 Commissioners.
KATSINA
Katsina State governor, Dikko Umaru Radda, approved the appointment of 14 SAs.
Radda had earlier appointed Alhaji Saidu Ibrahim Danja as his Senior Special Assistant for Victims of Banditry and Internally Displaced Persons, IDPs. The total number of SSAs and SAs is 27 while there are 20 Commissioners.
ENUGU
Governor Peter Mbah of Enugu State has so far appointed 22 SAs and Assistants.
He had earlier obtained approval from the State House of Assembly to appoint 50 more SAs. When that is done, the number would increase to 72.
Already, 17 Commissioners have been appointed from the 17 local governments areas of the state.
ABIA
Sunday Vanguard learned that Abia State governor, Alex Otti, has 52 SAs and Assistants.
This is in addition to Commissioners representing all the LGAs in the state.
EBONYI
Governor of Ebonyi State, Francis Nwifuru, has so far appointed 41 SAs and SSAs.
He also appointed a Special Assistant on Security from each of the 14 LGAs of the state.
There are two Special Assistants for Airport Security. He also has an SSA on Streetlight.
BENUE
In Benue, Governor Hyacinth Alia appointed 17 SSAs and 24 SAs. 17 Commissioners were also chosen.
KADUNA
In July, Kaduna State governor, Uba Sani, appointed Dr. Daniel Maigari, a former Commissioner for Agriculture, and Febian Okoye, a former aide to Alhaji Aminu Tambuwal, a former governor of Sokoto State, along with 12 others, as SAs.
LAGOS
Lagos State governor, Mr Babajide Sanwo-Olu, appointed six SAs to serve in various capacities across ministries.
In addition, 37 Commissioners were sworn-in last week.
SOKOTO
In July, Governor Ahmad Aliyu of Sokoto State appointed 25 SAs.
Earlier, he had appointed three SSAs and two SAs.
BAYELSA
Political aides appointed by the Speaker of Bayelsa State House of Assembly, Deputy Speaker and other principal officers are few compared to what is obtainable at the executive arm.
Checks at the state assembly revealed that the Speaker has a Chief of Staff and few other statutory aides like other principal officers.
But the state governor in particular has a legion of aides.
Appointments are made quite often and most of them are not announced or made public.
There are over 200 social media aides to the governor alone in addition to other aides.
In total, the number of political aides to the governor and his deputy is estimated to be over 2, 000 and still counting.
At an event to commemorate the 2023 World Social Media Day recently, the governor made two fresh appointments to add to the growing numbers of social media aides who are categorized into SSAs on New Media and SAs on New Media.
Meanwhile, some of the aides are said to have no clear-cut duties and responsibilities or offices.
Governor Douye Diri himself had, two years ago, declared that he had made close to 2, 000 political appointments since assuming office.
He made the declaration in September 2021 during a grand reception organised in his honour as well as Senator Seriake Dickson and the member representing Sagbama/Ekeremor Federal Constituency in the House of Representatives, Fred Agbedi, in Sagbama, by the Bayelsa West Senatorial District chapter of the Peoples Democratic Party, PDP.
The governor was speaking against the backdrop of grumblings over appointments.
He said: "Please, don't divide the house (PDP); don't divide our family. Our family has moved from the Restoration Government to the Prosperity Government. Don't divide it.
"Sometimes I'm bothered when people say 'I have not been given an appointment'. Wait, your turn will come. We have appointed close to 2,000 now, and we are still appointing. So, wait, your turn will come.
"Just because you don't have an appointment, you want to divide our family. It will not work. Don't divide our family, we will remain one. Rather, we will bring more people to our family and we have been doing it. They have been coming and we receive them with two hands."
EKITI
In Ekiti State, Sunday Vanguard learned that government is the only business as everybody wants to be involved in governance.
Statistics showed that Ekiti parades one of the highest numbers of civil servants and political appointees from state to ward levels in the South-West.
The state's wage bill is between N2.5 billion and N2.6 billion monthly.
Recently, Governor Biodun Oyebanji forwarded the list of nominees that will constitute his cabinet to the state House of Assembly, comprising 21 Commissioner-nominees and 10 SAs for screening and confirmation.
The delay in appointing cabinet members, according to a source close to the governor, was deliberate to conserve resources.
However, Special Adviser, Media to Ekiti State Governor, Yinka Oyebode, said efforts are being made to reduce the cost of governance.
According to him, deliberate efforts are being made to block loopholes for waste through the use of technological innovation.
Oyebode noted that local contractors have been encouraged to ensure money circulates within the state as part of measures to cut cost of governance.
He went further to reveal that the number of Commissioners and SAs in the present administration was reduced drastically compared to what was obtainable in previous administrations.
His words: "Since the advent of this administration, we have made efforts to cut down the cost of governance as it reflects in different aspects of governance even in appointments.
"The number of Special Advisers has been drastically reduced from what it used to be.
The number of people who travel with the Governor has been reduced. We are deliberately cutting down the cost of governance. You will notice even our contracts are done through direct labour.
"Ekiti State governor has not bought new vehicles and he is moving from one ministry to the other, picking vehicles that have been condemned and fixing them. That is what we have been using now for the last nine months.
"The vehicle the governor is using was what he used as the Secretary to the State Government and the convoy is from the previous administration. All he did was fix them, even the Deputy Governor, wife of the governor, SSG and state officials are doing the same thing. We are deliberately cutting down the cost of governance.
"In the past, the governor had several Pas. Currently, he has just one P.A. Those are deliberate efforts. What he has done now is to merge offices, merge responsibilities to reduce cost of governance.
"Some governments have 36 and all that. He has also told them to use the little money they have to do the basic things and avoid spending money on frivolous things.
"Local government chairmen have been mandated to reduce the cost of governance. We have a committee set up to monitor and document local government projects. You cannot duplicate offices and it cuts across.''
ONDO
Governor Rotimi Akeredolu of Ondo State appointed 45 aides in his first term.
He has maintained the same number to date.
Sources said his deputy, Lucky Ayedatiwa, only appointed his Chief Press Secretary while other aides were seconded from the office of the governor.
Sunday Vanguard couldn't ascertain the exact number of aides seconded to his office out of the 45 appointees of the governor.
Speaker of the state House of Assembly, Olamide Oladiji, has yet to publicly announce the appointment of his aides, but a source close to him said his appointees are no fewer than 15.
However, the Deputy Speaker, Abayomi Akinruntan, has 10 aides.
Sunday Vanguard learnt that, officially, the Speaker was expected to appoint only four aides and his deputy, three.
Although the Majority and Minority leaders in the House of Assembly have equally not publicly announced their aides, sources said they have no fewer than eight.
"Appointing more aides than required, is just to create jobs for the boys. Some do not even have defined duties," a source said.
OSUN
Osun State governor, Ademola Adeleke, pledged to work with a lean cabinet given the scarce resources of the state.
However, after appointing the statutory aides in the persons of the Secretary to the State Government, Chief of Staff and spokesperson, a retinue of media aides was also appointed.
The appointees, including domestic, media and others are about 40.
Adeleke also requested from the state House of Assembly 25 SAs to work with him. By the time the request is granted, the governor is likely to work with a 50-man cabinet.
Meanwhile, a civil society organisation, The Osun Masterminds, TOM, criticized the list of a 50-man cabinet, saying the state has no financial capacity to finance such a "big cabinet".
Executive Director of the group, Professor Wasiu Oyedokun-Alli, said: "An important issue is the size of the intended cabinet.
"The 25 Commissioner-nominees meant government does not care about making the size of government lean to conserve resources and save the state from financial woes.
"One would expect that at this time in the history of governance in Nigeria, our dear state would reduce the cost of governance.
"CSOs are bothered just like many people over the size of government. Their salaries, allowances and other perks of office including official cars would incur huge expenses for Osun.
"It is also interesting to note that the same Governor Adeleke who sanctioned a staff audit to block leakage and improve the welfare of civil servants cannot avoid having 50 Commissioners and Special Advisers. Our State cannot afford such a financial burden."
In a riposte, spokesperson for Adeleke, Olawale Rasheed, said: "It is too early to judge the administration over appointments. We will run one the most modest administrations."
Osun is battling a backlog of workers' salary arrears as well as pension and gratuity in the region of N70 billion among other inherited debts.
KOGI
Kogi is one of the states with bloated bureaucracy. From the executive arm of government to the legislature, the state boasts of a retinue of aides for its leaders.
Apart from 21 Commissioners, Governor Yayaha Bello has more than 30 SAs.
Bello also appointed SSAs on Security Matters for each of the state 21 LGAs apart from several SSAs for other portfolios.
IMO
Following the inauguration of 247 Advisers recently by Governor Hope Uzodimma of Imo State, the number of his political appointees has increased to about 668.
No fewer than 247 people were inaugurated on behalf of the governor by the Deputy Governor, Placid Njoku, at the Government House, Owerri.
Earlier, the governor had appointed 35 Commissioners as well as 18 SAs.
He later appointed 63 more SAs and SSAs. Last year, Uzodimma appointed 305 Liaison Officers at the 305 ward levels.
At the time of filing this report, the governor has about 668 appointees.
The Speaker of Imo State House of Assembly, Chike Olemgbe, on his part, has about 20 aides described as support staff.
Other members of the state House of Assembly have no fewer than two aides.
ANAMBRA
After what was considered an era of magnanimity in dishing out political appointments by the Willie Obiano administration in Anambra State, during which there were over 4, 000 political office holders in the state, his successor, Professor Chukwuma Soludo, appears to have drastically slashed the number.
For instance, although the figure of political office holders is not readily available, the number of ministries has been reduced and the multiple SSAs and Special Assistants, as well as Executive Assistants, are not what they used to be.
During the previous administration, Education Ministry had two Commissioners – Tertiary and Basic, just as Works Ministry had the Ministry of Road Infrastructure in addition. Now, the Ministry of Education is one while Works is also one.
During the Obiano administration, most of the SSAs, Special Assistants and Executive Assistants had no functional offices, with many operating from outside the state.
It was common to see up to 10 political appointees attached to one ministry. Now, a few SAs and SSAs have specific functions in departments and agencies.
In Anambra, Commissioners are seen driving themselves while few SSAs, SAs and EAs complain that nothing much is coming to them yet. Some said the state is still in transition, but are optimistic things will normalise later.
An official of the state government, who pleaded anonymity, said the size of government is a deliberate cost saving measure by Soludo.
PLATEAU
Plateau State governor, Caleb Mutfwang, approved the appointment of 136 Special Assistants with specific assignments to enable him deliver on his promises to the people.
The appointees spread across the 17 Local Government Areas, LGAs, of the state and eight was chosen from each LGA.
A statement by the Governor's Director of Press and Public Affairs, Gyang Bere, said their designations will be communicated to them in their respective Local Government Councils.
He said, "The appointees, whose names are listed below, are the first batch. They will assume their roles and responsibilities immediately. Their portfolios will however be communicated to them in their respective Local Government Councils."
Some of the appointees are Dalyop Pin, Jemima Nyam, Patience Ufwalal, Dachomo Sunday, Shim Malau, Dabot Dung, Pam Nuhu, Samson Chuwang, Aaron Jamo, Gimbia Tahu, Yahaya Ibrahim, Atoyi Daniel, Katuk Ahamdu, Ughili Agaji, Ichi David and Sunday Wada.
Others are Mubarak Isa, Azong Auta, Linda Adeleye, Tele Mangs
Oghranduka Egheleakpo, Maureen Odilimuo, Zal James, Kachollom Moses, Golu Golwok'ah, Beatrice Gontur, Ruth Goma, Wuchir Gozumdang, Wubitwe Waptu, Bakomi Gotom and Joseph Simon.