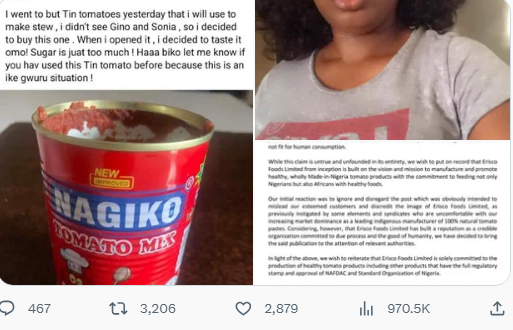 Erisco Foods Ltd has received a barrage of backlash from Nigerians on social media over the arrest of a female customer, Chioma Egodi, who gave a negative review of its product, Nagiko Tomato Mix.
On 17 September 2023, Egodi on X, posted the image of the tomato tin which she bought from a store and wrote, "I decided to taste it. Sugar is just too much."
Reacting, Erisco said its attention has been "drawn to a Facebook post by one Chioma Egodi Jnr on September 17, 2023, alleging that Nagiko Tomato Mix, one of the three tomato paste variants of Erisco Foods Limited, contains an unhealthy amount of sugar and therefore not fit for human consumption.
"We will take all necessary actions against any malicious attack on our reputation."
Consequently, the Federal Competition and Consumer Protection Commission (FCCPC) on Monday, confirmed on X that woman was arrested by the company and transferred to Abuja.
The FCCPC Director-General, Babatunde Irukere said, "@fccpcnigeria operatives have confirmed arrest and transfer of the case to Abuja by the Police Force. She was no longer at the station on arrival. Working to determine exact current location & engaging Force HQ in Abuja. Summons being issued to @EriscoFoodsLtd immediately."
The action by Erisco Foods has been widely condemned by the netizens as many called for a boycott of the product.
Below are some of the reactions from Nigerians on X:
@daddykdz said, "What's wrong with @PoliceNG and the Nigerian state in general? How do you arrest someone for product review? If anything, it's a civil matter that should be settled in a civil court. What's the arrest for? Transferred to Abuja? What a joke!"
@harrisosenum wrote, "They say school is a scam. But simple response to a customer's observation of a particular product, they bungled. How hard or is it rocket science to respond professionally to a customer's observation of your product?"
"Exactly, but the CEO wan show say na him get Nigeria," @emmaoghenemaga reacted. "Heck, no one even knows about the product. This was an opportunity to cause a little social media buzz around his product, but, no, the "do you know who I am' syndrome is what he cares about."
"@EriscoFoodsLtd lost a great opportunity to market their products. Very poor handling of this issue has already messed the company up. I just discard the remains of their product in my kitchen," @Funcaliphate said.
@shawnokuyemi said, "Na to cancel @EriscoFoodsLtd, this is anti-consumer. No one should ever buy their products again."
"Now @EriscoFoodsLtd has drenched its image further in the sewage. I am checking the name of that product! When I see it I remember Chioma," wrote @myke_destiny.
"Never mind, this is the beginning of the end of that product," @captainblack03 reacted. "Nigerians are not to be joked with. We are in this together. Shebi Una get time and money for legal war, let the battle continue and see where the brand stands by the end of the year."