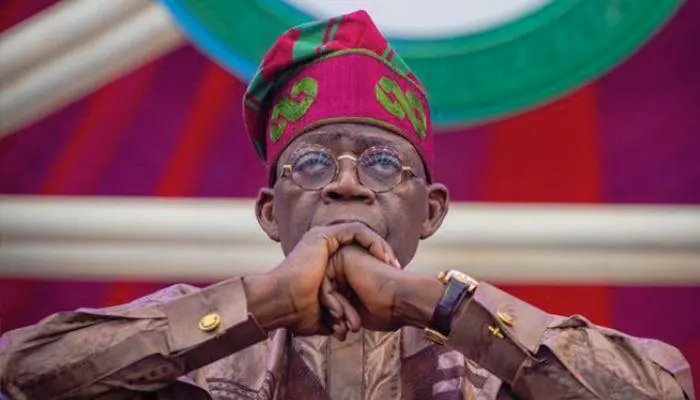 God, give me the courage to change the things I can change, the serenity to accept the things I can't change and the wisdom to know the difference" – Irish Prayer
I campaigned on this page for eight years against Buhari once he revealed his true colours with all his appointments – mostly northerners, Fulani, in-laws and close associates. He exhibited bigotry and narrow-mindedness. He demonstrated till his last day in office that competence and character were not important elements – as long as you were Muslim and called Mohammed, Muhammadu or Abubakar. For eight years, the man drove the Nigerian economy steadily towards the ditch.
Thus, as far as I was concerned, the 2023 election was a referendum on Buhari's government and the All Progressives Congress, APC. To some extent, I really did not care who the APC candidate would be; because voting for him amounted to endorsing eight years of Buhariism. To me, anybody who voted for APC in the election has no reason to complain about the hell in which we find Nigeria now. That was your prayer answered.
Tinubu's emergence did not change my mind much. His Muslim-Muslim ticket was ill-considered; and the fact that he received only 37 percent of the votes vindicates the belief that majority of Nigerians were not in support. But, the feeble-minded framers of the Nigerian Constitution remain the only people who forgot to call for a run-off election if no candidate received 50-plus percentage of the votes. They were SANs. That tells us the quality of our "learned" men.
That said; after reading the judgment of the Court of Appeal, it is my conclusion that the election is over. Given the erratic verdicts handed down by the Supreme Court, there is very little doubt in my mind that only the greatest miracle of the new millennium would alter the judgment. Only God knows when next we will have Justices respected by the majority of Nigerians at all levels of the judiciary. The case is closed and each of us is now called upon to determine what we want to do about it. My mind is made up on the matter; not because I like it, but because this is a situation I can't change. Tinubu is the President now.
START WITH PRAYERS
"Whenever a man prays, he prays for a miracle; every prayer reduces itself to this: Great God, grant that twice two be not four" – Ivan Turgenev, 1818-1883.
I have already started with prayers for his success. Every morning, in our prayer house at Massey Street, Lagos Island, it is mandatory for us to pray for the President – whether we like him or not. Today, 99.99 per cent of Nigerians are suffering – unlike at any time in the nation's history. Most of the problems resulted from eight years of Buharinomics – a most destructive form of economic management. Wishing any President to fail amounts to wanting to commit suicide. We will perish before the man does. That is why we pray.
Prayers for Tinubu have taken on additional intensity because no previous Nigerian Head of State, HoS, military or civilian, has ever been confronted with deadlock so total as we are experiencing now. Nigerians, in the future, would be wondering if this was a democratic republic or a mental clinic run by the most deranged inmates. Start with this information just reaching us.
'Nigeria's debt jumps by 75% in three months, hits N87tn' – Report, September 15, 2023
Reading further down, we were told that CBN loans to FG, promissory notes raised public debt by N37tn between April and June. In other words, the Buhari government, in collusion with the Central Bank of Nigeria and other lenders (most probably banks), increased the nation's debt burden by more than double the total 2023 budget in the last three months alone. And, all these crimes were committed without reference to the National Assembly, NASS, which statutorily must approve all the loans being taken. None of the main actors, President and CBN, can claim ignorance of the laws governing Ways and Means loans. Obviously, the infractions were deliberate and constitute contempt for the NASS, the rule of law and the Nigerian people. There are other reasons why we must pray hard for Tinubu.
'FG inherited N14trn worth of road projects – Umahi' – Report
The new Minister of Works belongs to the APC as Buhari and former Works Minister, Fashola. We can, therefore, accept as fact that the nation owed road contractors N14trn. Furthermore, Umahi disclosed that Tinubu's government inherited 2,604 projects. He even told us that some projects are 20 years old – meaning that they originated during Obasanjo's regime; and in his first term for that matter. A good example is the East-West Road running from Effurun in Delta to Calabar in Cross River; and which remains uncompleted till today. But, of all the Presidents, Buhari has deceived us most that he was borrowing to improve infrastructure and "to leave Nigeria a better place".
Questions immediately arise. What was done with all the money borrowed legally and illegally — given the N10trn said to be owed to contractors? How many years will be required to have the road network Nigeria deserves? How are we going to fund the roads given the debt load generally? Clearly, Nigerians have been wickedly duped by the Buhari administration. We are now beginning to know how terrible that government has been. It was clueless, reckless and totally corrupt, it was wicked. Read what follows.
RUNNING GOVERNMENT ON A BEGGING BOWL
'Nigeria Loses N8.7trn for Failing to Meet OPEC Quota in 18 Months' – Report, September 17, 2023.
That screaming front page report in a national paper was attempting to draw attention to a problem which should concern all of us – particularly the Tinubu government. It has several ramifications. Only a few can be touched upon now.
First, there is a direct correlation between our low export of crude oil and rising exchange rates. Crude oil remains our major foreign exchange earner. We have failed to diversify our economy; we have refused to create the infrastructures which will make sustainable growth possible. On top of all these, we have continued to increase the population of our country faster than our ability to cater for all of us. We are at the precipice. And, we must admit, that Tinubu is not responsible. He inherited the calamity about which Fellow Nigerians have been warned in the last eight years.
Disregard for internal revenue generation, IGR, by Buhari and reliance on borrowing was probably the most destructive fiscal policy measure undertaken by the FG. The N8.7 trillion lost in 18 months pales by comparison with the trillions lost in the 78 previous months – when Nigeria failed each month to export crude oil up to quota limit. Instead of working to ensure adequate internally generated revenue, Buhari turned Nigeria into a beggar nation – going about borrowing instead of earning its income. Hundreds of millions of barrels of crude were not produced and exported; 400,000 barrels of crude were officially reported stolen every day. On no single occasion was anybody sacked, arrested and prosecuted for what amounted to prolonged economic sabotage.
This reminds me of once-in-a-lifetime opportunity to interview the late Chief Obafemi Awolowo in 1978. A group of us working under the late Dr Tai Solarin went to submit a report to Pa Awo. I got there first; and the great man was waiting for us. I seized the opportunity to ask him a question which had been bothering me: "Sir, how was it possible for you to manage the Nigerian economy during the Civil War without borrowing?" The answer came immediately: "The first duty of every responsible government is to generate sufficient revenue to execute its programmes without borrowing. "Borrowing should only be undertaken for projects which will help repay the loan with returns on investment." Obviously, Nigeria lacked a responsible government during Buhari's eight years…
To be continued.
OBASANJO TALKS AGAIN?
"A good old man, Sir, he would be talking…when age is in, the wit is out" – William Shakespeare, 1564-1616.
Gowon, Babangida, Abdulsalami and Jonathan are former Heads of State, HoS. They seldom speak; because of that, they command respect. Obasanjo has been the only former HoS who has assumed that the nation must listen to him irrespective of the soundness of his views. He got himself involved in two needless controversies in two weeks recently.
First, he accused Dr Olu Agunloye of getting Nigeria entrapped in a $6 billion contract as his Minister for Solid Minerals. Agunloye has refuted the allegation entirely – while politely calling OBJ a liar. Second, he was invited by Governor Makinde to commission a new road. Undoubtedly, the governor expected to reap the benefits of good publicity for his second 100 days in office. Instead, today, all everybody remembers was the needless controversy Obasanjo ignited with his orders to the traditional rulers in attendance. Dr Samuel Johnson, 1709-1784, in one of his articles in The Rambler, once pleaded with Britons to bear with "the imbecilities and senilities of old age". I also plead now.