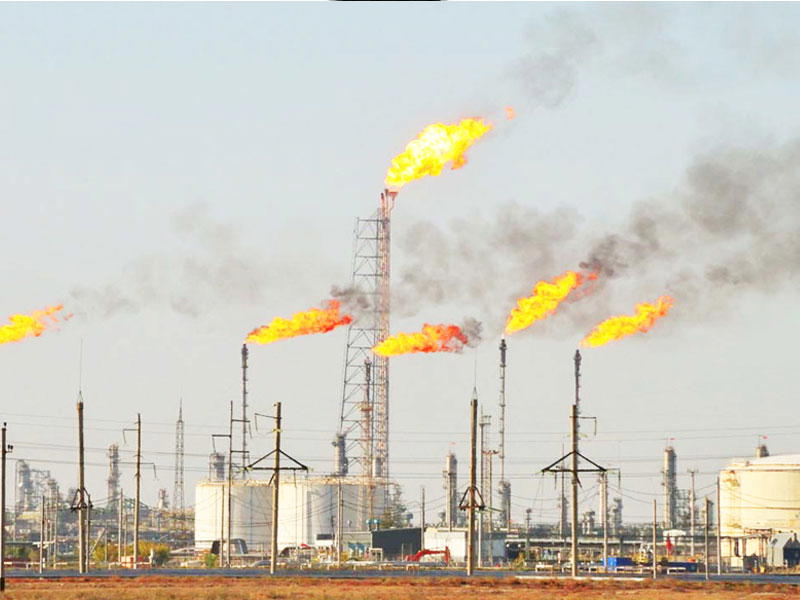 … Over 100 household displaced – President General
… Gas flaring dangerous to children and women – Woman leader
… 27 communities are affected – CRESOD
… Ministry of Petroleum, ISOPADEC refuse to comment
… Our head offices will react- oil companies
By Chinonso Alozie
Residents of the communities in Oguta local government area of Imo state said gas flaring has sacked over hundred households in the Oguta council area of the state.
The residents spoke in Owerri, on Wednesday while pleading for government interventions to end the dangers facing them as regards gas flaring in their communities.
They alleged that gas flaring started over four decades ago and that it has caused them severe health problems. Some of them said it breeds mosquitoes that inflict illnesses on their children and that the situation usually worsens anytime there is flood.
Others complained that because of the gas flaring activities that they usually experience hot weather even when it was supposed to be a cold weather.
Some of the affected communities mentioned were but not limited to Umundanike, Umunkwu, Umuosuma , Umunaraukwu, Umunkwocha, Ngegwu, Umutogwuma among others.
Speaking first, the President General Oguta Community Development Union, OCDU, Sir Uche Faith Iwuorisha JP, said: "Gas flaring is burning of gas that accompanies oil production. During the extraction of oil gas is released into the atmosphere is a kind of byproduct that could not be used. That fire that is burning is causing serious hazards. Both health hazards and environmental hazards. Including economic waste.
"It has not been easy with the oil communities especially people who live close to the location, they are the mostly endangered. You know government has regulation that is guiding the operation of these oil companies and gas flaring is illegal.
"What government should do to ameliorate the sufferings of the people like i understand in some countries cannot be entirely eliminated but it can be reduced. Because modern technology made us to know that some infrastructure can be put together and this gas that is being burnt can be converted and used to cook, generate energy for electricity."
On the impact on the villagers, he said: "The people that badly affected relocated out of their communities. Because the gas flaring generates heat even if in the cool weather you feel very hot. It breeds mosquitoes. The air they breath is no longer clean. Because of the toxics that is mixed in the air. Honestly speaking, over a hundred households have been displaced and forced out of their communities because of the gas flaring. Even, it worsens during flooding. The people find it difficult to manage the situation."
Adding her voice, a woman leader of Orodogwum community, in Oguta council area of Imo state, Mrs. Millicent Okwuosha, described gas flaring as a disaster and that "for over 59 years gas flaring has been a disaster to the environment and the farmlands, rivers and fish ponds have been destroyed by oil pollution and gas flaring. Gas flaring is dangerous to the heath especially women and children how do we survive."
Adding his voice, the Founder and Executive Director Center For Rural Economic and Social Development CRESOD, Christian Okororie, narrated that; "We have 27 villages in Oguta community and all of the citizens are suffering from gas flairing . The hazardous emissions of gas since the exploration of oil and gas started since 1964 to date our air is polluted , water from the rain is filed with sooth , corrugated iron sheets are always corroded with black substances , the production of farm produce , fish , forest and wild life have been grossly affected by gas flaring.
"It is these and other health challenges that we face led to the campaign for #stopgasflaring which attracted the establishment of the Nigeria Gas Flaring Commercialisation Progect, NGFCP in 2018. Many companies have indicated interest in converting the gas flairing sites in Oguta community to commercial purposes not only to stop gas flairing but utilise it in establishing modular refineries, fertilizer blending plants and LPG plants .
"These are direct derivatives of commercialisation of the process. The Nigerian Upstream Petroleum Regulatory Commission, NUPRC, a subsidiary of NNPC PLC have started issuing licences to companies who applied to implement the gas flaring sites Commercialisation process, we at CREESOD implore the state government to pursue the matter of getting license for the company that scaled the first and second bidding process for Oguta Community gas flaring sites in other to commence operations as soon as possible."
Some of the image makers of the oil companies were reached to know what they were doing to stop gas flaring in tje oil communities of Oguta, they pleaded not to be mentioned in the report adding that gas flaring matter would be addressed by their head offices.
The Commissioner of Imo state Ministry of Petroleum, Eugine Opara, was reached to get his reaction on what his ministry was doing to stop gas flaring in Imo oil communities he declined comment.
Also, the Managing Director of the Imo state oil Producing Areas Development Commission, ISOPADEC, Charles Orie, was contacted to know the effort of his commission to end gas flaring in oil communities of Imo state, but he did not comment on it.