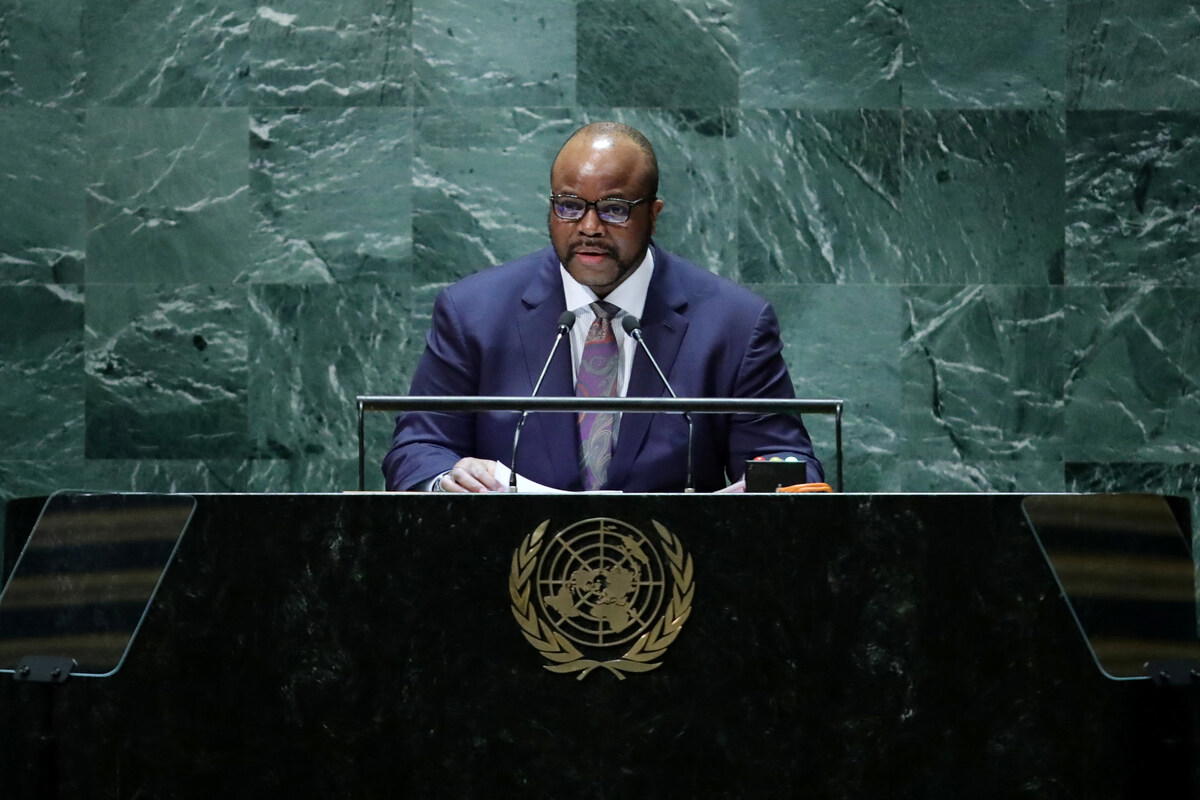 Eswatini's King Mswati III addresses the 78th United Nations General Assembly at UN headquarters in New York City on September 20, 2023. – Africa's last absolute monarchy, the Kingdom of Eswatini, holds parliamentary elections on Friday but there is a catch — political parties are banned from contesting. The constitution emphasises "individual merit" as the basis for selecting lawmakers, who cannot be affiliated with any political group. (Photo by Leonardo Munoz / AFP)
The king does not take kindly to dissent in Africa's last absolute monarchy.
But it doesn't stop political opponent Nomalungelo Simelane from taking a rare stand for democracy in Eswatini, formerly known as Swaziland.
The 44-year-old parliamentary candidate, also known as LaZwide, has been sharing her message at campaign rallies ahead of Friday's parliamentary elections.
Political parties are banned in the hilly, landlocked country between South Africa and Mozambique, and lawmakers cannot be affiliated with political groups.
King Mswati III appoints the prime minister, cabinet and judges, while acts of parliament need his seal of approval to come into force.
"We are not allowed to be free, we don't have free speech," LaZwide told AFP on Wednesday, before addressing a few hundred supporters in a muddy stadium in Siphofaneni, a town around 80 kilometres (50 miles) from the capital Mbabane.
"If you speak the truth, then you find yourself in exile, you find yourself in jail."
Wearing sturdy boots in the stadium drizzle, the former gospel singer said she entered politics as an MP in by-elections last year, taking the seat of her pro-democracy husband who was hounded by the regime and forced into exile.
"I am not a politician but I'm making a lot of noise around here," she said.
– Fear and faith –
Campaign rallies are rare in Eswatini, where the electoral campaign runs for just two weeks.
In its streets, posters are few and far between and there are no televised political debates to tune into in the evening.
For 50 years, political parties have been banned — candidates for the 59 seats up for grabs in Friday's ballot cannot be affiliated to any political group under the constitution.
Most of the candidates are loyal to the king.
Two opposition lawmakers elected in the last vote in 2018 are currently in jail.
"Yes I have been scared," LaZwide acknowledged.
Two years ago, she fled the country with her husband and their five children when security forces violently quashed demonstrations calling for reforms, leaving around 40 people dead, she said.
With the help of her religious faith and a strong personal conviction that she should take up the baton from her husband, she came home, alone.
"We have faith in her," said Bandile Khoza, 25, one of those being addressed by LaZwide from a little stage made out of a few planks of wood.
Like nearly half of the country's young generation, he cannot find a job, and dreams of a better life.
"There is no freedom in Swaziland (the former name of Eswatini), there is no democracy," he said angrily, while watching his words.
Mswati, 55, has been widely criticised for his lavish lifestyle while nearly a third of the 1.2-million population lives below the poverty line.
One misplaced word in Eswatini can lead straight to prison and the media is not allowed to report criticism of the monarch.
"We are graduates but we are unemployed. We are hoping to see ourselves getting employed, yes that's the hope, and seeing our town developing," Thandiwe Mtsetfwa, 28, said before going to dance to the music filling the stadium.