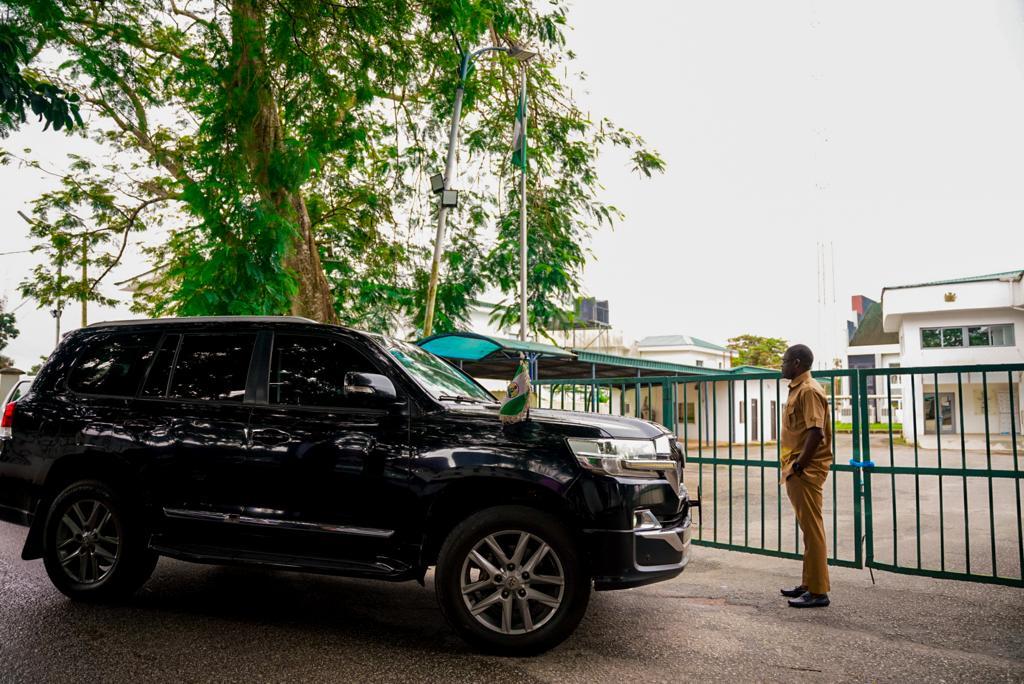 File image of Edo Deputy Governor, Shaibu, locked out on Monday.
It is a bit of irony that Governor Godwin Obaseki of Edo State has been swimming in public approval over his stern sanctions towards his deputy, Philip Shaibu.
Governor Obaseki's unlikability is not essentially because of his unsmiling façade or his deep reforms that have uprooted political patrons in Edo State.
His politics and actions after he was plucked from the backrooms of the Adams Oshiomhole government and enthroned as governor of the state with the moniker, 'Heartbeat of the Nation' put him on a difficult political trajectory.
His apparent failure to manage Comrade forced him out of the All Progressives Congress, APC to the Peoples Democratic Party, PDP where he was grudgingly accepted. Just as in the APC, Obaseki has had to fight with his benefactors, notably, Chief Dan Orbih who managed his re-election campaign in 2020.
Remarkably in all his journeys, he tagged along with his deputy, Philip Shaibu who despised, abused, and cursed his adopted father, Comrade Oshiomhole to show his loyalty to Obaseki.
Under pressure from PDP leaders in Edo State to drop Shaibu for one of their own from the Legacy PDP in 2020, Obaseki refused as he showed an unusual fidelity to a loyal subordinate.
That loyalty was not for anything. Obaseki until recently had made Shaibu about the most powerful deputy governor in the history of Nigeria. Not only was he made acting governor the many times Obaseki travelled abroad or went home to Lagos, Shaibu was directly in control of some strategic arms of government including sports, revenue-generating agencies and then, the very strategic ministry of local government affairs.
Shaibu was indeed, the envy of many of his 'newspaper reading colleagues' in other states. When Edo State organized the National Sports Festival, a very prominent Benin man in a discussion with your correspondent was livid over the fact that Obaseki gave Shaibu the task of leading the organization. The angst was that Obaseki had given Shaibu the privilege to not just make money, but also to further entrench his political structures using the festival.
Of course, Shaibu was seen as the political one in the governorship pair given his proper grooming by his adopted father, Oshiomhole.
Though Shaibu was not directly linked with the Grace Group, the political platform used by Pastor Osagie Ize-Iyamu to enthrone Oshiomhole as governor, he was, however, very visible among the football players who regularly turned around at Ize-Iyamu's house to play football and discuss politics.
Did the power enter into his head? Many think so. The insult against his former political patrons was detested in many quarters. First was Pastor Ize-Iyamu who Shaibu dragged in the course of the election campaigns in 2016 and then in 2020.
After Ize-Iyamu was the unbelievable assault on his father, Oshiomhole who he openly attacked and ridiculed after the disagreement over Obaseki in 2020. Oshiomhole is believed to have acted as Shaibu's guide and nurtured him politically from his days as an executive official in the National Association of Nigerian Students, NANS to his present position.
Besides the resort to the court to stop the fabled impeachment, Governor Obaseki has not come out to say what Shaibu did besides his strident commitment to succeed the outgoing governor.
However, many in Edo political circles say that Shaibu had begun to allow power cloud his judgment to the extent that he normally made it a practice to turn up for state events after the governor would have settled in and then draw attention to himself.
Given the very negative things his enemies in Benin say about him, it is doubtful that Obaseki would not have observed the repeated breach of protocol by Shaibu. He was perhaps bidding his time.
Now Obaseki's time has come and Shaibu has been banished. He has even been banished from the Government House to a decrepit section of GRA to read newspapers.
Undoubtedly, Shaibu's main offence is his determination against the governor's desire for him to succeed him. Many in Edo State also reason with Obaseki on this and believe that Edo North from where Shaibu comes from after holding the position of governor for eight years and then deputy governor for another eight years should cede the position to Edo Central.
After Shaibu came out on television last Thursday to make a public apology, some suggested that it showed the extent to which Obaseki had brutalized the psyche of his deputy.
In fact, the fate facing Shaibu is what many deputies face everywhere with the situation in Ondo paralleling the situation in Edo. In Ondo State the political machine headed by Governor Rotimi Akeredolu has commenced moves to impeach his deputy, Lucky Aiyedatiwa on the supposition that the latter was disloyal when the governor was out of the country on medical vacation.
The power of a governor is so weighty in Nigeria that even though Akeredolu is still recuperating in his Ibadan, Oyo State private residence which is 177 kilometers from the Ondo State capital, the governor is from that position sending the political palpitations that are about to consume his deputy.
No one knows the state of Akeredolu's health, but he like Obaseki and many other governors believe that they are Alpha and Omega. Shaibu as deputy governor was already thinking in that direction. But now, he has fallen from grace. What a pity.