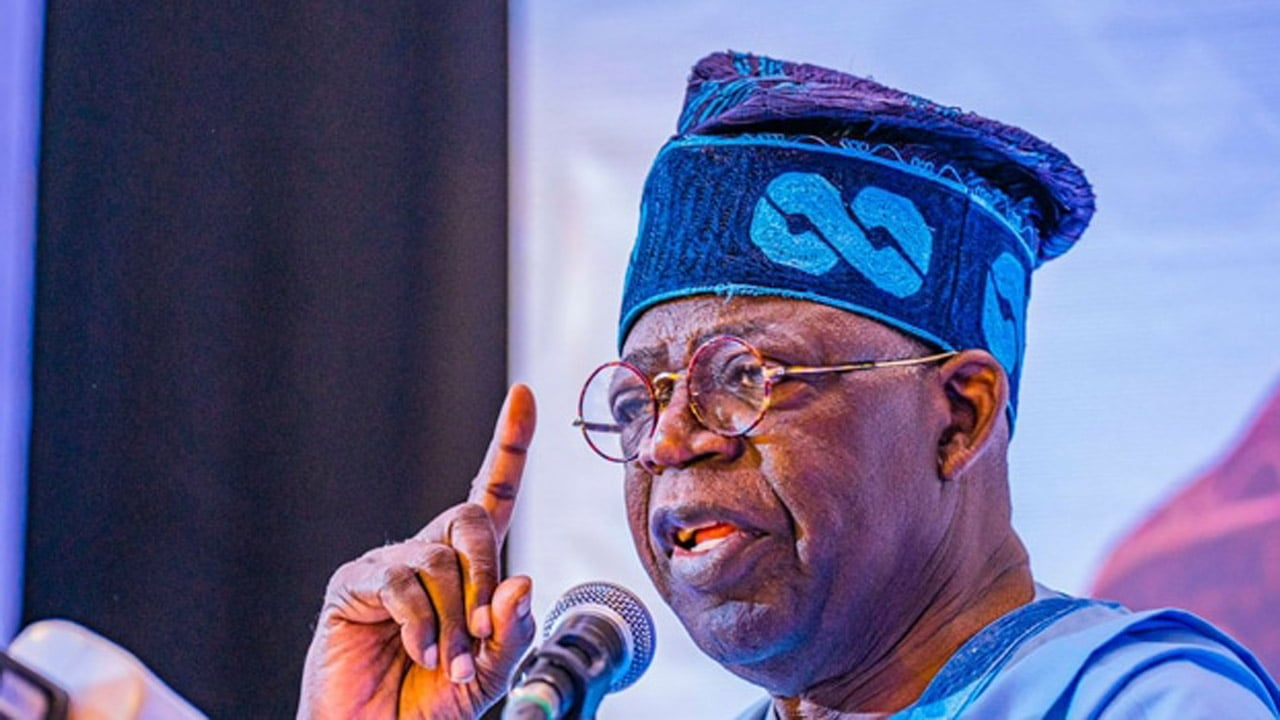 Nigerian President Bola Tinubu
•… says Clark's iroko of South-South, eagle of Nigeria
By Henry Umoru, Abuja
PRESIDENT Bola Tinubu was brutally frank, yesterday, telling Nigerians that there are no instant solutions to the country's raging problems and reiterated his appeal to them to bear with the country, in view of the pains occasioned by the removal of petroleum subsidy.
He, however, assured that at the end of today's suffering, tomorrow would be better.
He spoke in Abuja at the unveiling of Brutally Frank, a 688-page autobiography of former Federal Commissioner for Information and South-South Leader, Chief Edwin Clark.
President Tinubu said that the solution to Nigeria's problem cannot be like instant coffee, noting that what the country was going through is akin to the pain of childbirth, but after it will come merriment.
He expressed optimism that the palliatives being rolled by the Federal Government would help in softening the hardship and trauma.
The 25-chapter book revolves round the journey of Clark as a classroom teacher, commissioner, minister, senator and national activist spanning over seven decades.
We can endure this hardship for a better tomorrow
Tinubu, who was represented by the Secretary to the Government of the Federation, SGF, Senator George Akume, described Clark as someone, who belongs to the very rare form of extra-ordinary men, the Iroko of South-South and the Eagle of Nigeria.
Akume said, "He (Tinubu) has also asked me to tell this gathering that we are going through a difficult phase in the history of this country. But these pains are pains of birth, birth of a new nation. And that if you want to celebrate a child, a baby, the mother must go through some pains.
But at the end of the day, there is joy. There is merriment when the baby arrives. And we will certainly be there.
"Solutions to problems can never be as instant as coffee. But we must certainly be there. I know the removal of fuel subsidy has created some things. And that is why palliatives are being put in place, 100 trucks of fertilizers have been sent to the states, 100 trucks of grains have been sent and more are coming and more buses are also coming.
"We can endure this for a moment. What we're going through today is for a better tomorrow. Nations are great because citizens have hope. They have hope that tomorrow will be better than today.
On Clark, he said: "There is no need introducing a man, who needs no introduction. Chief E. K. Clark is a household name throughout this country.
"And I recall at a personal level when I was in secondary school, my Governor then was the late Jedi Gomwalk, while his governor was Major Ogbemudia and because the two governors were very close the name Clark was constantly mentioned in our circles and eventually when I went to Jos to do my HSC, the name became even sound.
"But let me say, Chief E. K. Clark, the president respects your person, he recognises the fact that you are part of the Nigerian legend.
"You are the Iroko of the South-South, the Eagle of the nation. And you believe in the unity of this country. And it has been demonstrated in your book personally written by you.
"One wouldn't be surprised because your boss, our father, General Gowon believed so much in the unity of this country and its territorial integrity."
Clark was my confidant — GOWON
Earlier in his remarks, General Gowon, who appointed Clark as the Federal Commissioner for Information, said the elder statesman was his confidant and the voice of the government, who fearlessly defended the government and projected its image.
According to Gowon, even though Clark was a person of strong character, he put forward his views respectfully, adding that Clark, who is the only surviving member of his cabinet, was helpful to explaining government policies and enhancing national unity.
Gowon, who chaired the occasion, said: "I can assure you I have never had any difficulty or argument with him. It was most amicable and respectfully given. However, considering a strong personality, there were of course times that he would vehemently disagree with his colleagues, commissioners and military officers and worked hard to convince them of why his own position was better than theirs."
Gowon wrote the foreword of the book. He described the author as a foremost Nigerian who has done his part in the growth and development of Nigeria as a country.
'Why I appointed Clark Information Minister'
As a flashback, Gowon said that he appointed Clark as Minister of Information in the then military government because he wanted a perfect replacement for Anthony Enahoro at the time.
His words: "The need to fill in the void created by Enahoro's exit was what gave Clark the job of minister in the government, which I headed.
"He became my confidant and the voice of the government, fearlessly defending the government and projecting its image. I found comfort in always discussing government and other issues with Clark most amicably."
He made invaluable contributions to our nation — JONATHAN
Former President Goodluck Jonathan noted, "In fact, Clark is one of those few Nigerians that his name should be written in letters of gold in our political history book.
"And not because he's my father but I knew his contribution. When I set up the 2014 National Conference, there was a debate about percentages of 70 percent or two third or a quarter or whatever that could make them come up and agree on something.