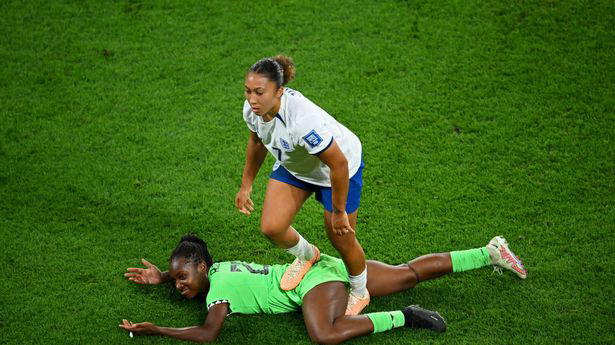 Super Falcons star Michelle Alozie says, contrary to reports that Lauren James reached out to her, the England and Chelsea women's forward only issued an apology on social media after a stamp on her at the 2023 Women's World Cup in Australia and New Zealand.
James was shown a red card in the 87th minute following a VAR check for a stamp on Alozie in England's 4-2 penalty win in the round of 16 against Nigeria.
After the game, James issued an apology on her Twitter account and was handed a two-game ban by FIFA.
Speaking on Channels TV Sports Tonight, on Tuesday, Alozie said James only apologized on social media.
No, she didn't reach out to me; the apology was on Twitter and Instagram."
The Houston Dash player also stated her reaction to the challenge from James was because she was on a yellow and avoided being sent off in the game.
"I think it was kind of funny how it all came about. After the game, obviously, I was really upset and wasn't really looking at my phone. So, some of my teammates were like, 'Michelle, you have to see this photo of you; maybe it would make you smile a little bit' because I was kind of upset.
"My reaction was because I was on a yellow card, and I didn't want to react so I don't get evicted from the game. I just knew after her actions I didn't have to do much."
The Super Falcons did not lose any of their games in open play at the tournament despite their elimination in the round of 16.