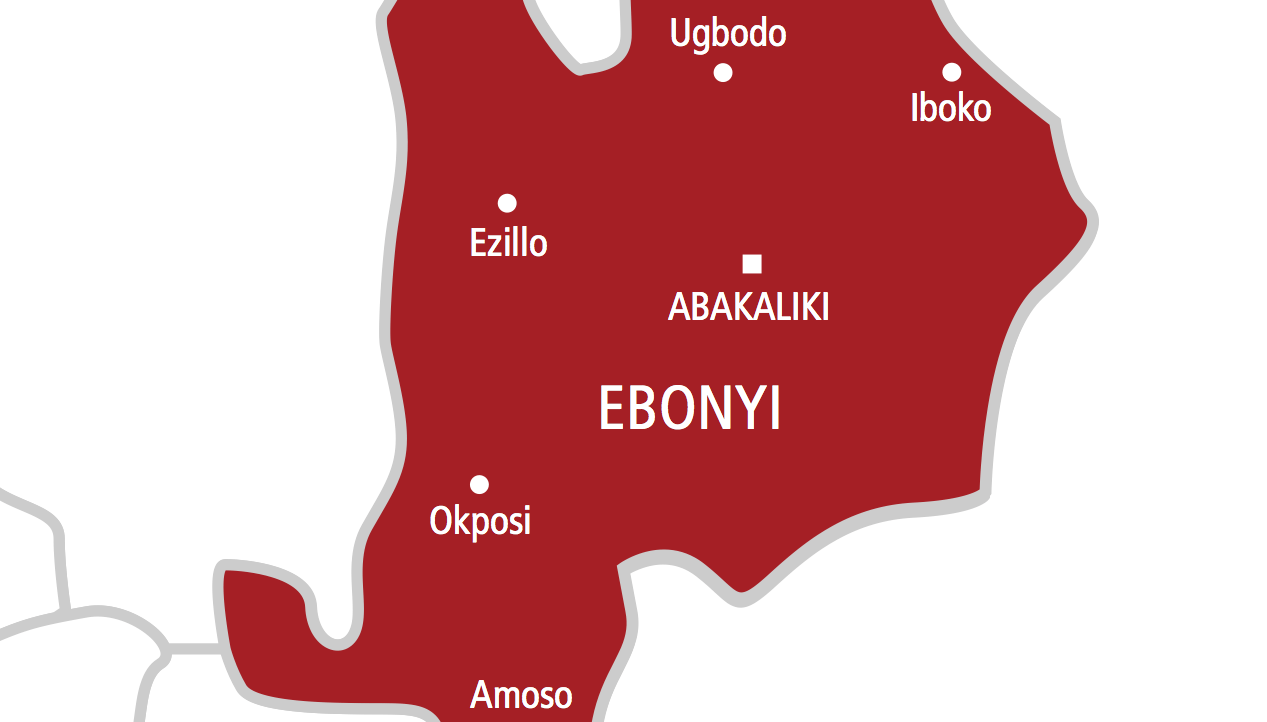 …Local vigilante needs to be reactivated – SA on Security to Nwifuru
By Peter Okutu, Abakaliki
Yet to be identified gunmen at about 5:10pm, Tuesday, kidnapped five persons along the ever busy Mile 2 axis of the Ishiagu/Okigwe expressed road, Ebonyi State.
The victims were said to be returning home from Enugu Airport with an airport taxi (Sienna bus) with reg/no. KWL 941 PD before they were kidnapped at Mile 2 area, Ishiagu, Ivo Local Government Area of Ebonyi State and taken into the nearby bush by unknown gunmen.
A source from the Community (names withheld) gave the names of the Kidnapped victims as one Ajah Chibuzo Aged 41, his wife, 12 years old daughter and the airport driver.
The source further revealed that the hoodlums while taking the victims into the bush also met a farmer in his farm and also abducted him.
He stated that the vehicle conveying the victims was abandoned at the scene of the incident, but was later recovered and taken to Ishiagu police station.
No fewer than 20 persons have been kidnapped along the axis in the last 4 months with about 4 killed by the rampaging kidnappers who are suspected to be herdsmen.
The women of the community had about few months ago staged a protest which later turned violent, following the continued abduction of innocent residents of the area by hoodlums.
Contacted, the Special Assistant to the Ebonyi State Governor on Internal Security, Ivo Local Government Area of the State, Hon Ike Cletus confirmed the incident.
He regretted that the Local Government has become a safe heaven for kidnappers and attributed it to the none functionality of the local Vigilante Group in the council.
Cletus expressed concern that apart from the military personnel at the express road, the vigilante group set up by the council are not functional and call for a total overhaul of the security architecture of the Local Government Area.
According to him, "It's s unfortunate that Ivo Local Government has become a safe heaven for kidnappers and other criminal elements. We have a none functional vigilante group in the Local Government. You hardly see them anywhere in the Local Government, yet money is spent on them monthly without any fruitful result.
"The security architecture of the Local Government, especially that of the Local Vigilante Group must be overhauled and made more efficient."
He maintained that the administration of Rt. Hon Francis Nwifuru is determined to ensure the security of lives and properties of its citizens even as he stressed that the present administration needed the support of the Council Chairmen in whose domain the kidnappers operate freely.
At the time of this report, Ebonyi State Police Command was yet to confirm the abduction of the suspects.