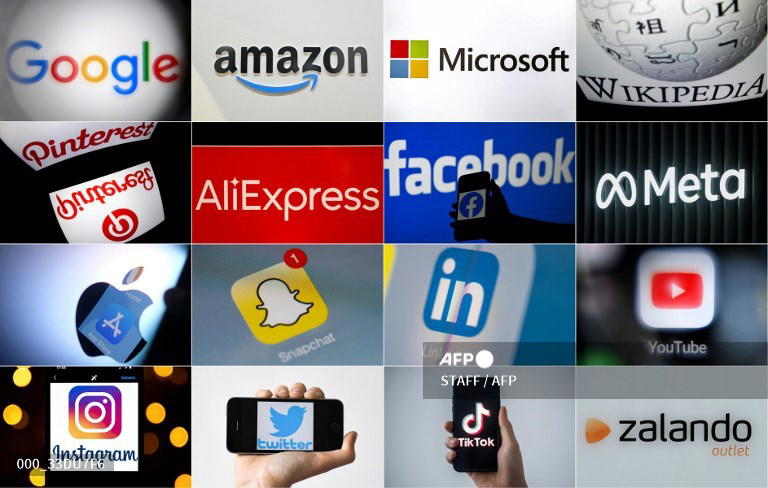 (COMBO) This combination of pictures created on April 25, 2023 shows logos of online platforms, applications, social networks and technology and IT companies of Google, Amazon, Microsoft, Wikipedia, Pinterest, AliExpress, Facebook, Meta, Apple app store ,Snapchat, Linkedin, Youtube, Instagram, Twitter, Tik Tok and fashion retailer Zalando. The European Union on April 25, 2023 designated 19 online platforms, including Instagram, TikTok and Twitter, as having user numbers so big they will come under stricter regulatory rules for content. The list — on which services from Amazon, Google, Meta, Instagram and Microsoft also feature — all have more than 45 million monthly active users. The global marketplace of Chinese e-commerce giant Alibaba, AliExpress, opened from September 24 to 26 a pop-up store in Paris for the first time in France, aiming to showcase its fashion and decoration products and its concept of "shoppertainment" in video streams. Facebook usage has held steady in the United States despite a string of controversies about the leading social network, even as younger users tap into rival platforms such as TikTok, a survey showed Wednesday. Apple has agreed to loosen payment restrictions on its App Store, a major change announced in a settlement with small developers as the US technology giant faces growing scrutiny and legal challenges over its tightly controlled online marketplace. The change will allow small developers to inform their customers of alternative payment options beyond the official App Store. The Instagram group will, in early October 2020, celebrate its ten-year anniversary. Australia said on April 4, 2023 it will ban TikTok on government devices, joining a growing list of Western nations cracking down on the Chinese-owned app due to national security fears. (Photo by STAFF / AFP)
Nearly five billion people, or slightly more than 60 per cent of the world's population, are active on social media, according to a recent study.
The figure represents an increase of 3.7 per cent over the past year, according to calculations by digital advisory firm Kepios in its latest quarterly report.
The number of social network users is approaching the number that uses 5.19 billion which use the internet, or 64.5 per cent of the world population.
There are major differences between regions. Only one person out of 11 in East and Central Africa uses social media. In India, now the world's most populous nation, the figure is one out of three.
The amount of time spent on social media has also increased, by two minutes to 2 hours and 26 minutes per day.
Here again, there are large disparities, with Brazilians spending an average of 3 hours and 49 minutes per day on social media while the Japanese less than an hour.
The average social media user is on seven platforms.
Meta has three of her favourite apps with WhatsApp, Instagram and Facebook.
China has three apps, WeChat, TikTok and its local version Douyin.
Twitter, Messenger and Telegram round out the top social media platforms.
AFP