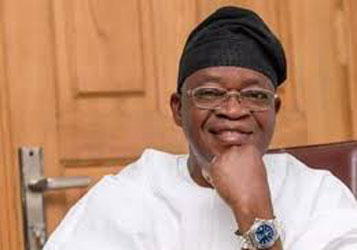 Oyetola
Shina Abubakar, Osogbo
The leadership of the All Progressives Congress (APC) in Osun State, on Wednesday, urged its members to resume weekly meetings as the party is resolute to return to government in 2026.
Speaking at a stakeholders' meeting held in Osogbo, the acting State Chairman of the party, Alhaji Tajudeen Lawal said no effort would be spared to ensure the return of the party to power and continue its good and people-centred leadership.
The meeting which was held at the instance of former Governor Adegboyega Oyetola was aimed at bringing together members of the party with a view to charting a new course for the progress and success of the party and its members.
"I want to start by appreciating our immediate past Governor, Adegboyega Oyetola for initiating this meeting. He was the one who facilitated this very important meeting.
"As we all know, this family meeting is very crucial particularly at a time like this when we have made frantic efforts to put our house in order and work towards reclaiming power from the incumbent administration.
"As a party, we recognise the fact that after the Supreme Court judgment, we have not met with a large house like this, so, this is to let the whole world know that we remain united, resolute and committed to strengthening the party, promote internal democracy and indeed, set the motion for the all-round success, progress, growth and development of our party and the State", he added.