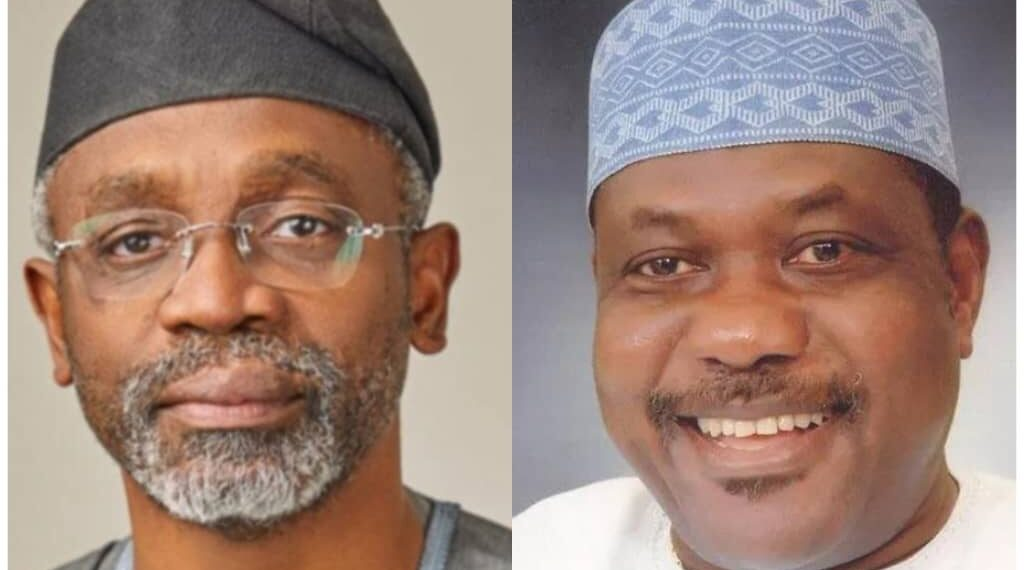 FOUR days after he assumed power, President Bola Tinubu, yesterday, announced his first appointments.
He appointed former Benue State Governor, Senator George Akume as the Secretary to the Government of the Federation, SGF.
The President also appointed Speaker of the House of Representatives, Mr. Femi Gbajabiamila, as the Chief of Staff; and Senator Ibrahim Hadejia, a former deputy governor of Jigawa State, as the Deputy Chief of Staff.
The appointments were made public via a statement by Abiodun Oladunjoye, Director, Information, State House. Abuja.
According to the statement, the President announced the appointment during the meeting he held with Progressives Governors Forum, PGF, at the Council Chamber, Presidential Villa, Abuja.
Akume was the immediate past Minister of Special Duties, under former President Muhammadu Buhari.
I 'll work with Tinubu in discharging enormous task ahead-Gbaja
Accepting his appointment, Gbajabiamila, in a brief statement appreciated Tinubu for finding him worthy, saying with his 20 years of experience in the National Assembly, he was well equipped for the task ahead.
He said: "Thank you Mr. President for finding me worthy of being your Chief of Staff.
"Having spent the last 20 years in the Nigerian Parliament, and after winning my 6th term election into the National Assembly, I shall work with Mr President in discharging the enormous task ahead of him for the peace and progress of the Federal Republic of Nigeria.
"I shall give my best when I take office on June 14 2023 as reflected in Mr. President's official letter."
Meanwhile, an abridged profile of Gbajabiamila as made available by his Chief of Staff, Smart Olarewaju indicated that the speaker was born on the 25th of June 1962.
He had his secondary education at Igbobi College, Yaba, Lagos and proceeded from there to the King Williams College, Isle of Man, the United Kingdom for his Advanced Level. He graduated at the top of his class and went on to the University of Lagos for a three-year LLB (Bachelor of Laws) degree programme. He graduated from the University of Lagos with honours in 1983 and was called to the Nigerian Bar in 1984.
Gbajabiamila started his career as a lawyer with the law firm of Bentley, Edu and Co., where he distinguished himself. He eventually left Bentley, Edu and Co. to set up his practice, Femi Gbaja and Co.
In 1998, he went back to school at the John Marshall Law School in Atlanta, Georgia in the United States of America.
He graduated Magna Cum Laude from John Marshall and earned for himself a Juris Doctor (JD) degree. He then went on to write and pass the Georgia Bar exams, after which he set up another thriving law office where he practised until his return to Nigeria.
On his return to Nigeria, Gbajabiamila delved into partisan politics and offered himself up for service on the platform of the then Alliance for Democracy, AD, and has thereafter been elected for six consecutive terms to represent the people of Surulere I Federal Constituency of Lagos in the National Assembly.
Gbajabiamila to quit as a lawmaker before resumption as CoS on June 14
With his appointment as Chief of Staff to the President, the outgoing Speaker of the House of Representatives and Member-elect, Mr. Femi Gbajabiamila must quit his position in the legislature to take up the new appointment.
Going by the provisions of the 1999 Constitution as amended it is mandatory for a member of the National Assembly to resign if appointed to an executive office.
Section 68(1) states: "A member of the Senate or of the House of Representatives shall vacate his seat in the House of which he is a member if – He becomes President, Vice-President, Governor, Deputy Governor or a Minister of the Government of the Federation or a Commissioner of the Government of a State or a Special Adviser."
However, Gbajabiamila has up to June 14 to do so as his appointment letter indicated.
This affords him the opportunity to conclude his leadership of the 9th House, which will lapse on June 11.
He could also be inaugurated as a member of the 10th House on June 13 before heading for the Presidential Villa on June 14.
The extended time for resumption as CoS will also give him ample room to fight for the emergence of Mr. Tajudeen Abass, as his successor. Abass has been anointed as the next speaker by the All Progressive Congress, APC, National Working Committee according to a zoning template reportedly endorsed by President Tinubu.
As it is, the Independent National Electoral Commission, INEC, will conduct a bye-election for Surulere I Federal Constituency to replace Gbajabiamila, when he resigns.
Gbajabiamila just won the election for his sixth consecutive term to represent the constituency.
Abbas congratulates Gbajabiamila on appointment as Tinubu's Chief of Staff
Meanwhile, Abass, the APC candidate for the speakership position in the incoming 10th House of Representatives, has congratulated Gbajabiamila on his appointment as the Chief of Staff to President Ahmed Tinubu.
Abbas said Gbajabiamila's appointment was a testament of his pedigree, capacity and competence to handle any national assignment given to him.
The lawmaker, who represents Zaria Federal Constituency of Kaduna State, hailed President Tinubu for making the right choice.
He said Gbajabiamila was bringing to the table two decades of parliamentary experience during which he occupied the positions of Minority Whip, Minority Leader, Majority/House Leader and ultimately the Speaker.
Abbas said Tinubu has once again demonstrated that he was truly a talent hunter and a strategist by appointing Gbajabiamila to be his Chief of Staff.
"I want to appreciate Mr President for making the right choice in appointing our Speaker Femi Gbajabiamila as his Chief of Staff.
"To me, this is one appointment that has shown that Mr President is not only strategic in his thinking but also sagacious in his leadership.
"I know that the Chief of Staff to the President will work assiduously with Mr President to make Nigeria great," Abbas said.
Gbajabiamila's appointment as Tinubu's Chief of Staff announced on Friday, takes effect on June 14.