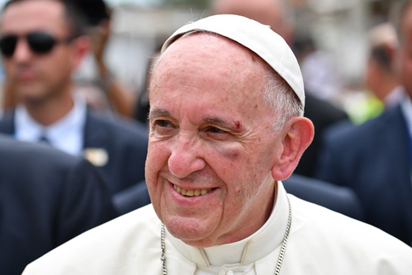 Pope Francis, showing a bruise around his left eye and eyebrow caused by an accidental hit against the popemobile's window glass while visiting the old sector of Cartagena,Colombia, is greeted by faithful on September 10, 2017. Nearly 1.3 million worshippers flocked to a mass by Pope Francis on Saturday in the Colombian city known as the stronghold of the late drug lord Pablo Escobar. / AFP PHOTO
Pope Francis, 86, must undergo an urgent operation on Wednesday afternoon to repair a hernia in his abdominal area and will be hospitalised for "several days," the Holy See announced.
The operation will be performed under general anaesthetic in a procedure which involves an incision in the abdominal cavity.
Reports from a 2021 surgery for a bowel condition said he did not tolerate general anaesthetic well.
Francis' medical team decided in the past few days that the pontiff needed the operation.
He had already arrived at the hospital by midday (1000 GMT).
The Vatican statement said Francis had been experiencing recurring pain.
The pope spent several hours at Gemelli Hospital on Tuesday for what the Vatican said was a check-up.
His procedure, known as laparocele in medical terminology, will be performed there.
In 2021, the pontiff, who is from Argentina, was operated on under general anaesthetic for a bowel condition called diverticulitis.
Part of his colon was removed and he spent 10 days in hospital.